Amazon SEO: A Complete Amazon Seller's Guide to Succeed in 2023
Utilize Amazon SEO to Your Complete Advantage in 2023
In today's e-commerce landscape, Amazon reigns supreme as the go-to platform for online shoppers. With millions of products available at the click of a button, it's more important than ever to ensure your products stand out from the competition. That's where Amazon SEO comes in. Optimizing your product listings for the elevated rank in Amazon's search results can attract more customers, boost sales, and increase your bottom line. So let's dive in and get started on the path to Amazon's success! Want to get your duties shared Amazon account management services can work for you and can provide you with the assistance in mastering and employing Amazon SEO.
This guide will cover key strategies and best practices for mastering Amazon SEO, from keyword research to product descriptions to customer reviews.
Why is it Important to Understand How Amazon Search Engine Optimization Works?
When you learn all this, you might wonder how search engine optimization relates to Amazon. In actuality, Amazon has become more of a search engine than just an internet shop. Similar to how it's hard to go through each site of a Google search, the vast number of listings on Amazon increases difficulty for any individual to look at every choice.
Amazon SEO's ultimate goal is to increase the number of things it sells. For customers to view the results that are most pertinent to their search initially, Amazon algorithms have been devised to filter the enormous number of listings. Businesses can sell more goods if they execute this strategy properly. Amazon applies its Amazon A9 Algorithm technology to arrange listings according to their prominence and appropriateness. Even though this algorithm is constantly evolving, and we won't fully understand how it operates, we do understand that among the critical criteria it uses to rank listings is the appropriateness of their textual matches. Or, put another way, how closely the terms in the listings correspond to the search. In addition, the algorithm employs components like: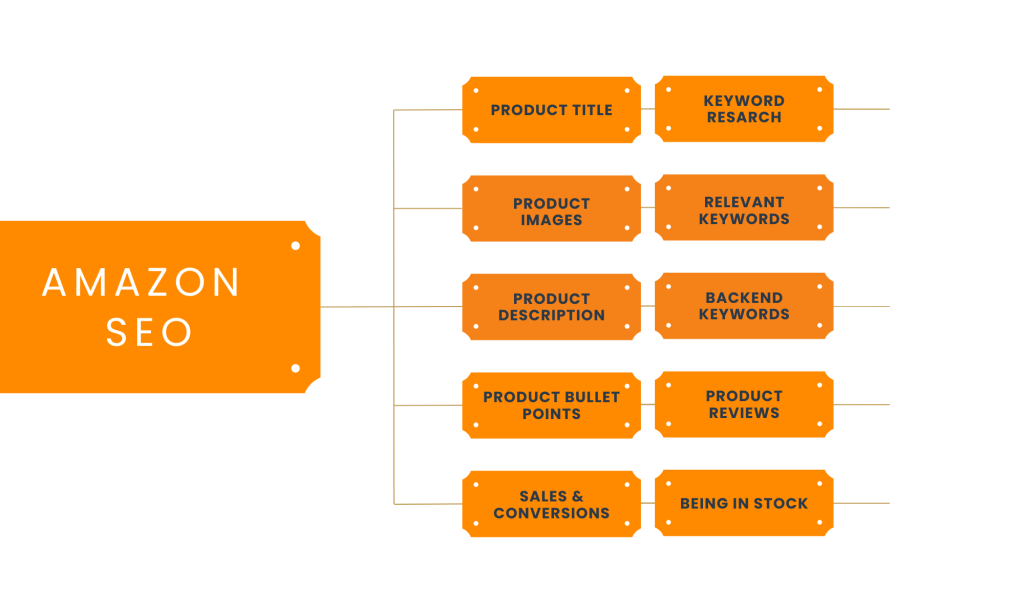 These components ensure that shoppers have seen the products that Amazon believes people are often inclined to buy. Numerous such aspects are only enhanced if you sufficiently focus on your phrases to grow your organic views and revenues. Only after that will you start to see the sales, ratings, and click-through statistics required to enhance your algorithm's effectiveness further.
How Do Keywords Operate?
How do you master Amazon SEO? It all starts with keyword research. Keywords are the words and phrases that customers use to search for products on Amazon, and incorporating the right keywords into your product listings is essential for ranking higher in search results. But it's not just about stuffing your listings with as many keywords as possible. You also need to use them strategically and organically, so that they fit naturally into your product titles, descriptions, and bullet points.
Briefly, keywords are phrases and words that users type into online search tabs. The main subjects you address in your piece are keywords, whether they relate to business listings or articles. Here is a fascinating study. If you're curious about learning more about the technical logic behind keywords, you can go through Amazon keyword Research.
Guidelines for Amazon Listing Optimization
Understanding where and how to improve your listings comes after you comprehend what SEO is and why you should utilize great keywords. The simple response is everywhere. You must include material that is pertinent to an Amazon search wherever there is a possibility to do so. Always occupy the section in a listing that is unfilled, and always use as many keywords as possible. To ensure your Amazon product stands out among the competition it's crucial to focus on both Amazon SEO and listing optimization to improve your product's visibility ultimately.
1. Title of the product:
The fundamental components of an Amazon listing involve:
The sort of product is offered has a significant impact on the title, businesses typically add the following information:
Label
Patents
Product code and kind
Size and amount
Product category
Power output specifications
2. Product Images:
The pictures should qualify the following recommendations:
Photos with excellent resolution
Use a backdrop that is white
Take pictures from various perspectives
3. Bullet points:
Given below should be covered when writing bullet points
Highlight
Concentrate solely on a single advantage per point
Recognize your limitations
4. Product Descriptions:
Here's some advice to make this section of your product listing more optimized.
Never rewrite
Narrate a tale
It should be readable
Make use of Amazon SEO tools
In addition to keywords, other essential factors that influence your Amazon search rankings include your product images, customer reviews, and product pricing. For example, high-quality images showcasing your product from multiple angles can help customers visualize what they're buying and increase the likelihood of purchasing. Positive customer reviews influence purchase decisions and signals to Amazon that your product is high-quality and worthy of a higher search ranking. And competitively pricing your products can help you win the coveted Buy Box, the area on the Amazon product detail page where clients can count your goods to their cart. If you are struggling with Amazon listing optimization, you might consider using Amazon product listing services for efficiency.
Techniques to Increase Your Rank on Amazon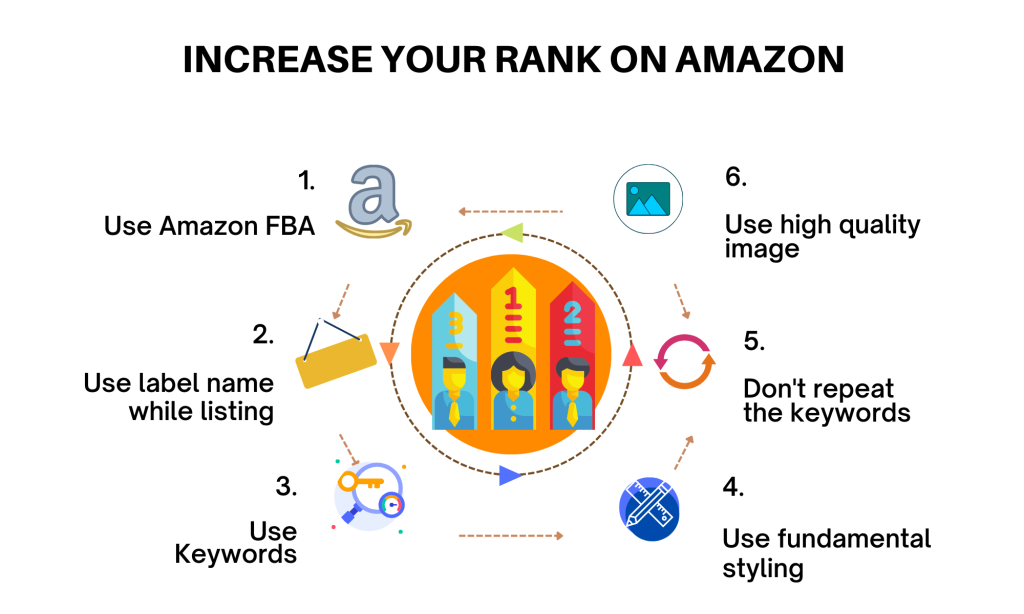 To rank higher on Amazon you can employ the following strategies for best results:
Engage Fulfillment by Amazon (FBA).
When listing products on Amazon, use label names.
Complete the additional fields on the modified product page.
Good images boost rankings and conversion rates.
Avoid the repetition of keywords.
Use the fundamental styling guidelines when listing.
Summing Up
Amazon SEO is a crucial component of any successful Amazon seller's strategy. You can leverage HR Tech LLC best Amazon SEO service provider. You can get aid with Amazon listing creation and optimization services, utilizing effective keyword research and marketing tactics. However, as the e-commerce industry continues to evolve, we will help you to stay up-to-date on the latest Amazon SEO trends and techniques to remain competitive in 2023 and beyond. By tracking the information and strategies outlined in this complete Amazon sellers guide, you can position your brand for success and maximize your sales potential on Amazon. Start implementing these tactics today and watch your sales soar on the world's largest e-commerce platform!
FAQ'S
Reach the Head of the Amazon Search Results List with Your Products:
Greater sales equal greater visibility
Put "Fulfilled by Amazon" in use
Take Charge of Your Keywords
Construct the ideal product listing
Improve the title of your goods
A search engine results page is referred to as a SERP. Shoppers completing a product search on Amazon are shown suggestions in the Amazon SERP.
To get more organic views follow the following points:
Pick the most effective keywords. The appropriate keyword bids can boost your position and impact your revenue by being used in your product pages and concealed search term fields.

Boost the online visibility of products.

Create optimized product pages.