Determine The Best Mobile App Development Strategy: Unlock Your App's Success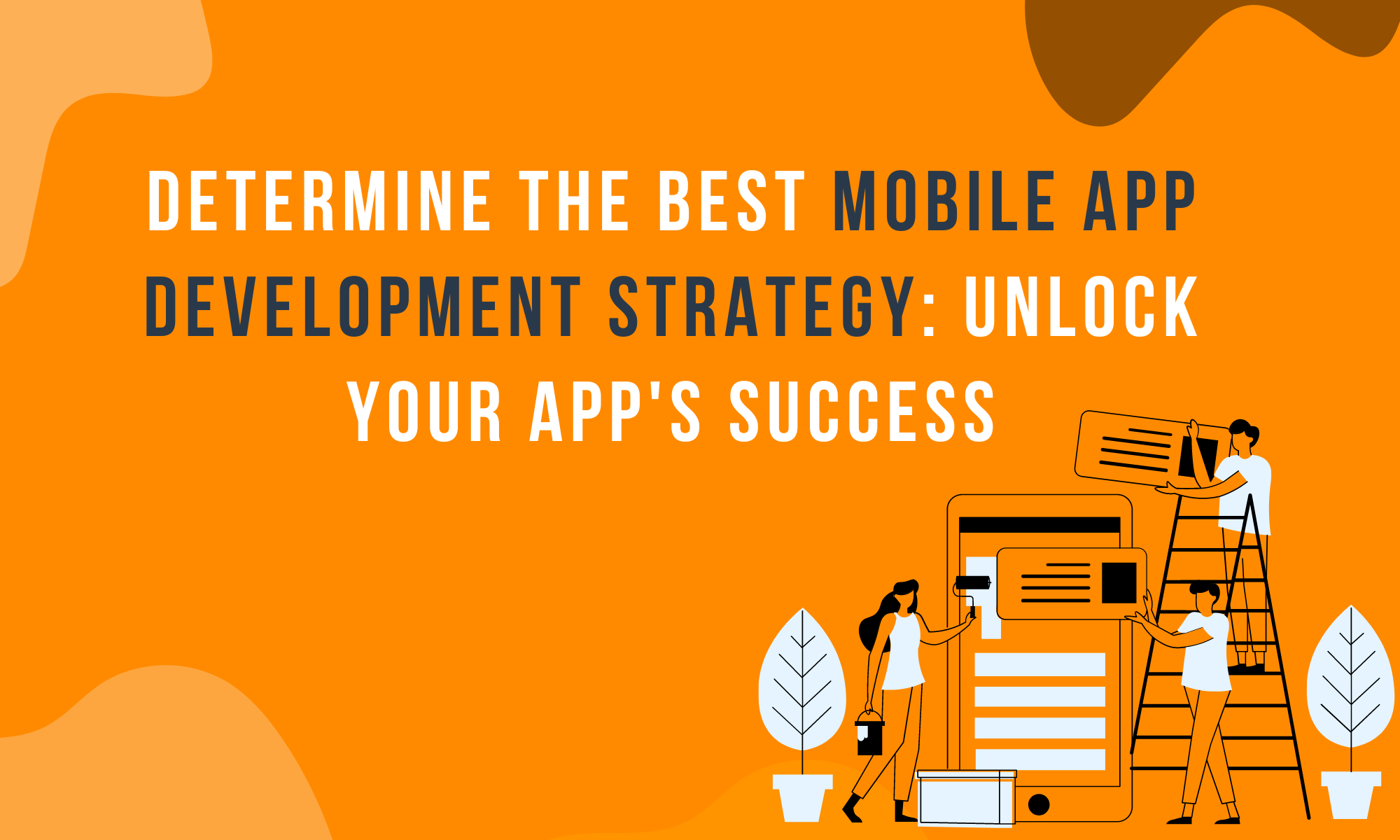 Pick The Best Mobile App Development Strategy
The marketplace for mobile apps is quite competitive. Therefore, having the appropriate mobile app development strategy and advertising approach for any mobile application. Several mobile app development services are available in the marketplace for mobile applications, from either free software that aids in tracking personal finances to a premium app that provides access to your investments.
Which option must you select when creating an app?
Do you want to spend significant dollars creating a mobile application?
Are you willing to devote the time and effort necessary to develop a mobile application manually?
It cannot be easy to decide which mobile app development strategy or a technique will work best for your entire company. Before choosing the sort of mobile app development, one must also decide the needs and wants of their application.
Recent years have seen a tremendous advancement in the population of mobile app developers due to the introduction of financial and bank smartphone apps. Businesses are looking at mobile app development strategies to differentiate themselves from rivals as market competition heats up. Among the most challenging tasks for any business to complete is creating a mobile phone app for iOS and Android devices due to its complexity, scale, and time restrictions.
There are millions and billions of clients of mobile apps globally. They enable your clients to acquire your goods or solutions and offer excellent user involvement and pleasure opportunities. There are several ways to make mobile apps, but choosing the proper one is crucial.
We will guide you while you select the best mobile app development strategy for your company. You'll learn eight guidelines for selecting the most effective and appropriate mobile app development strategy in this post.
Mobile App Development Plan Checklist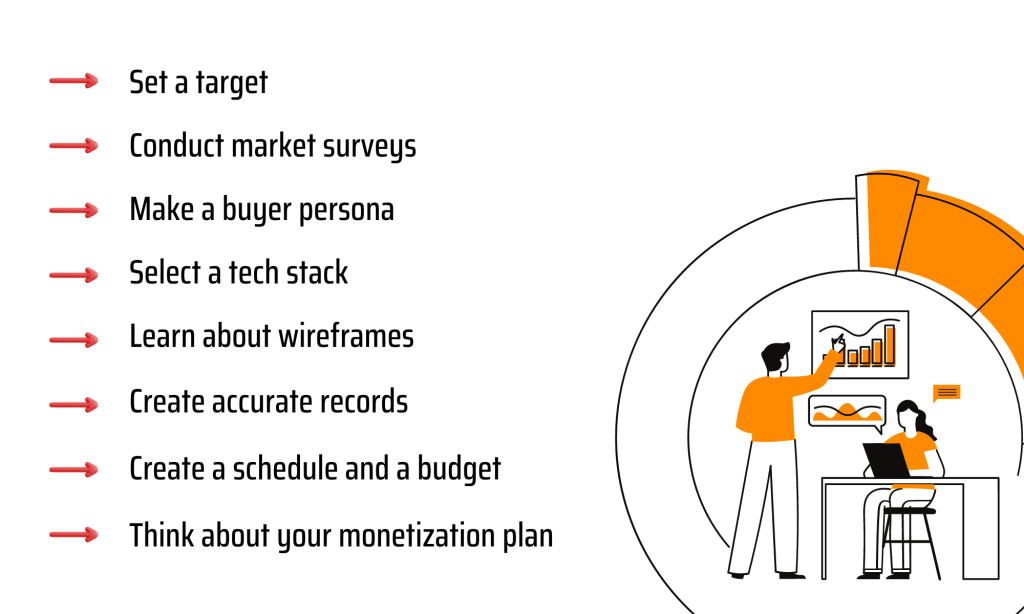 Conduct market surveys and competitor research.
Make a buyer persona after determining your target demographic.
Create a schedule and a budget.
Think about your monetization plan.
What is Mobile App Development Strategy?
Mobile development strategy refers to the approach and planning that goes into creating a successful mobile application. It involves defining the goals, target audience, features, and overall design of the app and ensuring it works effectively on different mobile devices and platforms.
Utilizing a straightforward mobile app plan can help you avoid implementing pointless functionality and updates, which will save you dollars and time.
Choosing the appropriate application development technique also necessitates considerations regarding the following:
Setting up user profile pages
Specifying the availability of information
Establishing security protocols
Features of data management apps
How to Develop Mobile App Development Strategy?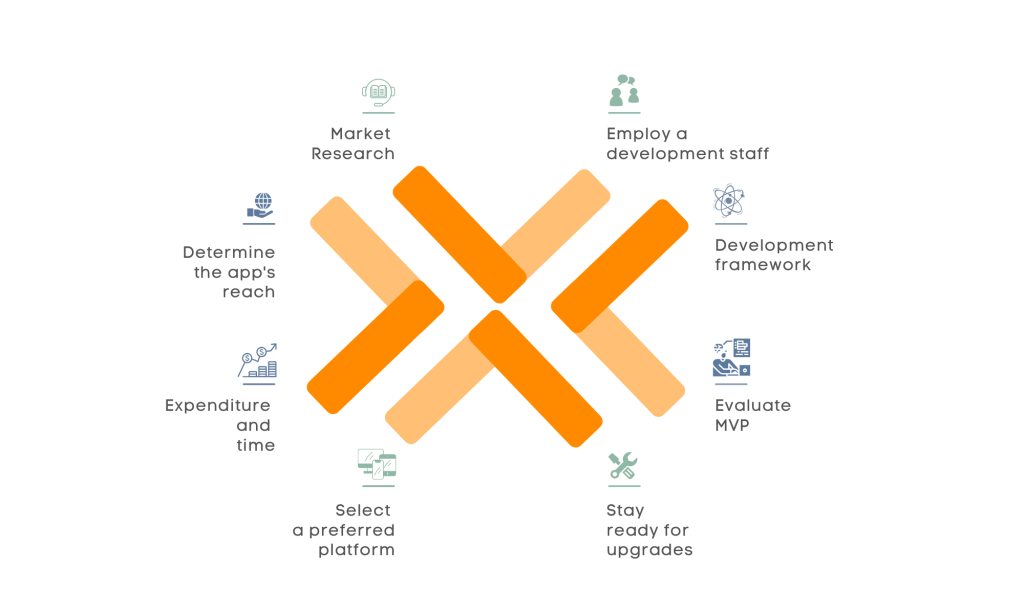 Following are the 8 best ways to develop mobile app development strategies:
1. Conduct a Market Research
Market analysis should be the initial step in the mobile development cycle, just like any other company plan. While conducting market research, you want to comprehend your intended audience's issues and challenges. Since you'll be making this application for individuals, it should be for them.
Everything about the application, from its design to its information, should improve the quality of life for its users. Additionally, it will assist you in making sure that your software matches user requirements.
2. Identify the Application's Scope
Identifying and defining the application's range is the second guideline. As an illustration, consider the sort of app, the design structure, the specific goals, the intended users, and finally, the resource requirements.
When developing this guideline, it might be a perfect moment to research and examine the strategies of your rival companies.
Following this guideline is crucial since your mobile application development plan may flop if none of these criteria is decided earlier. It is because you would be wasting your effort and money if the launch did not succeed.
3. Be Aware of the Essential Expenditure and Time
The third and crucial tip is to set your objectives for the budget mobile app development cost, mainly if your organization is small. Because creating a mobile application requires many resources, starting right is crucial. Learn and effectively manage how to reduce mobile app development costs while ensuring a top-notch user experience.
The excellent point is that a properly created application has a significant development cost. One can profit by deciding on the mobile application development strategy that fully satisfies your company's objectives, aims, and beliefs.
4. Specify Your Preferences for Platforms
Nearly all mobile applications are compatible with iOS, Android, or even both platforms. By choosing the right platforms, you can considerably reduce the cost of the app. The timing of the app's market introduction may also affect its usefulness.
It is also essential to consider the previously mentioned market survey when choosing the finished app's distribution channel.
5. Hire a Development Staff
Making some technological choices is now necessary. It is crucial to incorporate the development staff earlier in the procedure when there is a shortage of in-depth technical competence. It will aid companies in making the best judgements possible about the methodology and process for developing mobile applications.
6. Select a Development Framework
Everyone is committed to making developing apps more accessible and efficient. A framework including tools, processors, programme interfaces, and many more makes up a mobile app development platform. Some of the most well-known instances are React Native, Flutter, Xamarin, Swiftic, and Ionic.
Several variables must be considered when selecting the best conceptual framework for developing mobile apps, including the platform's preference, the time and financial constraints, and the programmers' technical ability. The most well-liked framework for creating mobile apps is React Native.
7. Make an MVP and Evaluate it Constantly
When designing any app, starting by making a minimally functional prototype that you can evaluate with users is essential.
The ultimate mobile app's development strategy is determined by the decision based on customer feedback. Making an MVP requires little effort and provides production teams invaluable customer feedback. They can use this input to accomplish more than identify the functionality that the application needs.
These tests also assist programmers in identifying security component flaws. It can aid in figuring out how to leverage user information in the app to enhance user engagement.
8. Be Prepared to Change Direction
New programmers need to be aware that the scope of developing an application changes with time. The project plan constantly changes as trials are conducted and new data is learned.
Because of this, programmers have to be prepared to adapt their developing mobile app strategy to the evolving requirements of the application on which they are working. When the app gets established, it is essential to consider the need for ongoing maintenance.
Development Strategies Get Assistance to Apply These Strategies to Develop Mobile Apps for Your Business.
In conclusion, developing a successful mobile app development strategy for your business requires careful planning and consideration of various factors. By taking the time to research and choose the right development strategies, you can ensure that your app is well-designed, user-friendly, and meets the needs of your target audience. With the right approach, your app can help you achieve your business goals and succeed in today's fast-paced digital marketplace. This blog offers helpful advice on creating an app development plan that meets your needs for a commercial application. For more help, get in touch with a top mobile app development company HR Tech LLC. We're working seven days a week to offer your company excellent support.