Amazon Keyword Research: How to Find Profitable Keywords?
Comprehensive Guide to Perform Amazon Keyword Research!
You must follow the rules if you want to prosper on Amazon seller central, and that requires conducting Amazon keyword research. Oh yes! Selling on Amazon is not as easy as it seems. For displaying products and relevant keywords, Amazon has its guidelines.
On top of that, millions of vendors on Amazon, where millions of people shop every second. This indicates that the likelihood of selling a new product when it is introduced is essentially zero. Unless you research how to find profitable keywords to rank on Amazon search term results, that is certain.
Any Amazon product campaign's initial phase is keyword research. Without taking this vital step, Amazon might frequently resemble a black hole where your products never appear. You must learn to use Amazon's A9 algorithm and get the proper keywords to strike the right spot, just like we do with search engines. This blog will show you how to conduct Amazon keyword research if you don't already know. However, let us guide you through it.
What is the Purpose of Amazon Keyword Search?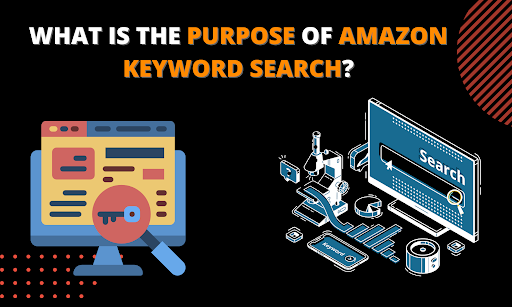 There are many compelling reasons to conduct keyword research for Amazon seller central before releasing your product. Consider why you carry out Amazon SEO or are concerned with your position in the SERPs. This is a question you can answer for yourself. I trust you received a response.

Put yourself in your customer's position first. When shopping for a pair of shoes, Amazon suggests or displays a pair of pants. Quite unpleasant, but as Amazon's algorithm uses keywords to determine which products are linked to your search, this never happens. What does this indicate, then? It suggests that you won't be able to appear before the ideal audience who are likely to purchase your product without appropriate keywords.
Amazon keyword research puts you ahead of the competition. The higher your product appears in the search results on Amazon, the more relevant your term is.
What if you don't currently have any products listed or are still unsure about what to sell? You can solve the problem by doing keyword research for Amazon. Even before a product is launched, keyword research might be helpful. Knowing which items are in high demand allows you to decide which keywords are most popular. You can then choose the goods you want to sell that will bring in the most money.
How Do You Carry Out Amazon Keyword Research?
Choosing appropriate keywords for your goods is what you must do for people to find your stuff. How? using keyword research! To maximize the hit rate, you should seek and record all terms pertinent to your product when conducting keyword research.
Using a systematic approach while conducting keyword research is vital to avoid missing any important terms. But precisely what does that mean? How should keyword research appear? We advise performing the subsequent steps: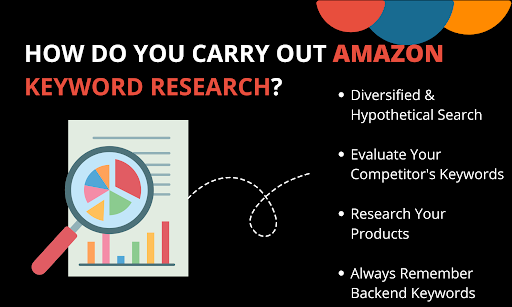 1. Diversified & Hypothetical Search
You must thoroughly study how prospective customers could search for your products before you can start speculating. It would be wise to consider the terms or expressions consumers will probably use to search for your products. Performing a self-directed random search is an additional beneficial tactic. See what ideas appear when you search for a product on Amazon. After that, you will know the keywords you should use.

A reasonable time-saving method may be to use an Amazon keyword tool. The most popular Amazon keyword tools are – Helium 10, Zon.Tools, Teikametrics, Sonar by Sellics, PPC Entourage etc. We suggest continuing research and brainstorming because it could not be a very economical solution.
2. Evaluate Your Competitor's Keywords
Analyzing the terms of your competitors always helps, just like Amazon SEO. Keeping track of the keywords performing for their competition seems like a terrific idea, particularly for individuals who feel imprisoned in never-ending confusion. This can be done in a few simple steps:

You must list all your successful competitors.
 The keywords most likely to increase your sales must be your primary focus.
You must compile a list and start putting them into practice.
A keyword generator may be helpful at this stage because it can offer you access to all the information related to a term and assist you in creating listings.
3. Research Your Products
If you are selling anything comparable to your competitors, the above strategies can be helpful. However, if your product is unique or has some standout qualities, you will require a separate set of keywords. Because your product is expected to have some distinct attributes and hence unique keywords, you cannot, in this situation, copy the keywords employed by your rivals. Therefore, it is best to research your product before creating a list of keywords.

4. Always Remember Backend Keywords
Backend keywords are hidden keywords that are not visible to the customers; however, they play an integral role in affecting your rank. I mean, we can't target every keyword. We can only choose the most important/relevant ones. However, not every customer uses those popular keywords to search.
Backend keywords can help you avoid overloading your product descriptions while making it simple for customers to find your products. Some sellers use hidden keywords that are slang or misspelled language. Because you can never be sure what kind of customer is searching, it is better not to overlook backend keywords.
Where to Include Researched Amazon Keywords?
Your long list of keywords for your Amazon keyword research is now complete. Depending solely on your plan and approach, place them where you want to and optimize your listings:
Amazon SEO Listing Optimization

Include the keywords in your listing, i.e., put them in the title, bullet points, and product description if you want to optimize your listing so potential customers can find your products more efficiently.
Amazon Advertising Campaigns

You now have appropriate keywords ready for your bids if you have conducted the keyword research for an Amazon PPC campaign.
Research & Prosper!
You may reach more relevant, high-value potential customers than ever before by using the correct Amazon keyword research strategy and Amazon keyword tool. Plus, thanks to adequately crafted product names and product details pages, you'll convert that increased visibility into clicks and conversions at a remarkable rate.
Additionally, it is a positive feedback loop. Robust keyword research boosts your brand visibility. More clicks are produced through better product titles and more exposure. More conversions are delivered through more clicks and excellent product detail pages. We keep going since more conversions result in greater search rankings.

Why are you holding out? Start today and create that successful e-commerce feedback loop! HR Tech will help you top the Amazon Keyword Research segment, hence reach out to us right away.