Professional PHP Web Development Services for Your Business Needs
Definitive Manual On Outsourcing PHP Web Development Services
Today's fast-paced business environment makes it more challenging than ever to keep one step ahead of competitors. Custom PHP application development is necessary for companies that want to offer their clients a flawless online experience, but it can also be challenging and time-consuming. That's where outsourcing bespoke PHP web development services can be revolutionary.
You can access a pool of seasoned specialists with specific skills in PHP programming by outsourcing your PHP development projects. Doing so may increase the effectiveness and quality of your development initiatives while allowing your internal staff to concentrate on other critical strategic objectives. In addition, outsourcing can help you save money compared to having an internal team of developers, making it an excellent option for enterprises of all sizes.
Read on to learn how outsourcing PHP development services could be a wise strategic choice for your company, whether a startup or a significant organization. The advantages of outsourcing custom PHP web development services, such as cost savings, availability of specialized knowledge, and improved effectiveness, will be covered in detail in this blog. In addition, we'll offer advice on how to pick the best outsourcing partner and guarantee that your development projects are finished to your standards.
Describe a PHP Web Development Services in Detail
PHP or Hypertext Preprocessor, is a popular open-source scripting language well-suited to building dynamic websites and web applications. With its flexible syntax and a vast library of pre-built functions, PHP allows developers to create customized solutions tailored to their client's needs.
PHP web development services can help you to create everything from simple websites to complex e-commerce platforms, content management systems, and more. These services are in high demand by businesses of all sizes looking to create web-based applications or enhance their online presence. With the expertise of PHP developers, businesses can build secure, scalable, and efficient software solutions to meet their specific needs and requirements.
Whether you're a small business looking to establish your online presence or a larger organization seeking to streamline your operations and improve user experience, PHP web development services can provide the customized solutions you need to achieve your goals.
You can rest assured that with a team of experienced PHP developers, your website or web application will be built with the latest industry standards and best practices in mind. From responsive design to robust functionality, a PHP web development services can help you create a digital solution tailored to your unique needs and objectives.
Whether a company is in finance, schooling, e-learning, retailing & e-commerce, or another industry, hiring PHP developers is a need nowadays. Expert PHP developers assist businesses in building sturdy PHP websites with a polished appearance and various added elements.
Benefits of Outsourcing PHP Web Development Services
Outsourcing PHP Development Services is becoming increasingly popular as companies look to reduce costs, utilize specialized resources and keep up with the latest technology trends. With outsourcing, clients can access highly experienced personnel and use their skills to develop applications without having to hire and train in-house teams.
Additionally, outsourcing can help you quickly access the latest technologies, increase scalability and build flexible applications. Furthermore, outsourcing can help your organization focus on core competencies while ensuring all the required work is done on time and within budget.
There are numerous benefits to using the PHP framework for developing websites. Hence, if you're talking about a PHP web design and development service, consider these benefits that could help you and your organization.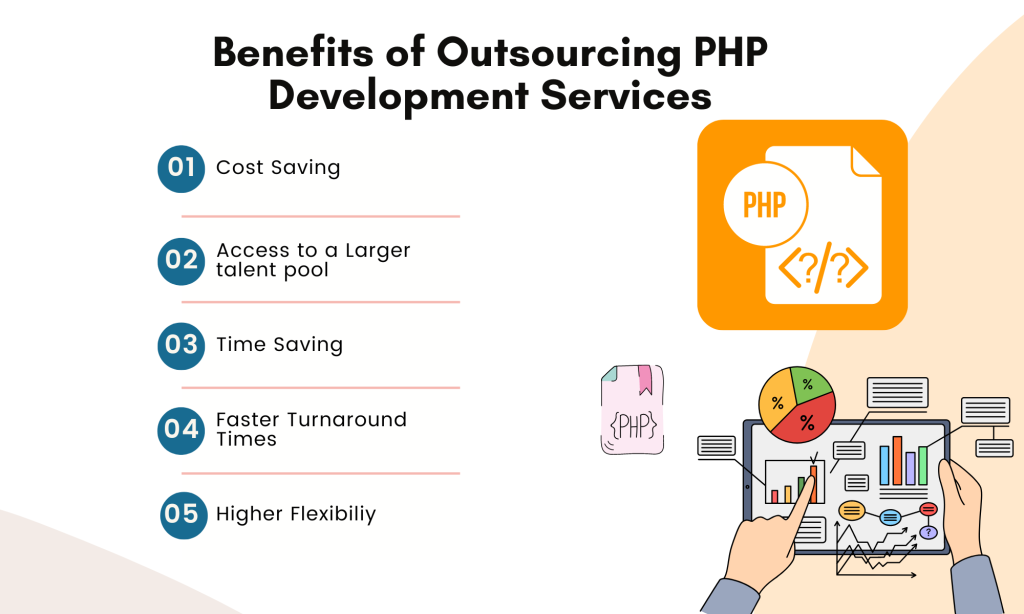 PHP programs load more quickly than those written in another programming language, web pages created utilizing PHP load incredibly quickly. PHP code is allocated its unique memory area to improve website efficiency and speed.
It Provides Plenty of Personalizations PHP should be your initial pick to create a thoroughly engaging, functional site. It offers a variety of frameworks, such as CodeIgniter, to construct complicated applications in a simplified manner and can effortlessly interact with many databases. Custom PHP development services turn your imagination into reality quickly and effectively.
Best Scenarios for Employing PHP Web Development Services
Due to the numerous benefits PHP offers for web development, PHP is extensively utilized for creating websites. Thus, below, we've given all the details on when you may use these benefits.
1. Conserve Money Utilizing PHP
The financial benefit of PHP development solutions is the strongest compelling argument for every IT consultancy or software development business to select them. PHP is available for free and doesn't have a license charge. It also enjoys substantial assistance from the community to address any development-related problems.
2. PHP is Highly Versatile and Integrative in Nature
The great advantage that PHP offers is its flexibility and versatility. PHP programs can run efficiently across all platforms, from Windows and Linux to macOS. It supports most servers like Apache, Microsoft IIS, Netscape, iPlanet, and Caudium. Hence, businesses can use PHP for hybrid application development.
PHP is also an embedded language that easily meets the integration needs of the website and app development companies. It can be embedded with most languages, including HTML, JavaScript, WML, XML, and more, as all its scripts are executed on the server side.
3. Easy Scalability of PHP Services
Businesses want to design and deliver iterative IT solutions if it is about high ROI. Companies can develop flexible IT technology systems and perform the required adjustments to every upgrade, thanks to PHP web development. Because PHP code has been well-written and well-documented, iterative development is achievable with few errors.
4. Effective PHP Websites Entice & Keep Clients
Every website should be quick in order to attract visitors online. PHP offers characteristics like quick data handling, exceptional modification choices, and easy database interaction. As a result, using a PHP web development company is always a good idea if you wish to create a website that loads quickly.
PHP Web Development Services: Current Trends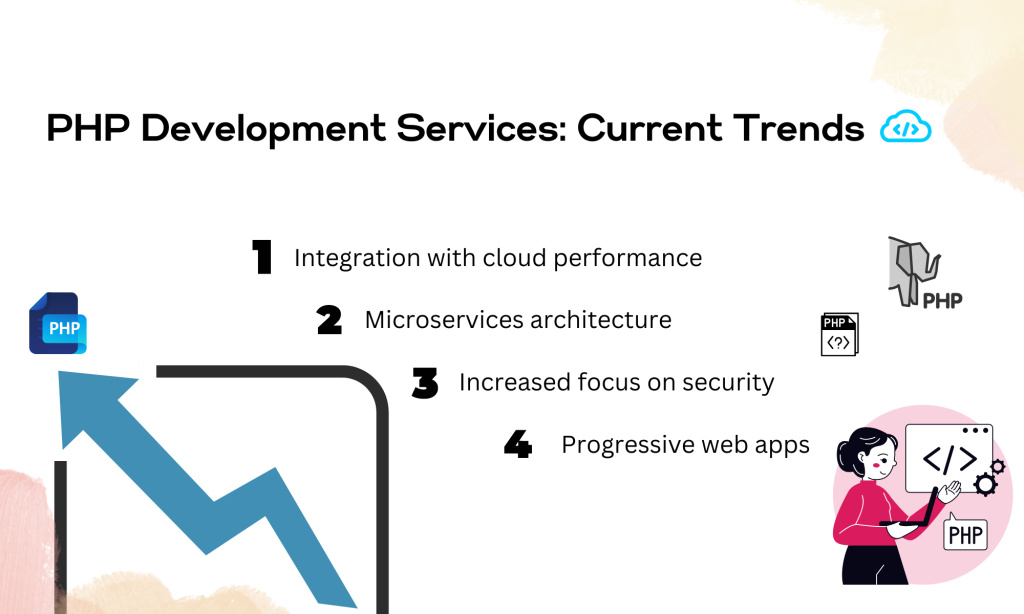 The world of web development is ever-changing, with trends, technologies, and best practices that are constantly evolving. PHP is a generally used scripting language for web development services that is popular for various reasons.
The latest trends in PHP web development services focus on creating more efficient code and improving user experience. Developers are increasingly looking for ways to use PHP to provide fast, secure, and user-friendly websites.
One of the latest trends in PHP web development services is incorporating Object-Oriented Programming (OOP). OOP allows developers to create reusable code that can be used across multiple projects, making development more efficient and cost-effective.
Additionally, security is becoming increasingly important to developers, and they are leveraging PHP's built-in security features to build secure websites. Finally, developers are increasingly looking for ways to improve user experience, such as leveraging caching technologies to improve page load times and developing intuitive user interfaces.
Get the Best PHP Web Development Services
Hr Tech LLC provides highly experienced and qualified professionals with top-notch PHP development services. Our team is committed to delivering the best results for our clients, ensuring that the projects are completed within their set deadlines and budgets. We have a wide range of services, from the custom app and website development to website maintenance and support. Our experts are well-versed in the latest technologies and tools, ensuring you maximize your investment.
FAQ'S