Consider these 6 Factors for Mobile App Development
Mobile App Development: Top 6 Aspects to Examine!
Mobile app development is booming like never before. Every company needs to develop mobile apps that showcase its goods and services due to developing new mobile devices and operating systems. Even while creating a business app is now simple, if you want to use it as a tool to help your company expand, you'll need the right tactics, work, money, and marketing efforts. This blog focuses on essential elements to consider when creating a mobile application for your company.
Role of Mobile App Development in Businesses
Mobile application development for businesses involves more than just technological advancement. To create a user-friendly application, you require business expertise. This article will highlight essential ideas that every company owner, app creator, and service provider should remember before creating a mobile application.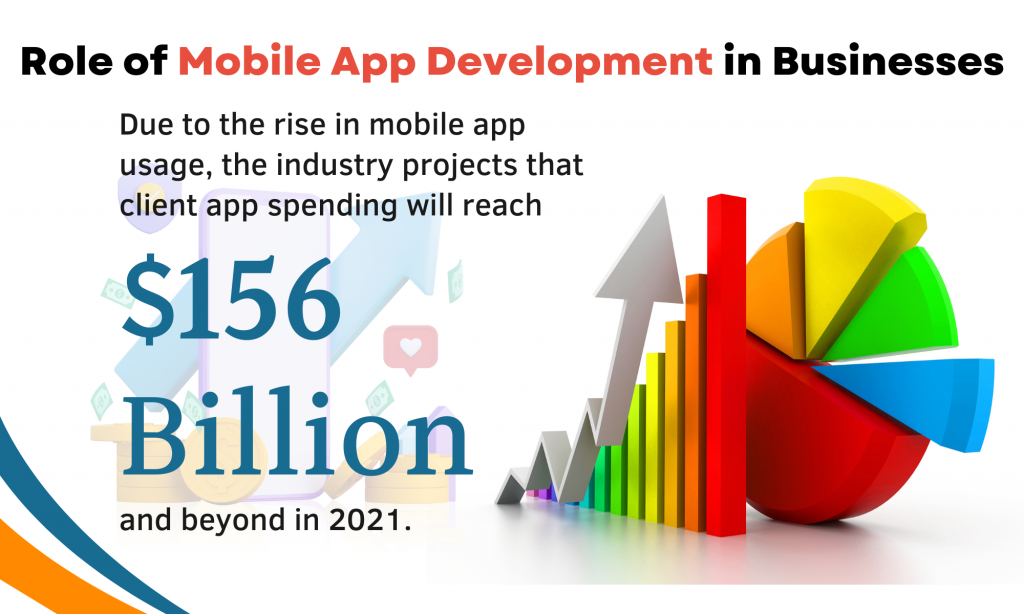 Numerous people are investing in smartphones and other mobile devices as the digital world expands tremendously. Users have shifted significantly away from desktops and laptops to smartphones and other mobile devices. As a result, there is an increasing need for high-quality apps. Many inexperienced app developers enter the market after noticing the rising demand to make money.
Apps that enable developers to create anything and earn easy money should not be undervalued. They should be aware that mobile applications are practical, simple to use, and convenient handling platforms that give owners of them a competitive advantage for their personal and professional objectives. Mobile applications help you increase your visibility and give your customers a quick way to contact you, regardless of how experienced you are in business.

Why is Mobile Application Development Important in Today's Scenario?
In 2021, there will likely be 258 billion mobile app downloads, a 45% increase from 2017.
Due to the rise in mobile app usage, the industry projects that client app spending will reach $156 billion and beyond in 2021.

These insights thus highlight the need to create a mobile app for businesses.
Acknowledge the Top 6 Factors for Developing Mobile Applications:
Businesses must consider a few crucial factors before commencing their android app development.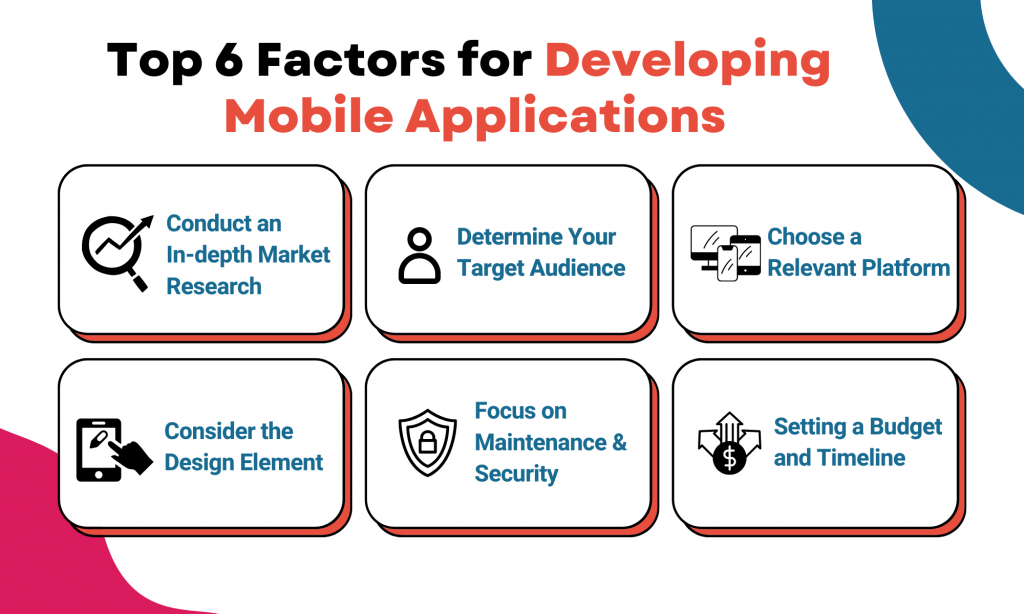 1. Conduct an In-depth Market Research

You must perform in-depth research on market trends, consumer expectations, and preferences to build an application that resonates with your target audience. Comprehensive market research will reveal which apps are becoming increasingly popular among smartphone users.
Reviewing user feedback for well-known applications would be a good activity because it would allow you to determine your target market's interests, preferences, and problems. You can also analyze your rivals' tactics to determine the features and functionality they provide. This research will give you a solid foundation for your job.
According to Apogaeis, Learning from others' mistakes is better than Learning after making mistakes. If you have a brilliant concept to create a leading mobile application for your brand, you must first comprehend the market, customer needs, and trends. Before adding a technology touch to your company app, you must conduct market research. You may gain valuable information from market analysis research. You can comprehend the market's acceptance of similar apps and the tactics employed by your rivals. As a result, you'll be able to optimize your app immediately.
You can plan more effectively and construct a promising application from the start with the help of research. Reviews from customers can record preferences, choices, dislikes, and potential future needs. The trouble spots can be noted, and you can try to fix them on your mobile app.
2

.

Determine Your Target Audience
Your application's success or failure will be determined by its user base. Therefore, selecting the appropriate group of audiences is crucial. It would be best if you are particular about your target audience's location, age group, gender, economic level, occupation, and interests (s).
Since every mobile application, including your own, tries to solve a problem, you cannot exclusively base your audience identification on conjecture. You must conduct surveys, browse internet message boards, and use tools to understand your market. To visualize the requirements of various audiences, you can develop personas. By conducting deep research, you can comprehend the qualities that need to be in your application.
This factor is crucial and falls under the research stage. It's essential to choose the appropriate audience segments for your application. The target user groups are necessary for android app development and the expansion and growth of app features. Therefore the future of the entire application depends on them. Before beginning development, it is essential to consider who will use my program and how it will improve their lives. Your app will become famous and increase revenue if you meet users' expectations.
3. Choose a Relevant Platform
Android, iOS, and Windows are the 3 most used platforms for creating mobile apps. It is advised to begin with one platform and switch to another after gaining sufficient experience. When selecting a platform between Android, iOS, and Windows, your target audience, app features, and pricing strategy are the three main factors to consider. You can move forward with creating a native or hybrid application after this is made evident.
Native apps are developed per the specifications of the platform they are built on. Therefore, native iOS apps are created with Swift or Objective-C, whereas native Android apps are created with Java or Kotlin. On the other hand, hybrid apps are technically web applications developed with HTML, CSS, and JavaScript.

Native and hybrid apps each have benefits and drawbacks. Although native apps cost more upfront, they are faster, more responsive, and provide users access to all the capabilities of the OS of choice. Native apps, therefore, enable a highly personalized user experience. The cost-effectiveness of hybrid apps over native ones is that they may be developed from a single code base. However, hybrid apps are slower and don't offer the same flexibility as native apps. Additionally, they are more vulnerable to bugs.

The following criteria should be your primary considerations when deciding between native and hybrid applications:
UX service you aim to provide.

Magnitude of difficulty of your desired app features.

Deadline for developing a mobile application.
4. Consider the Design Element
Creating simple, intuitive designs is the primary goal of the USA's top mobile app development companies. Users may be turned off by a poor user interface and choose to remove your application. The following considerations should be kept in mind as you create the application:
No Unnecessary Elements: Make an effort to remove all unwanted components from the application. Users can readily locate what they're looking for with fewer distractions
Smooth Flow of Information: Naturally, one thing should lead to another. Users should experience it as if they're interacting with a human.

Minimal Input Fields: The user may get irritated and stop using the application if you create many user inputs or switch between input modes.

Limited Use of Notifications: While alerting users to new offerings or changes is necessary, overusing notifications may lead users to discontinue your application.
5. Focus on Maintenance & Security
You must budget a specific amount for application maintenance whether you develop the app yourself or work with one of the best android app development companies in the USA. You must maintain the app, fix bugs as they arise, occasionally add new material, watch user analytics to see how the app functions, and alert users to any updates or offers.
Security is an essential factor that many app developers frequently overlook. From the beginning of the development process, mobile apps must have procedures for data collection, management, and security. Your privacy policy must detail all the information you are ordering and how you plan to utilize it if your application collects sensitive user data.
6. Setting a Budget and Timeline

Budgetary restrictions may make it challenging to create your application. The cost of creating, maintaining, and advertising the mobile application will be high. The cost of your project is also determined by how complicated your software is. Therefore, it's crucial to calculate the whole development budget and allocate it effectively during all phases of development.

The development timeline is another aspect you must take into account. Setting deadlines for each stage of development and monitoring whether they are met are essential if you want to conclude the project on schedule.
Finishing It Off
As one of the top firms in the USA for developing mobile apps, HR Tech has a fantastic track record of producing excellent online and mobile applications. When used properly, a mobile application can boost your mobile application development company's visibility, turn devoted customers into brand ambassadors, and increase profit margins. The above elements are essential for creating an application that enables user interaction with your brand. Contact our technical experts immediately for further details.