Amazon Backend keywords: Tips to Boost Your Product Visibility In 2023
Detailed Directions On How To Acquire Amazon Backend Keywords In 2023
Amazon backend keyword refers to the hidden keywords, also known as "search terms" that sellers can add to their product listings on Amazon to help improve their product's visibility and search ranking. Like Google, Amazon's A9 algorithm considers a number of variables while producing search outcomes, with keywords being among the primary ones.
The success of your Amazon product listing depends on the keyword usage's effectiveness. However, one cannot deny that marketing on Amazon is not solely about exposure. The listing must contain a catchy title, clear bullet points, and details of the products. Therefore, it would be harmful to overuse keywords in the product listing. Amazon's backend keywords play a crucial role in this situation. Explore Amazon Account management services and utilize backend keywords more effectively.
Inside this post, we'll look at how to utilize backend keywords to increase sales by Amazon backend keywords optimization and how and where to seek them.
What are Amazon Backend Keywords?
Backend keywords are secret keywords that are exclusively known to Amazon sellers. Hidden keywords are a means to inform Amazon's algorithm that a particular keyword is pertinent to your item, even though visitors cannot see them.
It allows merchants to target terms that aren't available in the product description. Backend keywords on Amazon enable merchants to write legibly and allow for a variety for their retail sites while also guaranteeing that Amazon indexes all keyword variations pertinent to the item. These backend search terms on Amazon are crucial for increasing exposure and boosting revenues.
Amazon Backend Keywords: Indexing vs. Ranking
Ranking and indexing are two different terms that are frequently used interchangeably. Whenever a keyword comes up in a customer search, Amazon's algorithm considers it to have been effectively indexed. On the contrary side, ranking describes where your product listing appears in the search engine outcomes.
In determining how and where to rank products inside a specific niche, Amazon's algorithm considers a variety of parameters. The selling velocity for particular keywords is given significant importance from all of these parameters, including backend keywords.
How to Discover the Best Amazon Backend Keywords for Your Listing.
While adding backend keywords is simple, selecting the ideal phrases and tailoring them for your product's functionality requires using tools. Three techniques that merchants can use to find keywords for their Amazon listings are illustrated below: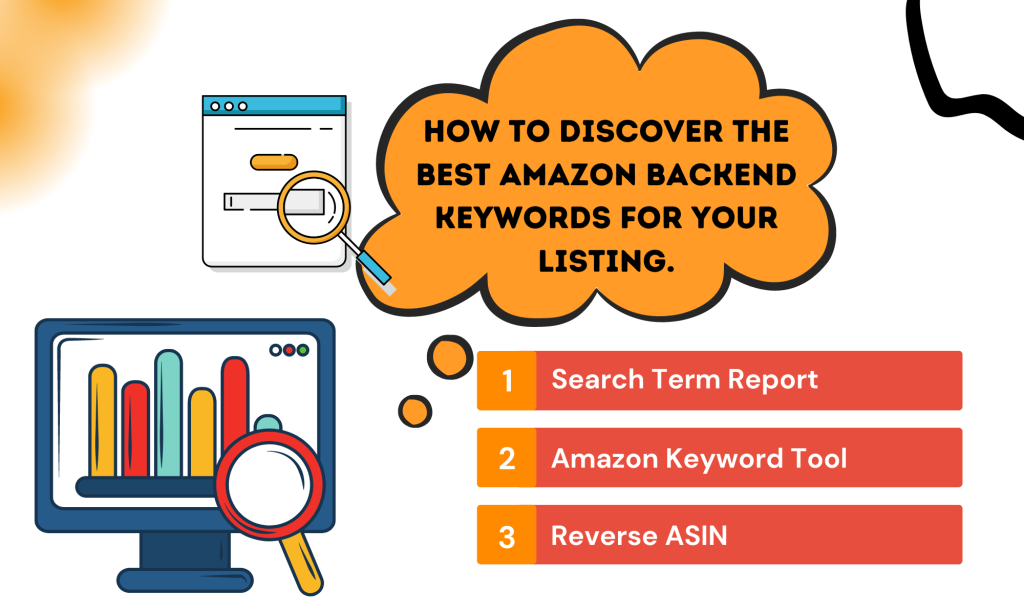 1. Search Term Report:
The search Term Report is an Amazon tool for finding and enhancing the quality of keywords. We advise using any external keyword finders besides Amazon's service, not as a substitute. You can arrange your product catalog with Zonguru, The Search Term Report, so that each ad, including PPC ads, targets the appropriate products with the appropriate keywords. It does, however, need some trial and error.
As Amazon's competitiveness has increased, this element has been deleted from the report showing which specific product ASINs were relevant to which search phrases. Therefore, sellers now deliberately establish various ad groups for each SKU to link the keywords to the transactions and improve their campaigns.
2. Amazon Keyword Tools
By determining the phrases, you should target, third-party keyword tools provide Amazon backend keywords help in both free and paid subscriptions. New sellers should obtain a feel for the procedure before paying a subscription because many free programs can provide essential keyword locator services.
These are some of the chief Amazon keyword tools:
Google Keyword Planner (free)
Wordstream Keyword Tool (free)
3. Reverse ASIN:
Sellers can use Lookup to research new keywords by utilizing the ASINs of their rivals. These can be located in the same place as yours, in the product details and the URL, on their product sites. Amazon backend keywords this ASIN may be aiming for can then be found, organized by search volume. Since your competitor's thought process will be similar to yours, you may use these results to determine your most significant competitor's keyword strategy, which will help you decide which terms to compete for and which to avoid using up your marketing money.
Tips for optimizing your Amazon Backend keywords
You'll get more worthwhile responses if you use the proper backend keywords for your Amazon product listings. Here are five suggestions to help you choose keywords more effectively.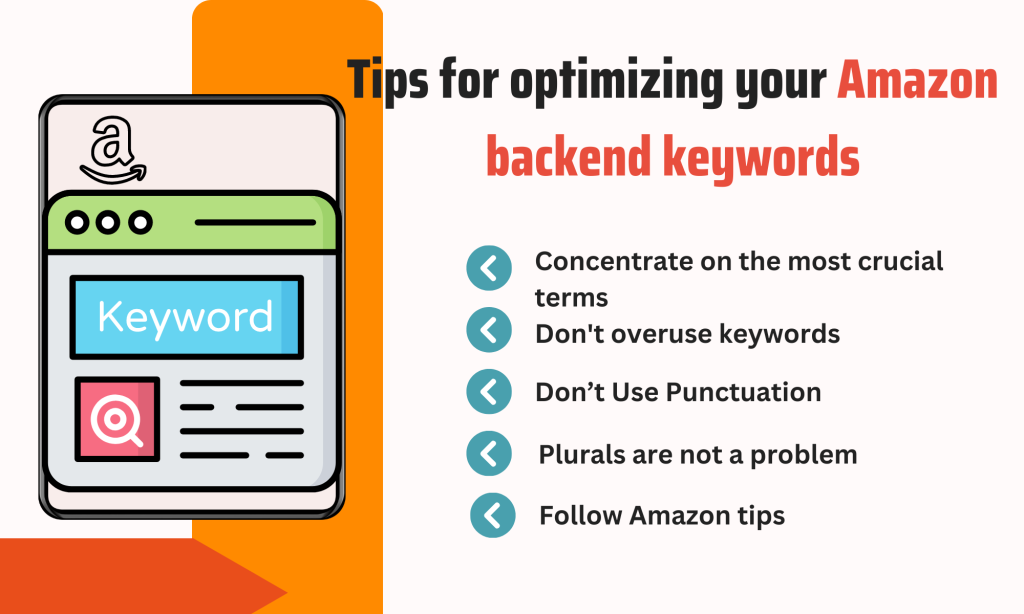 1. Concentrate On The Most Crucial Terms.
You need conversions to raise the position of your products on Amazon. One may find the best keywords for their business by conducting Amazon keyword research. Avoid using keywords that seem to be unrelated to your product. Some businesses will try to employ everyday language to get their goods before a more significant number of consumers. This is discouraged by the platform because your product page is unrelated to the term.
Amazon seeks to increase conversions by obtaining the finest product results. It will make lesser sales again for the platform and your company. Your item won't appear in relevant customer searches if you add inappropriate search phrases, so avoid doing so.
2. Don't Overuse Keywords.
You are not required to utilize keywords multiple times by Amazon, nor is it advised. You will score as much as you employ them less on your page. You do not need fancy integrating techniques to scatter it around your page.
You should use the same procedure when incorporating keywords into your listing's backend. Employ none that appear on your page's main page. You'll appear in search results for those terms.
Additionally, avoid using the exact keyword more than once on the backend. By doing this, you can save space that can be utilized for more beneficial terms. You only need to score for it once.
3. Don't Use Punctuation.
You automatically put commas amongst each item on your lists whenever you create one. You don't have to use punctuation when using Amazon backend keywords.
Every keyword you provide has to be separated by a space. This applies to all punctuation, such as commas, periods, exclamation points, and quotation marks. Punctuation marks don't improve the effectiveness of your backend keywords.
You could believe that you must utilize the plural forms of your keywords when entering backend keywords to account for customers who look for quantities of your goods. Plurals do not even need to be a concern. It is taken into consideration by Amazon when customers look for goods.
Amazon knows customers will look for single and plural forms of your goods. They will rate your listing similarly for every product. Plurals are not required to take up significant real estate in your backend keywords. Concentrate on the most crucial keywords because you can only use 250 bytes in your backend keywords.
5. Follow Amazon Guidelines.
Pay attention to Amazon if you wish to optimize your backend keywords for maximum performance. Amazon's regulations, guidelines, and advice cover how to select backend keywords. Also learn more about Amazon listing optimization if you adhere to their guidelines.
Whenever it relates to backend keywords, Amazon offers just a few specifications. Here are a few illustrations:
Use appropriate keywords.
Sort your keywords logically.
How do I Add Backend keywords on Amazon?
So now that you understand how to locate keywords that convert, let's examine how you may incorporate them into your backend target keywords.
1. Enter your Amazon Seller Central login information.
2. Select "Manage Inventory" from the "Inventory" fall menu.
3. Search for the listing to which you wish to add backend keywords.
4. To modify that listing, select the 'Edit' option. You'll be taken to a different page.
5. Go to the "Keywords" section.
6. Then select "Save and complete" after entering your backend keyword inside the "Search Terms" section.
Conclusion
Get in touch with HR Tech LLC to get the best service offered, obtain Amazon backend keywords for your items in 2023, and keep one step ahead of the competition. On the Amazon marketplace, these effective keywords can raise your visibility, encourage visitors, and improve purchases.
You may find and improve the finest keywords for your products, putting them in front of the appropriate audience with the assistance of professionals in Amazon SEO Services. Use the potential of backend keywords and watch the impact it has on your company in the new year. Don't let your products get buried in the crowd. To know more about how we can assist you in acquiring Amazon backend keywords in 2023, reach us immediately.