How To Reduce Mobile App Development Cost & Boost Success Rates?
A Guidebook On How To Reduce Mobile App Development Cost in 2023
Between the graph of rising app development demand and its quality, keeping the bar of cost somewhere in the middle is a crucial need of every business. And in the process comes a concern to reduce mobile app development cost.
Add technological advancements and automation to your business work as philosophers' stones. In the growing market of apps, many businesses lose the opportunity to excel due to the cost of mobile app development. But we provide optimum mobile app development services at affordable prices.
Here is the list of techniques for- how to reduce mobile app development costs.
Popular Apps and an Estimate of Their Price
Due to the premium quality and growing demand for mobile apps, businesses must maintain an avg mobile app development cost. Here is the list of some top-notch apps and their cost range. This information will help you estimate your mobile app development cost.
. Whatsapp: Depending on the complexity of the software, the price for designing a WhatsApp-like app ranges from $40,000 to $90,000. A well-known ride-sharing app links drivers and passengers.
. Uber: The module includes a driver app, a passenger app, an admin control panel, and data analytics. Depending on the complexity, an Uber-like app can cost anywhere between $30,000 and $80,000+.
. Tinder: A geosocial software for networking and online dating that lets users establish profiles and connect with others online who share their interests. A Tinder-like app ranges from $35,000 to $90,000.
. Netflix: One of the top subscription-based media streaming services enables users to view TV shows and movies whenever they want on a device with an internet connection. Netflix might range from $40,000 to $150,000+.
. Udemy: Students and faculty can connect through video through a well-known e-learning programme, which also offers distance learning courses and gives users access to hundreds of online courses and skills. An app similar to Udemy might range from $35,000 to $1,20,000+.
Plans to Cut Off Mobile Application Development Cost
There are specific techniques to make it more reasonable. Here, we'll examine some fantastic strategies for lowering the price of app development for new businesses.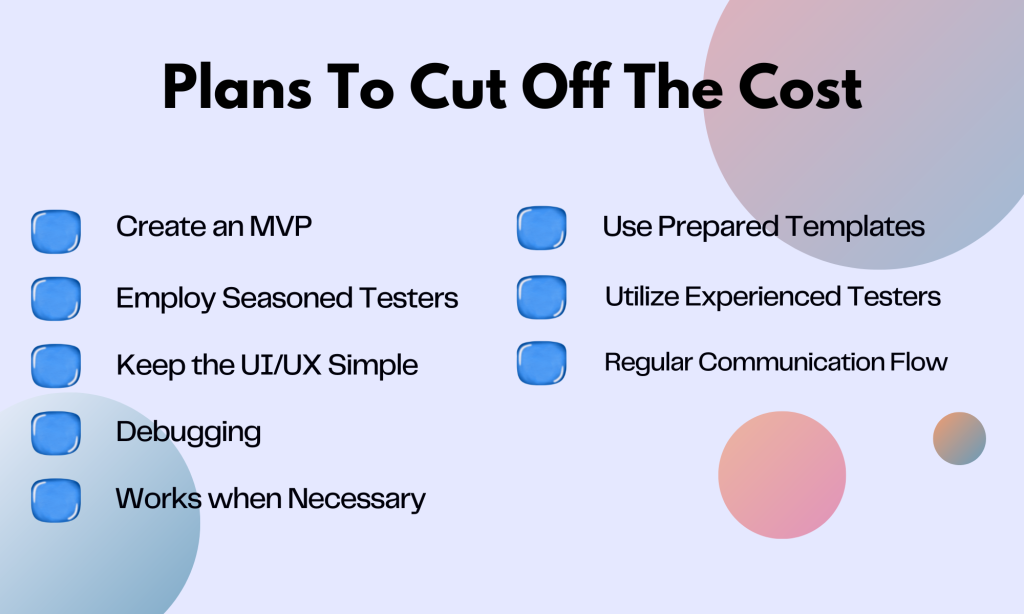 1. Create an MVP:
With fewer features and a lower price tag than the original product, a Minimum Viable Product, or MVP, is created.
An MVP can be created and made available to the public.
You can save time and money by not constructing the original app on the first try and instead relying on the MVP to generate funds for your project. Once you accomplish that, you will get money and get feedback for the original product to use.
2. Use Prepared Templates:
Building anything from scratch could seem terrific, but it isn't economical. You can quickly pick a template that works for your app from the many free online ones.
Using off-the-shelf models reduces the time and cost of producing a mobile app.
3. Employ Seasoned Testers:
Investing in a professional team of testers is the best option if you want to save money and time.
That is one area where you should make wise investments because it will only improve the consumers' experience with the app.
4. Utilize Experienced Testers:
If you want to save money and time, investing in a professional team of testers is the best solution. Given that it will enhance users' experiences with the app, this is one area where you should make judicious expenditures.
5. Keep the UI/UX Simple:
Choosing simple yet appealing designs is one way to lower the cost of developing apps. A simple user interface (UI) design is crucial, especially for new users, since it makes adoption simple. Most apps and websites use a minimalistic style because it is pretty affordable. A bunch of features and intricate structures will confuse users and increase development costs unnecessarily.
6. Debugging:
Throughout an app's lifespan, improvements and fixes are essential. Fixes are essential during the development stage and only during the development stage but also after the app is released. It is excellent to have a professional nearby who can offer suggestions for c costs as the process progresses.
7. Maintain a Regular Communication Flow:
The constant and ongoing contact between clients and developers is crucial. This consistent communication will help you and the developers better comprehend the situation. It also aids in keeping track of how the procedure is progressing and the associated expenditures.
8. Mechanism Engrossing only Works when Necessary:
Depending on the nature of the solution, the device's built-in features enter the picture.
A learning app, for instance, is not required to access the user's present location.
GPS and accelerometers are, therefore, irrelevant in this context.
Businesses should be aware of when to use a device's feature and the degree to which it is required; doing so helps reduce the app's expense.
Avoid these Mistakes to Cut the Cost of Developing Apps:
Numerous studies have shown that the actual expenditure of developing an app always surpasses the project's budget. Several hidden expenses must be found and eliminated during the process to lower the price of developing mobile apps.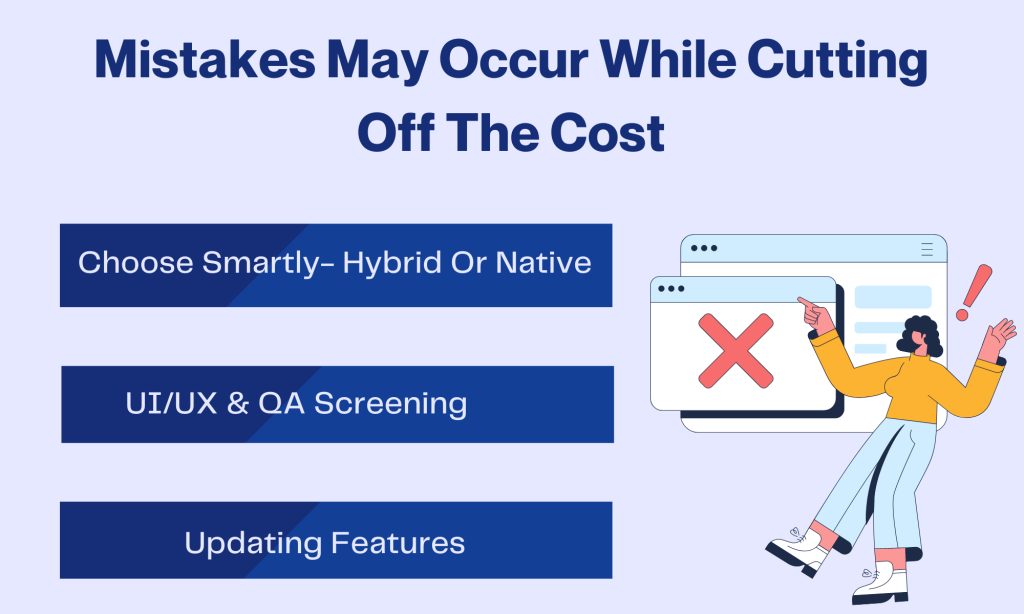 1. Inaccurate Amount of Capital Invested for UI/UX and QA Screening
Here is most likely the first error you could make.
The cost of UI/UX depends on the number of devices, operating systems, and features in your app.
Additionally, building an app is involved.
Simple designs and features are more affordable than sophisticated designs with an excessive number of functions.
Another area where prices rise is during the testing stage.
Conduct comprehensive testing for every device and OS.
For this, be cautious about testing run before the app is released.
2. Omitting the Price of Implementing the Newest Features
After licensing the programme, you can make significant earnings by reselling it to other businesses. But it might also be expensive. Naturally, there will be benefits, but there is a cost consideration. A desire for a never-before-seen app feature for your app may cost more than you anticipated.
The majority of developers won't let you know if you're unintentionally increasing the expense of your app development project.
Look at the businesses that startups should use to develop their apps.
3. Not Sure Whether to Choose a Hybrid or Native App
As a startup, you might not understand the distinction between a hybrid app and a native app. Knowing the differences between these two types of apps is crucial when considering app creation.
You can choose between hybrid and native apps once you know the differences. Additionally, the price of developing an app varies depending on the app type.
To Sum Up
You may put the above tactics of "how to reduce mobile app development cost" into practice and lessen the risk of failure with the assistance of HR Tech LLC skilled development team. We can design a mobile app tailored to your company's needs that will provide a maximum return on investment if you follow these guidelines carefully.
Our skilled developers specialize in releasing cutting-edge mobile apps loaded with cutting-edge features and technology.
FAQ'S