What Makes Mobile App Market Research Crucial for Your App Idea? How to conduct it?
Effective Mobile App Market Research: Importance, Strategies and more
The use of mobile apps has skyrocketed in the last ten years. The Google Play Market and Apple's App Store offered millions of mobile applications for download in the 3rd quarter of 2021. It's getting harder for application developers to distinguish among the crowded app industry. As the variety of mobile applications proliferates. That's where mobile app market research fits in, as it aids developers in comprehending both their consumer base and the market at large.
The worldwide app industry was estimated to be worth $581.9 billion in 2020 by Statista, and it is anticipated to increase to $937.5 billion in 2023. By developing applications that are in need, mobile app market research can assist application developers in capturing a portion of this expanding market.
Mobile app market research includes obtaining data on the customer base, rivals, and market dynamics. The data acquired can assist programmers in producing an app that appeals to their target demographic even while distinguishing itself in the competitive app market. Mobile app performance is also an important aspect of mobile app development which aids in growing your consumer base.
Businesses and developers can follow these measures while performing mobile app market research. So let's begin.
Describe Mobile App Market Research?
Analyzing your target audience, competition, sector, and present market developments is the method for conducting mobile app market research. Every initiative to create a mobile application starts with market research.
Mobile app market research assists in validating your app concept and assures your application is meeting demand in the industry. Gathering and analyzing information is necessary for performing mobile app market research. You can sometimes get information from sources that are already in existence. Otherwise, you'll have to carry out research work by yourself. The majority of the time, market analysis utilizes both of these methods.
The essential inquiries are addressed by mobile app market research:
Does the industry require your app?
What demographics and inclinations make up your target audience?
What opponents and challenges do you confront?
Is there a way that your mobile app stands above its competition?
Have you developed a successful business structure for mobile apps?
How do you build an effective business plan?
You should always use reliable and reputable sources while gathering data from current sources.
How to Conduct Mobile App Market Research: Best Strategies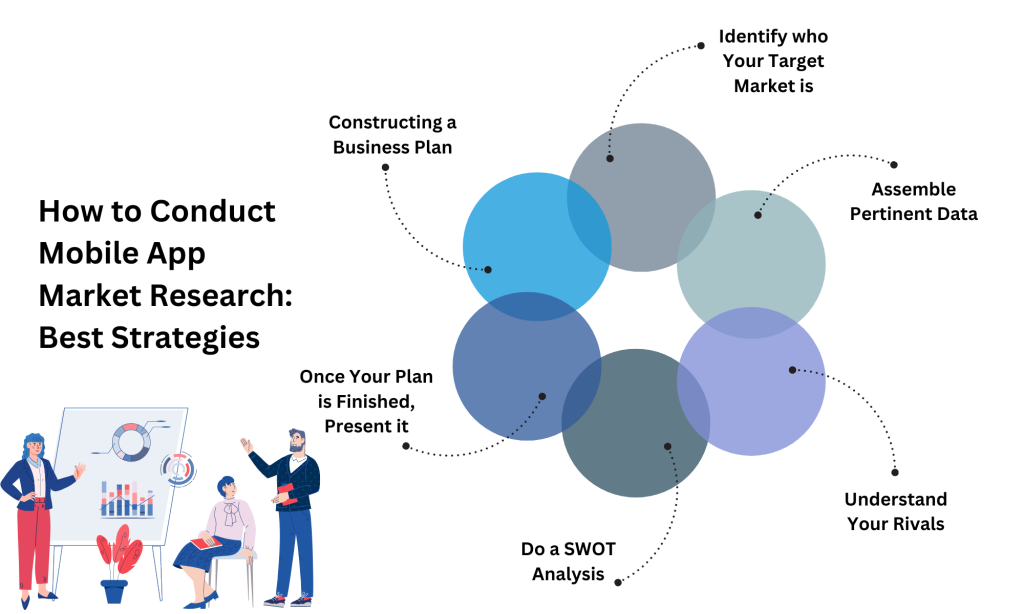 1. Identify who Your Target Market is
The foundation of any app market research is understanding your potential customers. Your consumer determines the best way to research your mobile app. The second part will be straightforward if you know your application's target audience. Yet selecting your intended audience necessitates some investigation.
Statistics is quite essential in assisting you with target market demographics. It is unnecessary to go into minute details. Focus on the fundamentals like the person's age, where they are from, the dialect they communicate with, and gender. A collection of individuals with common hobbies is your triggered group of audience to start. Let's move on to the following section to discover how to gather information .
2. Assemble Pertinent Data
Real-time data provides you the ability to make several app changes. Annually, the statistics will change, so be sure to pace yourself according to the most recent version. You must be sure you cite a reliable source when conducting app analysis. Examples of these sources include:
Statista
Google trends
Pew research
Gartner
Gallup
Knoema
3. Understand Your Rivals
Mobile devices account for nearly 54.4% of all website traffic globally. Therefore it often helps to be aware of what your rivals are undertaking to guarantee the achievement of your app releases. You know, every successful business concept begins with competition monitoring. Nonetheless, despite being opponents, companies are still reliant on one another.
Even if your application is a hit, it won't last long because your rivals have already done their mobile app research. Maybe they are working on a more effective alternative. Understanding your rivals' unique selling points, greatest strengths, and weaknesses may be a gold mine for you. It will enable you to enhance your innovative mobile app ideas and advertising strategy. Also, this aids in keeping in mind the precise expectations your buyers have for your goods.
Essential reminder: even if a statistic or informational item is useless, you should not take it lightly when collecting data. You rarely realize if something will come in handy, so it's best to record and utilize it.
4. Do a SWOT Analysis
Doing a SWOT assessment of your rivals is also helpful. In this manner, it will be pretty obvious how your software differs from the offerings of your rivals. Don't just concentrate on businesses that compete directly with or are identical to you. Extend your skills and analyze numerous businesses, both large and small. Even though you may not have the same robust network as the major companies, you may gain a considerable understanding of how they handle their customers, users, or rivals.
Although if they don't utilize the same app as you, your indirect rivals' solutions generally address identical or related issues. Learn what they're doing, then try to give it a fresh twist.
5. Once Your Plan is Finished, Present it
Putting the plan into action after considering every crucial factor is essential. You can present your mobile app research on market plans and get feedback. You can strengthen your main points and aid the application release by getting unbiased comments. Make sure to request the following things to be reviewed:
How well are the customers' concerns being addressed?
Have we consistently effectively used our USP?
Have we included the features that would make our app stand above the rest?
Do we have a data-driven app strategy?
6. Constructing a Business Plan
A thoughtful business plan lies at the foundation of a great mobile app! Maintain something brief while creating it to avoid confusing your stakeholders. The elements of selling, revenue, marketplace, and profitability are all part of a business strategy, which serves as a road map.
Including excellent marketing techniques will guarantee the excellence of your mobile app, making this an essential part of the company strategy.
What Estimates Indicate About Mobile App Failings, and Why Is Research Essential?
These are some conclusions drawn from various studies regarding unsuccessful mobile app development: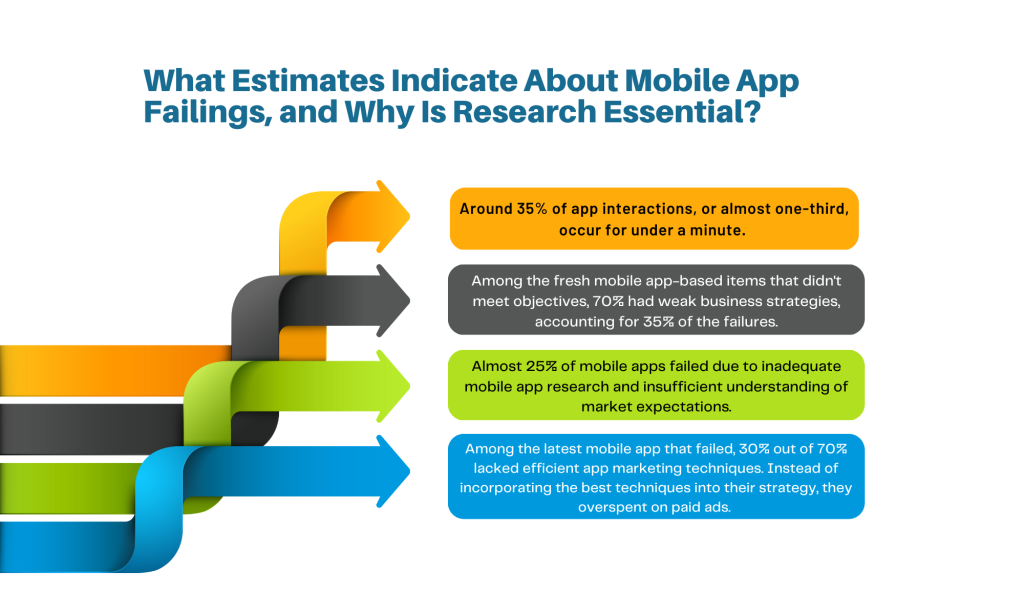 Application Engagement: Around 35% of app interactions, or almost one-third, occur for under a minute.
Absence of a Strong Business Concept: 70% of newly developed mobile apps have weak business strategies, which results in 35% of the failures.
Insufficient Market Analysis: Due to inadequate mobile app research 25% of mobile apps failed. It can be due to insufficient understanding of market expectations.
Ineffectual App Marketing Methods: Among the latest mobile app that failed, 30% out of 70% lacked efficient app marketing techniques. Instead of incorporating the best techniques into their strategy, they overspent on paid ads.
Elements Of Market Research For Mobile Apps
The procedure for carrying out primary and secondary studies is a step in creating mobile applications.
1. What Does Initial Research Involve?
Helps you assess the industry's interest in your proposed mobile application.
Helps in the creation of the business plan.
Helps create an effective marketing strategy.
2. How Do You Carry Out Basic Research?
Utilize internet forums, group discussions, social media platforms, one-on-one conversations, and landing pages.
Do marketing research, determine the company and marketing model, and perform research on income and promotional strategies.
Establish your marketing strategy, decide between paid and organic marketing, and identify launch-related risks.
3. What Exactly is Secondary Research?
Helps to enhance the smartphone app's fundamental functionality.
Aids in the development of a successful social media strategy.
4. Secondary Research: How Should You Approach It?
Make a SWOT analysis (Strengths, Weaknesses, Objectives, and Threats).
Ensure your social media pages are optimized, adhere to the latest trends, and use paid and organic techniques.
HR Tech LLC can Assist With Transforming Your Thoughts Into Virtual Truth.
It could be awful to conduct a poor market analysis. HR Tech LLC has helped several new and existing commercial businesses develop and grow with our innovative mobile app development services. If you've got a notion for an app but are also unclear whether it will be successful, contact us. We've developed a research process where we thoroughly research your app idea and help you make it a reliable actuality.
Summing Up
Completing the market survey is one of the most critical steps in developing an effective mobile app. By investigating the app industry, you can find possibilities and potential issues. Improve your app concept, and have a deeper grasp of your target market.
When conducting market research for mobile apps, you must begin by recognizing your rivals and evaluating their advantages and disadvantages. Focus group discussions and polls can be effective ways to learn more about the wants and needs of your customer base. You can also read app store ratings to learn what customers think about related apps.
You may develop an application that satisfies their wants and differentiates itself from the competitors by comprehending the app market and your intended audience.
Every attempt to design a mobile app begins with market research. Mobile app market research assists in validating your application concept and assures your app is meeting demand in the industry. Data gathering and evaluation are necessary for performing mobile app research.
Research on the mobile app industry is essential for application developers since it enables them to comprehend their targeted audience and pinpoint their wants, interests, and problem areas. App developers can learn about present market conditions, spot rivals, and assess their advantages and disadvantages by performing market research.
Proliferating mobile phone use, rising internet access, and expanding the adoption of innovations like AI and machine intelligence are some of the main reasons driving demand for mobile applications.