Win the Amazon Buy Box In 2023 With Expert Strategies & Proven Tactics
How to Win the Amazon Buy Box in 2023 and How It Works
Securing the Amazon Buy Box is essential for a prospective seller to succeed in 2023. Over 90% of Amazon sales, as per current data, take place through Buy Box, which makes it a much-desired feature. But because of the fierce rivalry, obtaining the Buy Box on Amazon necessitates clever pricing, top-notch customer support, and Amazon Listing Optimization.
In this comprehensive guide, we'll examine the criteria Amazon uses to determine Buy Box qualification and offer advice on how to raise your likelihood of winning the reward in 2023. We'll go into specific metrics and data that sellers should keep an eye on, as well as the best methods for setting prices, managing inventory, and providing excellent customer support.
You can acquire the Amazon Buy Box and become a successful Amazon seller in 2023 using the tactics described in this tutorial. So let's get going!
What is Amazon BUY BOX?
You might have observed two options on the right of a product description: "buy now" and "add to cart" . This is an Amazon buy box. It highlights best sellers. Buyers can press a button to add an object to their cart or to complete an immediate purchase in the Buy Box. When several sellers offer the same item, Amazon selects one of the seller's offers to appear in the Purchase Box according to various criteria, including price, supply, and customer support metrics. Obtaining the Buy Box on Amazon is crucial for sellers since it raises their profile and may increase sales. Amazon routinely rotates the Buy Box among rival merchants to maintain a competitive market. Thus, winning it is not assured.
The significance of Amazon Buy Box
Getting the Buy Box is a surefire strategy to increase your revenue. The Buy Box accounts for almost 80% of all sales on Amazon.com. Winning the Buy Box is crucial for this reason. Also, this explains the reason for the intense competitiveness of the Buy Box. Most shoppers use the Buy Box to purchase without looking at the different deals. The Buy Box will become even more crucial as mobile purchasing grows increasingly common.
How Does Amazon BUY BOX Work?
Amazon's Buy Box allows customers to quickly and easily add an item to their cart and purchase. Buy Box algorithm considers a variety of factors when selecting a seller's product for the Buy Box. These factors include price, shipping options, and seller reputation. Typically, the seller with the lowest price and best customer feedback will win the Buy Box. However, other factors such as shipping time, seller ratings, and order defect rates also play a role. When a customer clicks the "Add to Cart" button, they buy from the seller in the Buy Box. Other sellers offering the same product may still appear on the product page, but the Buy Box seller is the default option. Winning the Buy Box is critical for Amazon sellers, as it can significantly increase their sales and visibility on the platform.
Amazon's Buy Box algorithm takes all of these factors into account and selects the seller that offers the maximum overall value to customers. The selected seller's offer is then displayed as the default option on the product detail page. This makes it more likely that customers will purchase from that seller. Winning the Buy Box can benefit sellers, as it leads to increased visibility and sales.
Amazon BUY BOX Eligibility Criteria
In terms of competing for the Buy Box, vendors must meet four essential requirements:
1. Professional Amazon Sellers Account:
To be qualified for the Buy Box, a vendor must have a Pro Amazon Sellers account, which charges $39.99 monthly. Accounts that are Personal or Basic Sellers are ineligible.
2. Buy Box Qualification:
A merchant has to be Buy Box Qualified for the item to compete for a portion of the highly sought-after Buy Box. For certain items, sellers may be capable of winning the Buy Box, but not with other goods. Using Amazon FBA, merchants can accelerate their path to Buy Box Qualification. The order probability of failure, cancel percentage, and delayed delivery rate KPIs must be in excellent condition to be Buy Box certified.
3. Item Condition:
Old items could no longer obtain a Buy Box slot more than a unique new product; instead, a used Buy Box distinct from the primary one is now available.
4. Stock Accessibility:
If you don't have enough stock in your inventory, you cannot get an Amazon Buy Box. Inventory levels are taken into consideration by Amazon's algorithms when establishing a seller's eligibility for the Purchase Box. Sellers with large amounts of inventory who ensure their products are always in stock have a higher chance of landing in the Purchase Box. It is so that Amazon may prefer vendors that can provide quick and dependable shipping time frames, which is only feasible if the item is in stock.
Users may verify their Buy Box status through the available inventory data in Seller Central.
If not automatically displayed, the Buy Box section. You can activate it by doing the subsequent actions:
Click "Manage Inventory."
Select "Preferences"
Choose "Buy Box Eligible"
Save alterations
Tips to Win the Amazon BUY BOX
Sellers must raise their effectiveness measures without sacrificing quality in different areas to win a portion of the Buy Box. Finding the ideal equilibrium among client service, cost, and other variables can sometimes be challenging.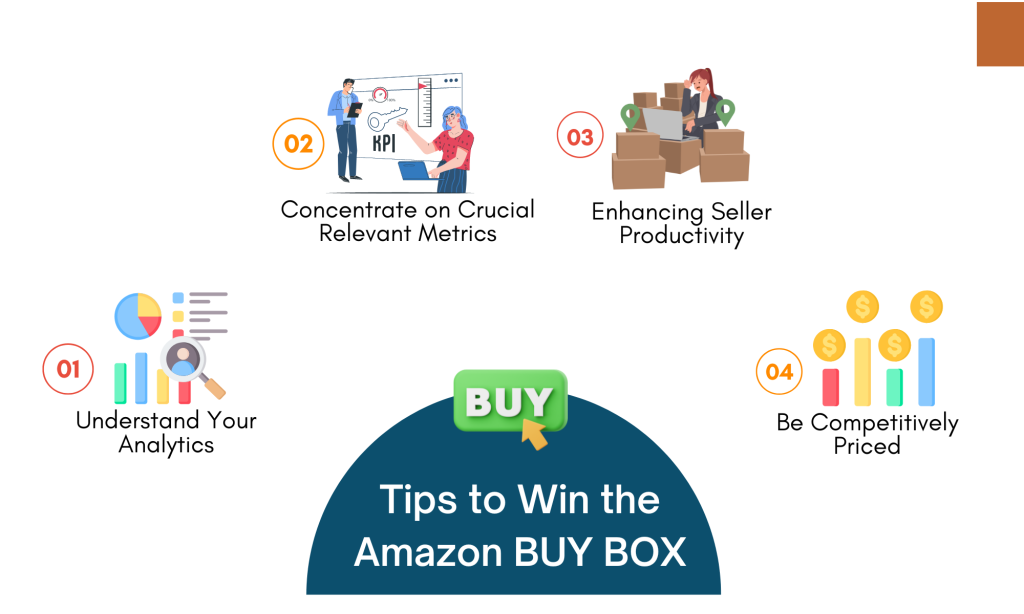 Below are four tactics that could enhance your chances to win the Amazon Buy Box.
1. Understand Your Analytics: Vendors must be mindful of their Amazon Seller Central seller analytics, such as:
Inventory management
Pricing
Shipping Performance
Customer Feedback
Sales performance
2. Concentrate on Crucial Relevant Metrics: Many vendors may concentrate on the variables that significantly affected the Buy Box on Amazon. A critical indicator for the seller is the feedback rating. One of the explanations why merchants utilize FeedbackExpress is to manage Amazon reviews.
3. Enhancing Seller Productivity: Utilize Amazon Seller Central to pinpoint the vital aspects where your effectiveness has to be improved.
4. Be Competitively Priced: It doesn't imply getting the cheapest cost. Use repricing tools, as this could save your effort and maintain your rates' competitiveness when you are unwilling to revalue manually.
You can utilize these tips as an answer to the query "how to win an Amazon Buy Box".
Understanding Amazon BUY BOX Algorithm
An Amazon Buy Box algorithm that seeks to provide consumers with the greatest return on their investment powers the Amazon Purchase Box. One can accomplish this by identifying the item that guarantees the optimal compromise between high-selling performance and low pricing.
Amazon's top priority is the finest consumer service, and the firm refers to itself as "customer oriented." As a result, contrary to specific hypotheses, the Buy Box equation cannot consider price alone.
Each qualifying vendor is subject to a data-driven algorithm that dissects their effectiveness into various factors. After comparing each to certain other vendors who sell the exact item, it determines which vendor provides the highest total value for the consumer.
Although a vendor may be failing a competition solely on a single item, the same merchant may be outperforming the same rival on multiple unrelated products since the values allocated to every factor can vary according to the item or class.
The shipment could prove more important than additional factors for things that must be sent quickly, like greeting cards. As a result, a seller with a short delivery period might have the upper hand over a seller with a lengthy shipping time. The effect of shipment time may be less noticeable for certain goods, including kitchenware.
Each merchant must invest as much time and money as possible to bolster the factors that value Amazon.
Related Post: How To Rank Higher on Amazon In 2023
How to Optimize Your Product Listing for Amazon BUY BOX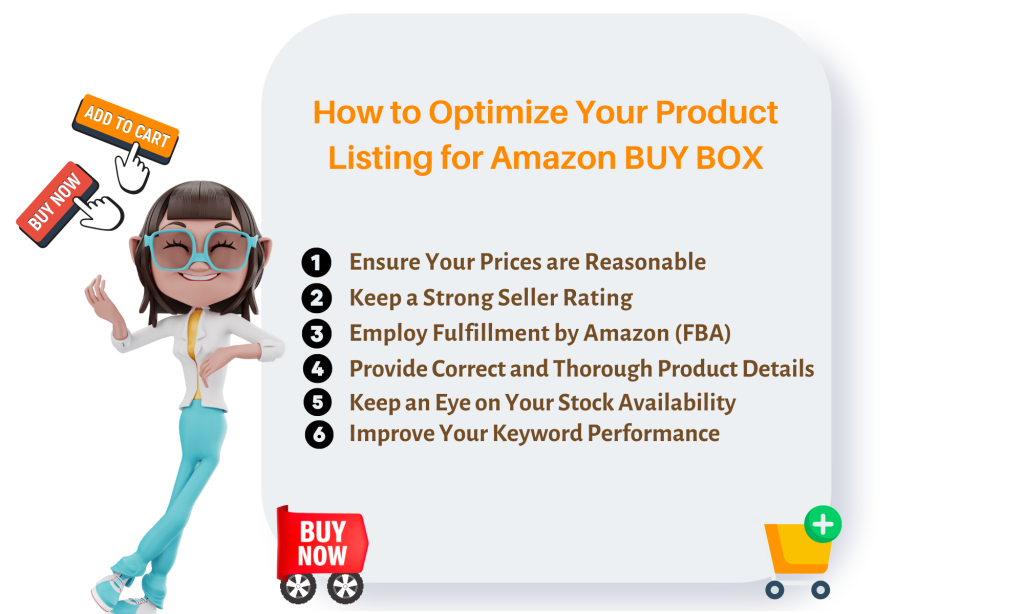 If you desire to win the Buy Box, the Amazon listing optimization will be remarkably effective, which can result in more purchases and exposure on Amazon. The following advice can help you make your product listing more appealing to Amazon's buy box:
1. Ensure Your Prices are Reasonable:
Pricing is among the key elements Amazon considers when deciding which items receive the Buy Box. Use Amazon's automatic pricing techniques, keep an eye on prices charged by rivals, and modify your pricing as necessary. You won't get the Buy Box when your price is too high.
2. Keep a Strong Seller Rating:
Amazon is interested in ensuring buyers have a positive shopping experience. Deliver outstanding customer service, rapidly respond to client questions, and deal with problems immediately. Keeping a good seller score is essential.
3. Employ Fulfillment by Amazon (FBA):
Amazon rewards merchants using FBA. Amazon has confidence in its fulfillment system and knows that goods delivered via FBA are more likely to arrive on schedule and in excellent condition.
4. Provide Correct and Thorough Product Details:
Ensure all your product's characteristics, descriptions, and photos are precise, thorough, and up-to-date. Clients will gain from this because it will reduce the probability that they will return things or leave unfavorable views.
5. Keep an Eye on Your Stock Availability:
Amazon wants to ensure that goods are in-store and available for purchase. You can lose the Buy Box if your stock has low levels.
6.Improve Your Keyword Performance:
By using pertinent keywords in the product details, key points, and headlines. It will improve the visibility of your goods in pertinent searches and raise your likelihood of being found in the Buy Box.
Conclusion
How to win an Amazon Buy Box? Sellers may raise their likelihood of succeeding in the Buy Box by optimizing their product listings, improving customer support, and keeping an eye on key metrics with the help of the techniques described in this comprehensive book. But, it takes a lot of time and effort to earn the Purchase Box. HR Tech LLC steps in to help with this. As an e-commerce consultancy services, we provide knowledgeable direction and assistance to assist sellers in navigating the complicated Amazon marketplace and get an Amazon Buy Box.
Our team of knowledgeable consultants can assist you with managing inventory levels, creating pricing strategies, improving customer service, and optimizing your product listings. With our assistance, you may attain Buy Box eligibility and increase your Amazon sales potential.
To find out more about how we can assist you in winning the Buy Box and achieving e-commerce success and beyond, get in touch with us right away