Most Innovative Mobile App Development Ideas to Boost your Business
Top Trendy Mobile App Development Ideas For Business in 2022                                      
Today,  businesses are constantly thinking about innovative mobile app development ideas. The smartphone allows capturing a wide variety of users with distinct interests. There's a scope for businesses to choose from many niches. And developing a mobile application is crucial for the success of companies in any field. 
Therefore, we are addressing all the innovative creators thinking to create apps to give you some innovative mobile app ideas. This blog will help you with unique app ideas that can be a potential business. 
Why Should You Develop an Innovative Application?
A mobile application's success depends on the combination of an innovative idea and a satisfactory user experience. In the time we currently live, there is an app for almost everything. And there is a lot of technological and creative development taking place rapidly. Innovation increases your chance of adapting to the latest technologies and achieving great success. 
The foundation of today's business culture is innovation. Without constant learning and upskilling, you can't innovate. Hence, innovators should be aware of the latest trends in mobile app development and use them to generate an engaging experience. Today, users expect clean, friendly, and intelligent apps. So, to develop smart apps, artificial intelligence and machine learning are necessary and have become a trend. Similarly, clean UI has also become a trend these days. Therefore, you should combine your problem-solving skills with today's trends to develop an innovative app.
How to Come up With an Innovative Mobile App Idea?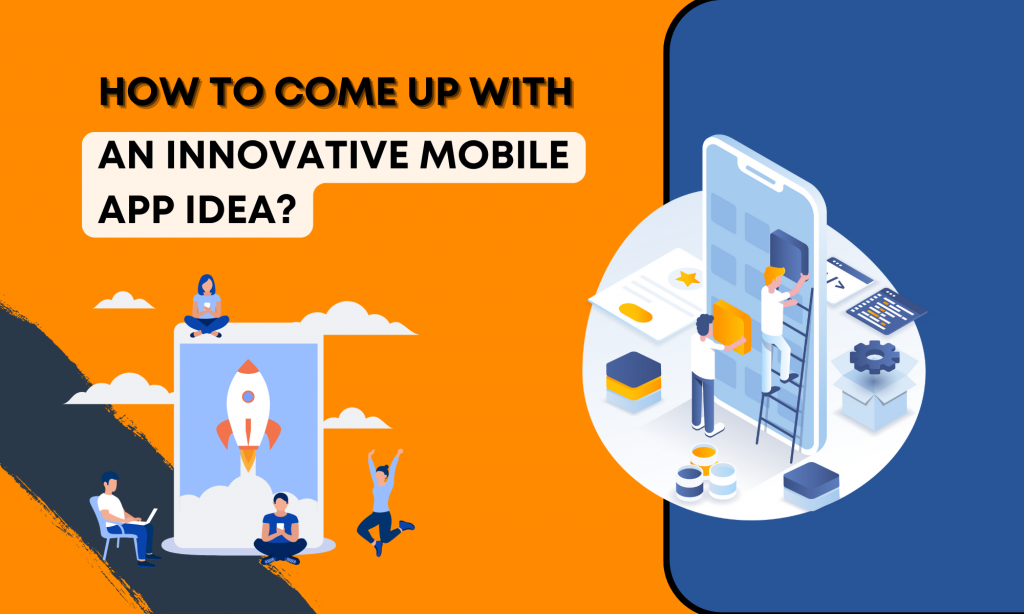 Every popular app of today started on a small scale. Seeing the user base of app giants like Facebook, Uber, Snapchat, etc., is overwhelming initially, but each app began from zero. But, what's common is that they all had innovative ideas for their time. 
Booking a cab from a phone! Making friends over the internet! Making streaks via app! All these ideas were uncommon but innovative for their time. But what these applications have in common is that they solve a problem or entertain people. Hence, these apps became a part of people's everyday lives quickly. So, you should focus on thinking of an idea that is innovative and easily adaptable by people in their day-to-day lives. 
Think about the problems you face in everyday life and list the possible solutions that can be provided via an application. Don't start developing the application as soon as you get the idea. First, survey several people and decide whether this problem is commonly faced or not. Think about why people should use your app. Is it solving something for them?
Now, create a basic plan for your application and list out all things you can think of that can solve the user's problems. After creating a basic outline, start eliminating points and retain only those that allow users to achieve their goals.
What are Top Mobile App Development Trends?
To hold a strong position in the mobile app market, you need to be aware of the latest trends in mobile app development and develop your app accordingly. And the truth is that most apps fail because they don't keep up with the latest mobile app development trends. Some businesses lose to their competitors due to their inability to keep up with the latest mobile app development industry trends. It is necessary to be aware of the trends. Therefore, we will explain 5 latest trends in detail.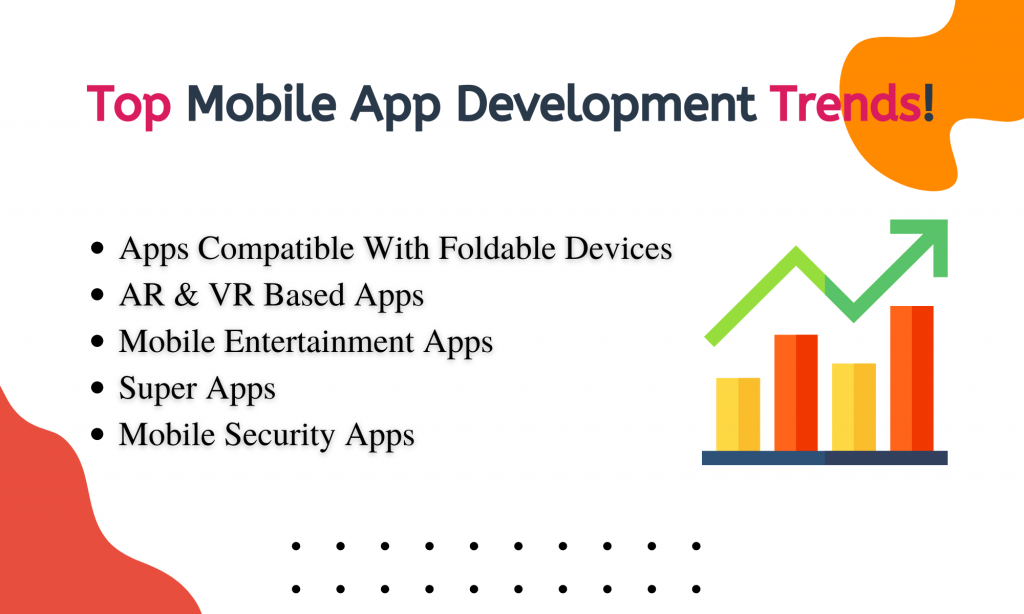 Apps Compatible With Foldable Devices
Last year in 2021, around 10 million foldable smartphones were shipped worldwide, which is 300% higher than foldable devices shipped in 2020. And it's predicted that smartphone shipments with foldable screens will reach 228 million units by 2028. So, it is clear that we will witness a growth in foldable mobiles leading to an increased demand for apps compatible with these devices. The folding device will provide a larger screen allowing users a detailed and immersive experience. Hence, developing apps keeping the screen size in mind will be a significant trend in 2022.
Currently, businesses are focussing on providing a more immersive experience to their users. AR & VR apps are the key to giving an incredibly immersive experience to mobile phone users. We have many apps available based on AR & VR, like Ikea, which shows users how the furniture will look in their room before purchasing it. In 2016, we also witnessed the craze of the AR mobile game Pokémon Go. It was a global phenomenon and created a solid user base. So, it's evident that AR & VR apps are the future of technology. And with the announcement of the metaverse, we can easily say that metaverse will take AR/VR technology to a different level. This trend is becoming more mainstream; therefore, you should leverage it to provide users with a groundbreaking experience.
Mobile Entertainment Apps
With mobiles in hand, people don't require going anywhere for entertainment. Also, by the end of 2022, half of the Americans will be gamers. People who need casual entertainment don't need to buy Bluray players and discs or PlayStation and Xbox to entertain themselves. They can buy Netflix or Amazon Prime subscriptions and entertain themselves through mobiles. Or, they can play games on their phones. Mobile games and entertainment apps have become more immersive and breathtaking with technological advancements like AI, AR, and VR. Hence, it's another type of app on which you should focus because mobile games attract a lot of users.
With so many apps for various purposes in the market, people often struggle to manage between so many apps. Although smartphone companies nowadays provide excellent internal storage in mobiles, people sometimes don't have enough space to install apps. That's why a lot of people want a one-step solution app. Hence, companies are now focussing on developing a single app that can solve multiple problems. This type of app is called the Super app. One such app example is Natural AI. You don't need to install various apps for food, tickets, bills, clothes, etc. You can install this app and fulfill all your needs through one single app. Similarly, Amazon allows you to pay bills and make payments apart from online shopping. So, it would be best if you look forward to developing a multi-purpose app.
Data security is an emerging trend of 2022 that will continue to grow as people become more aware and educated about their digital privacy. In 2021, approximately 2 million new applications were released, bringing the total number of apps available on both Apple's App Store and Google's Play Store to around 21 million. With these many apps being released every year, it's a matter of concern for users' private data. Also, with the government now imposing strict data protection laws, people are now aware of data issues. And many companies, including famous names like Avast, Norton, McAfee, Kaspersky, etc., are releasing apps for data protection. Therefore, people now realize the importance of digital security. Hence, focusing on developing apps for the security of mobiles is a good idea that will secure the user's phone and give you a loyal customer base. 
Final Verdict
With a total number of apps combined of app store and play store in the world being 8.93 million, it's tough to make your app stand out. To grow your app and stay relevant, you must stay updated with the latest mobile app development trends and cutting-edge technologies of the mobile app market. 
The mobile app development industry will continue to expand along with evolving technologies. Along with time, the apps will continue to bring new features. Therefore, to establish your presence and continue growing your business, you have no choice but to constantly learn and be aware of trends to survive the intense competition.