Is Low Code No Code Development The Way Of The Future For The Code?
Low-Code No-Code Development: Everything You Must Know!
Low Code No Code Development is the way to the future? What does that even mean? Daily improvements in the digital sphere have led firms to improve technology options. Do you know what the terms low-code and no-code mean when used in the app development industry? Though we're still unsure whether all businesses intend to have a mobile app, there is an increasing reliance on customer-focused mobile applications as the globe shifts towards everything technological.
Why do companies struggle to launch their mobile apps? There may be several causes, but the development budget may include spending on an internal team or outsourcing the entire project, which may be the main one in the funnel.
There is now a unique opportunity to create mobile apps with little to no coding, thanks to low-code and no-code development! What if your team can develop the new software quickly and with a structure that satisfies the specifications? Seems to be relatively upbeat, no?
Confused? Let's quickly explore the idea and principles behind low-code no-code platforms.
What Does Low-Code No-Code Development Mean?
Instead of choosing an alternative development path that necessitates the addition of numerous lines of code, low-code no-code platforms allow enterprises to develop applications through visual development. Together, low-code app development and no-code software development perform incredibly well. Here is what each of them means separately.

It is a modular approach to software development where code blocks are carefully chosen and connected to create an application, website, or service. Although low code development platforms involve some coding, they are more easily accessible to developers, allowing them to create new apps in the shortest amount of time.

No-code development uses a drag-and-drop process that could not even require any prior coding expertise or knowledge, which is highly advantageous for non-developers! Platforms with no code programming enable teams and enterprises to build software entirely from functional and reusable building blocks.
Stats to Support the Low-Code No-Code Development Concept
Still have concerns regarding low code/no code development's potential? These statistics might persuade you otherwise!

By 2024, low-code app platforms are expected to deploy over 65% of all apps, according to Gartner.
According to a Forrester prediction, the low-code market would see investment surpass $21 billion by 2022.

As per research and markets, the global low-code development platform market is predicted to generate a revenue of $187 billion by 2030 and is expected to advance at a swiffer pace, 31.1% compound annual growth rate during the forecast period of 2020-2030.
A business can accomplish its objective with little to no time invested by combining the two development alternatives! The following are some of the main benefits of using low code application development:

You may instantly view your performance while developing your app or website.
Low code development is the master of security since it includes multilayer security features.
Low code development platforms make it possible to create software and applications driven by AI, which was previously only achievable when a skilled team was at work.
Challenges that Low Code No Code Development Addresses.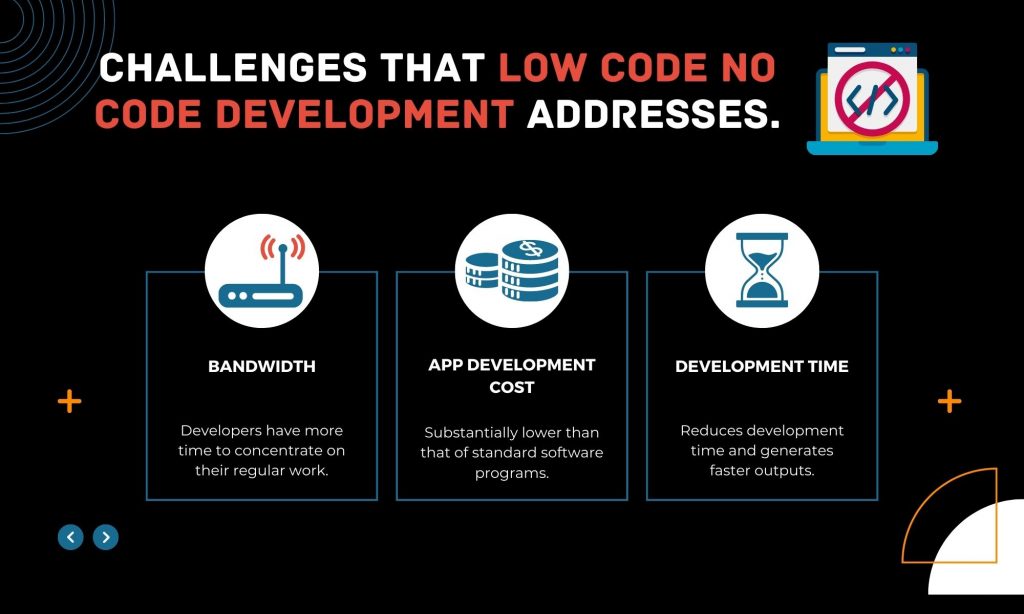 Top mobile app development companies have shifted their focus to quick, simple, and secure low code no code platforms, but why should businesses employ them? Currently, low code no code development addresses the following challenges:

Your local IT team typically works daily and has several crucial companies to handle! They have less time to work on a brand-new application due to the exact cause, which may be disgusting. Development time is reduced, and developers have more time to concentrate on their regular work thanks to low-code no-code development. A
It can be expensive to hire a dedicated team to work on app development. The cost to produce low-code and no-code software is frequently substantially lower than that of standard software programs.
Comparatively speaking, using prebuilt code blocks speeds up development compared to starting from scratch. Regular development options take a long time and are complicated, which delays the outputs.
Low Code No Code Application Development Benefits
1. Greater Agility
As per experts, low-code software development will define corporate agility in the future. Changing internal software solutions enables non-coders to gradually fill up workflow gaps and loopholes using streamlined visual ways. The teams can easily make it responsive no matter what device or gadget you focus on.
2. Improved Productivity
You can quickly bypass the technical coding portion with low and no code, which promotes better teamwork. Any team could be involved; the result is time savings and increased business efficiency.
3. Amazing User Experience
There is a decent likelihood of improved client interactions on the platform thanks to various prebuilt design templates and interface possibilities. As a result, you can give your customers a seamless experience without affecting the product's functionality.
4. Efficient Risk Management
The only constant thing is change, and low-code development platforms are made to accommodate that. Updating or changing the process is simple and quick without writing lengthy code. Businesses are lucky to have an integrated risk management system because of this.
5. High Rate of Development
The significant benefit of developing low-code, no-code apps is that it reduces the time required from months to days. You may launch your app more rapidly and work quickly to incorporate additional features and functionalities and respond to customer comments.
6. Multiple Deployments
The primary benefit of developing low-code, no-code apps is that it reduces the time required from months to days. You may launch your app more rapidly, work quickly to incorporate additional features and functionalities, and respond to customer comments.
Top Platforms for Low-Code and No-Code App Development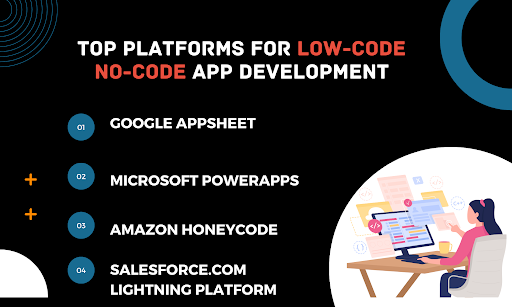 Some names stand out when we list the finest platforms for developing applications quickly, including:

Microsoft PowerApps
Amazon Honeycode
Salesforce.com Lightning Platform
However, the industry is constantly growing. The top brands now might not still be on the list in three months. However, the advantages mobile app development companies may gain from employing low- or no-code app development never change.
The Verdict
Given the variety available, you would be perplexed about which mobile application development platform would be ideal. We believe your mobile app development company should choose low code no code application development. Low code no code development can be your ideal partner and unquestionably the future of app development if your company plans to create an essential, stylish, and minimally customized app. However, if you have more significant ideas to dominate the app market, have an exceptional application leading the way, and incorporate exclusive features, we would advise you to choose the traditional method of developing your app with a team of developers to support you throughout.