8 Amazon Seller Metrics to Help You Better Assess Your Performance
Track These Amazon Seller Metrics For a Better Amazon Account Health
Every seller who abides by the rules will enjoy increased sales. When selling products on Amazon, it's necessary to monitor your performance. Amazon seller metrics provide you with significant insights. These insights can turn the course of your business, thus making it critical for your business.
Knowing which metrics to track can be difficult out of all the Amazon performance metrics. But knowing these are vital since Amazon imposes strict Amazon metric standards. Adhering to these standards is necessary since they affect the health of your Amazon FBA Business.
To assist all those sellers, we will explain the Amazon seller metrics to help you maintain good Amazon account health.
Why is Amazon Seller Metrics Important?
When buyers visit Amazon, they are most likely to engage if they are satisfied with the experience the seller provides. Many factors decide the buyers' probability of purchasing your item. These factors are measurable with specific Amazon performance metrics.
By knowing these metrics and maintaining them, sellers can attract more users. It will also increase the chances of them becoming their loyal customer base.
8 Amazon Seller Metrics You Should Track for Better Assessment
If you want to grow your Amazon FBA business, here are 8 Amazon seller metrics that you should focus on:
1. Product Ranking
When users visit Amazon, most of them try to take advantage of Amazon's robust functionality. 75% of Amazon users use Amazon's search box, but almost 40% don't look beyond the first page.
Aiming for the best Amazon FBA Seller rank can prove fruitful for you. Focussing on these amazon seller performance metrics can increase the chances of your product getting listed on the first page. Remember that best seller rank is based on sales volume, not seller reviews or buyer feedback. They are updated on an hourly basis, so you better get started.
If you improve your Amazon Listing Optimization, you'll automatically rank higher on Amazon search page., you'll automatically rank higher on Amazon search page.
2. Seller Rating
Amazon seller services define your performance in a quantifiable number. By combining different metrics, Amazon grades the seller rating on a scale of 0 to 100. Seller rating includes these Amazon performance metrics:
Shipping time

Order cancellations

Chargebacks

Customer Inquiries

Customer reviews

A-to-Z Guarantee claims
Seller rating is crucial as it helps to check your performance. It allows for improvement by highlighting areas where you are under performing.
3. Ordered Units
The number of units ordered is a great Amazon seller metric to assess how strong your presence on Amazon is. It's better than assessing your total orders because many buyers order multiple units simultaneously. It increases the ordered units twice than total orders. Not only does it improve the metric, but it also increases the profit per unit.
4. Fulfillment Performance
Amazon introduced a new metric for Amazon FBA businesses to keep them aware of how they fulfill customer orders on the platform. Seller rating deals with customer experience. Whereas fulfillment performance focuses on factors like pre-fulfillment cancellation rate and order defects. Amazon standards want Amazon FBA Sellers to meet these numbers:
Order Defect Rate < 1%

Pre-fulfilment cancel rate < 2.5%

Late shipment rate < 4%
5. Inventory Performance Index
Amazon's Inventory Performance Index is an advanced scoring system that evaluates how you manage your Inventory on a scale of 0 to 1000. Amazon FBA sellers can check the IPI score under the seller account's Inventory Dashboard.
Amazon seller services audit your inventory performance and lock your score every quarter of the year. You should maintain the minimum requirement of IPI score to ensure good Amazon account health. If you fail to do so, Amazon seller services will lock your account for the next 3 months. Amazon calculates your IPI on the following points:
Excess Inventory

Stranded Inventory

Sell-Through Rate

In-Stock Rate
6. Unit Session Percentage Rate
The conversion rate is referred to as the unit session percentage rate by Amazon. It is the percentage of users who buy the product. For example, if your product had 100 sessions and achieved 30 sales, your unit session percentage rate is 30%.
This metric is a defining seller metric as it tells whether your product is appealing to users or not. If your unit session percentage is high, then you are doing good. But, a lower rate tells that there's a scope for improvement. These key factors can vary your unit session percentage rate:
Price

Review

Images

Product Description
The average unit session percentage across Amazon is 12.3%, and if you are below this number, then your Amazon account health is in danger. Looking at this metric for your products, you can quickly understand how they perform compared to other products.
7. Pre-Fulfillment Cancellation Rate
Pre-Fulfillment Cancellation Rate measures how many users cancel the orders they have already placed. The most common cause for buyers to cancel an order is the product not being available. It happens when Amazon sellers list a product for sale that is out of stock.
Usually, this is not an issue for those sellers who use Amazon seller services as it lists the products as unavailable when the stock is empty. But, Amazon FBM sellers must oversee inventory management to ensure a low Pre-Fulfillment Cancellation Rate. Do not exceed the threshold of 2.5% of this metric.
8. Buyer-Seller Contact Response Time (CRT)
Amazon's Buyer-Seller CRT detects the number of messages a seller replies to within 2 hours. Amazon standards want sellers to respond to users' messages within 24 hours. If a seller does not comply, it affects their CRT negatively.
Note that this 24-hour benchmark applies to all days of the week. So, you have to reply to customers timely whether it's Friday or Sunday. You must check messages frequently so you don't miss customer messages.
Thus, sellers hire E-commerce marketing services for Amazon that can respond to queries on their behalf. Responding to messages will increase your points with Amazon and establish your brand rapport as a customer focussed business.
How Do You Track Seller Metrics?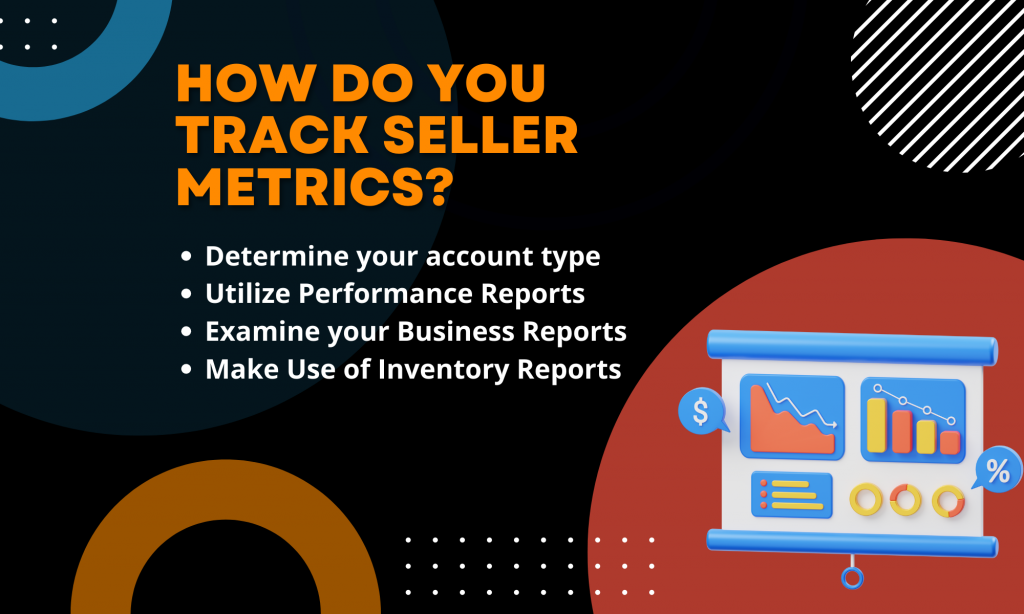 To view your seller metrics, follow these steps:
1. Determine Your account type
Amazon offers 2 types of Amazon seller accounts: Individual and Professional. Individual sellers have access to amazon's seller performance metrics, return reports, tax document library reports, and payment reports. With a professional account, you can access all the reports of Individual accounts plus Business and Inventory reports.
2. Utilize Performance Reports
Click on seller central's 'Performance Tab' to access performance reports. Performance reports include:
Seller Rating

Order Defect Rate

Late Shipment Rate

Pre-Fulfillment Cancel Rate
3. Examine Your Business Reports
Business reports inform you in detail about the success of your sales and marketing efforts. You can find these factors in this report:
Sessions

Ordered Units

Conversion Rate

Buy Box Percentage
Above mentioned Amazon seller metrics depict various aspects of the selling process. But collectively, they show how successful you are in marketing and selling your product to the target consumers.
4. Make Use of Inventory Reports
Using insights from inventory reports, you can manage your Amazon inventory better. This report contains information on your Amazon FBA stock levels, inventory management, and inventory health.
You can find the inventory reports under 'Inventory Reports' or Manage Inventory.'
What is the Amazon Metric Utility Test?
It recognizes and identifies operational and business data irregularities, such as a rapid drop in sales revenue.
What is a Good Inventory Performance Index?
A good inventory performance index has a score greater than 450.
Conclusion
Keeping track of performance metrics and maintaining them ensures good Amazon account health. Not only do these Amazon seller metrics help in keeping your account active, but they also provide prominent insights that can improve your performance. Thus, a good account health understanding and satisfying Amazon's standards are necessary for running the Amazon FBA business. 
Are you facing difficulty maintaining your Amazon account? Hiring E-commerce marketing services for Amazon can help you boost your performance. We at HR Tech offer complete E-commerce Marketing Services to help you grow. Contact us now, and let's work together on your Amazon FBA business.