Find Great Products to Sell on Amazon Easily with These Tips
How to Find Profitable Products to Sell on Amazon That Will Help You Get More Business?
If you want to start an online business, one of the best strategies is to sell on Amazon. With over 400 million products available on Amazon, it single-handedly wins the e-Commerce crown. It's crystal clear that if you sell online, then Amazon seller central should be your obvious choice. As an Amazon seller, knowing which products to sell on Amazon is the key to becoming a successful Amazon seller.
Amazon captures a 50% market share, and it is observed that private-label products are usually among Amazon's best sellers. To put the growth rate into perspective, third-party sellers captured 3% of Amazon sales in 1999, but this percentage steadily rose to 58% in 2018! In 2022, more than 50% of Amazon sales came from third-party sellers.
Finding the best products to sell on Amazon to invest their time and effort into can be challenging for both novice and experienced sellers. But finding products to sell doesn't have to be complicated. This guide will teach you how to select a profitable product for your business.
Which Amazon Products are the Most Successful?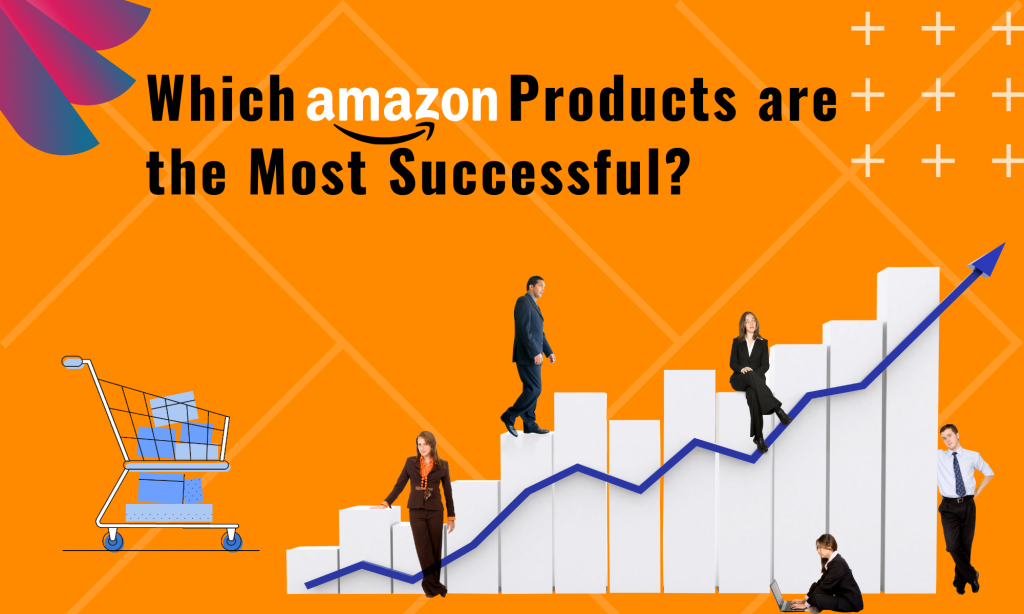 Amazon is a price-competitive market, meaning customers visit Amazon seller central to find the best prices on the products they want or need. Thus, if your price range isn't providing the best deal to the customer among the group of the same products, they won't consider buying from you. What are the best products to sell on Amazon? The two product categories that sell best on Amazon are:
1. When you Offer the Lowest Price to Customers
Price tags are what attract customers more than a product's brand name. If you have generic products that you can sell at the lowest price, then these are the most profitable products to sell on Amazon. Using this strategy, you'll compete against Amazon FBA businesses, and the lowest price will generally emerge victorious.
Amazon's central theme is that if customers want an essential product where the brand name doesn't matter, and the price does, they will go to Amazon. Even if you offer a brandless product, Amazon is your best bet.
2. When Your Product is Exceptionally Awesome
If your product concept is unique, your product's Amazon ranking will skyrocket. This occurs when sellers identify a market need and present a feature that no one else has or when the product is heavily marketed. With the right Amazon promotional strategy, you'll be able to gain traction with an original product idea.
If the products you choose to sell on Amazon fall into one of the two categories mentioned above, you will have a good chance of success with this online marketplace. And, if your products sell, you'll make money and empty your inventory, which are excellent goals for any business, especially an Amazon FBA business.
How to Select Profitable Products to Sell on Amazon?
There are several key factors to consider before beginning your Amazon product research. Let us aid you in narrowing your search. To find the right on-brand, in-demand, and not overly competitive products on Amazon, follow these tips: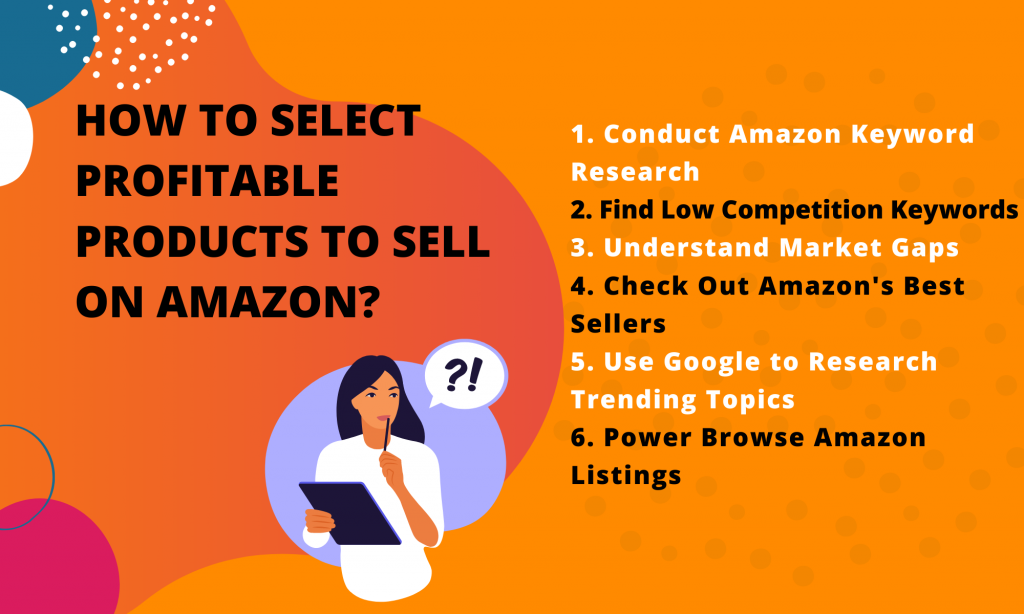 1. Conduct Amazon Keyword Research
Data-driven keyword research is the first step when finding products to sell on Amazon. Amazon keyword research makes it possible to determine how many customers are looking for a specific product and deduce whether selling this product is worth selling it or not.
2. Find Low Competition Keywords Activating Google Product Ads
You want to choose low-competition keywords that trigger product ads on Google to drive traffic to your Amazon product. Before using these low-competition keywords to sell on Amazon, you must first determine what they are. You can find low-competition keywords using Ahrefs keyword explorer or similar tools.
3. Understand Market Gaps Using Amazon Reviews
Knowing what the customer wants is vital before fixating on a product on Amazon. Established Amazon FBA businesses have the time and resources to conduct surveys and get customer feedback. But only some businesses have the budget to do so. Thus, mining customer reviews is a quick and inexpensive way to determine what to sell on Amazon.
Keep the following in mind when conducting research using Amazon reviews:
Which products are gaining so much attention?

Look for dissatisfied customers with a particular product.

Modify your product based on customers' grievances.
You can use this information to decide what products to sell and whether or not to make any changes to the product you intend to sell.
4. Check Out Amazon's Best Sellers
One of the best ways to develop outstanding product ideas is to look through Amazon's best-sellers list. Because you'll be selling your products on Amazon, it makes sense to look at what Amazon sellers are doing well regarding item sales on the site. Knowing which items are Amazon's best sellers will point you in the right direction when choosing products to sell on Amazon.
5. Use Google to Research Trending Topics
You can narrow down your options and find the products by researching the hot topics on Google. It highlights popular products, and noting these will improve your Amazon product research.
What niche you want to target for your Amazon product makes no difference. Looking at the most recent trends on Google will give you an idea of the best sellers in various categories.
6. Power Browse Amazon Listings
Using a Google Chrome extension to power browse Amazon's product listings is another way to select a top-selling item. Amazon sellers use Google Chrome extensions such as Jungle Scout, Unicorn Smasher, AMZScout Pro, Helium 10, etc., to research products and determine how well they will sell on Amazon.
By power browsing Amazon, you can fully determine which product should be on your seller's list. In addition to focusing on the best sellers, you can compare product prices, observe sales projections, and find keyword insights.
Which products are best to sell on Amazon?
Best products to sell on Amazon:
Electronics

Video games

Books

Shoes, clothing, and jewelry

Handicrafts

Pet supplies
Why is Amazon product research crucial?
Product research helps businesses determine the best products to sell on Amazon FBA and predict which trends to focus on in the future. It involves examining market trends and selecting the products that sell the most.
Conclusion
As you can see, if you have a solid strategy to find products to sell on Amazon, finding them isn't that difficult. A process based on calculated and extensive research will yield positive results. The moment to consider pricing will come once you have established a well-researched stock inventory and are ready to sell.
We hope you already have an idea of a product you want to sell on Amazon and have the statistics to support selling your product. If you are still considering ideas and need an extra hand, we can help you develop sound strategies for you. Get in touch with us and become a successful Amazon FBA seller.