Best Advertising Strategies for This Amazon Holiday Season
Maximize Your Profits This Amazon Holiday Season with These 7 Advertising Strategies
The Amazon holiday season is going to be different this year. In 2022, Thanksgiving on 24th November will mark the start of the holiday season. It will be a buzzing period for all Amazon businesses. It means that jam-packed holiday shoppers are ready to shop like crazy now. 
According to the survey, 62% of holiday shoppers feel it's necessary to spend on holiday gifts so their loved ones can get their desired gifts. It's a massive opportunity for businesses to relish significant profits. Amazon's holiday season also tells that competition will be fierce for businesses. 
This will lead to cutthroat competition, and every business will plan to ride the Amazon holiday season wave. Thus, it would be great if you prepared an excellent holiday marketing strategy for an upsurge in profits this holiday season. But don't worry; we'll explain to you the strategies to help you boost your sales.
Why Knowing Your Customers is Necessary?
Before starting your campaigns, you should review the data you already have. Reviewing your search term success and failures is what you should know, and then you can look at previous years' data. Next, ensure that your existing campaigns are working exactly how you want.
Amazon PPC services(Pay-Per-Click) only allow you to store the last 60 days. We recommend you save this data from time to time. You can build a great plan around your most profitable days of the last year. You can also determine the patterns of high and low during the holiday season. Another factor you should compare is pre-holiday and holiday season behavior.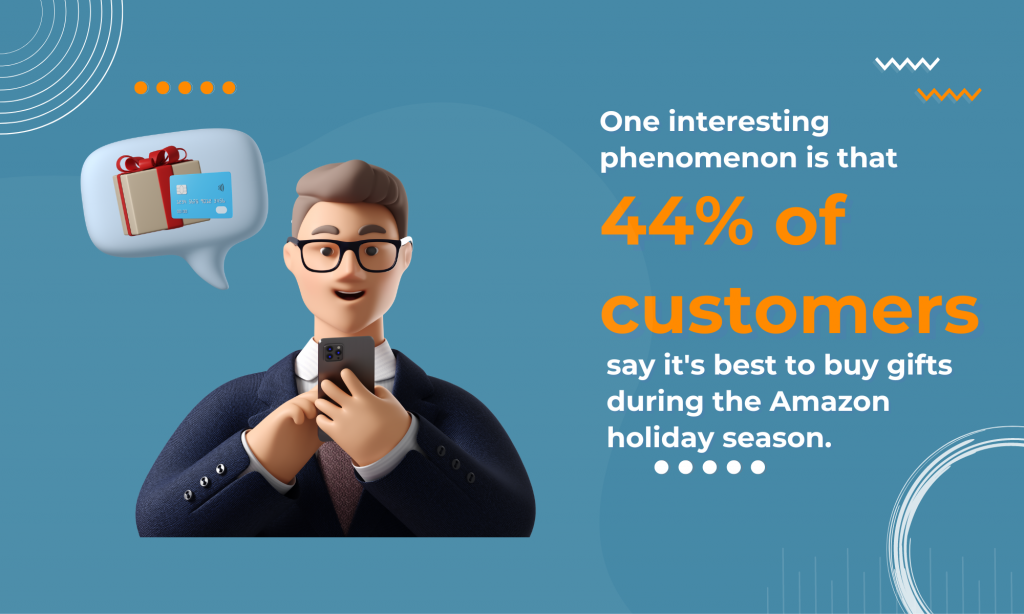 One interesting phenomenon is that 44% of customers say it's best to buy gifts during the Amazon holiday season. Customers think that inflation will impact prices later. You should keep an eye on data like these and brainstorm holiday marketing ideas.
Amazon Advertising Strategies to Increase Holiday Season Profits
The holiday season of Amazon is approaching, and you need to start building a holiday marketing strategy if you haven't till now. If you don't have an established reputation on Amazon, it's a gamble if you rely only on organic search to make your products reach holiday shoppers. 
It would be best if you planned Amazon PPC strategies for better performance. We will explain amazon advertising strategies to help you boost your sales this Amazon holiday season.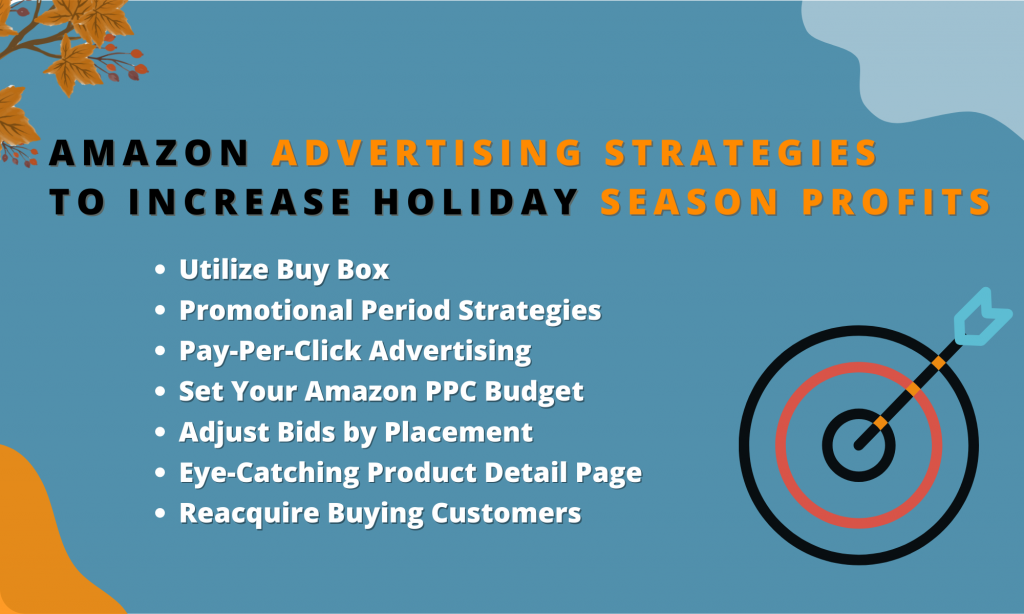 1. Utilize Buy Box 
Buy box assures shoppers a product with excellent seller performance at a low price. Users can directly add items to their cart with the buy box. The buy box is close to the "Add to Cart" button for user convenience.
This holiday marketing strategy can decide your success this Amazon holiday season as users prefer to buy items having a buy box despite not knowing who the seller is. You need to fulfill these criteria to be eligible to use the buy box in your strategy:
Establish affordable price

Better seller feedback

Increase shipment speed

Maintain a sufficient supply of items
2. Develop Promotional Period Strategies
Planning Pay-Per-Click advertising sales events during crucial periods is a great way to generate marvelous profits. During this duration of the holiday season, Amazon shoppers are ready to buy.
There is a high possibility that users will buy in this period even if they don't know what they want. They will look for items to avail discounts. You should use Amazon Sponsored ads or increase Amazon PPC bids and offer lightning deals and gift cards. 
3. Pay-Per-Click Advertising for Holiday Campaigns
Implementing this strategy will turn the game for you if you do it perfectly. Including holiday themes in the Amazon PPC campaigns will allow holiday shoppers to correlate with the holiday mood present in their minds.
You can launch holiday-centric campaigns by advertising your product using holiday keywords. This holiday marketing idea will establish a connection between your products and the buyers.
4. Set Your Amazon PPC Budget
During the festive season, you must control how much money you are spending and put it where it will generate good profits. Users are eager to buy during the Amazon holiday season, making Amazon a reliable E-commerce platform for investing money in Amazon PPC services. 
You should not ignore other Pay-Per-Click advertising platforms, but it is wise to direct your money toward Amazon PPC services since it is more likely to convert users into your product's buyers.
5. Take Advantage of the "Adjust Bids by Placement" Feature
Amazon PPC ad placements aren't always equal. Compared to on-page placements and lower SERP positions, the first SERP row's conversion and click-through rates (CTR) are more remarkable.
Fortunately, Amazon's PPC interface now features a tool called "Adjust bids by placement," which increases bids by up to 900 percent at the precise moment when the ad is most likely to appear at the Top of the Search position. Although it can be expensive, and you might not want to use it all year round, it is worthwhile to do so during the Amazon holiday season.
6. Increase Conversions with an Eye-Catching Product Detail Page
PPC strategies can bring customers to your door. But conversions are driven by quality content. Optimizing your product pages with engaging content and pertinent details can increase conversions.
Make important product details accessible to customers so they won't have to look for them. Include lifestyle pictures and some superb photos showing the item from all sides. Try giving the images a holiday theme.
7. Reacquire Buying Customers
Customers browse through dozens of products, read countless reviews, and watch product videos when looking for the ideal gift. They strive to gather as much information as possible to be confident in the gifts they eventually purchase.
But, because they are doing so much research, they probably will not recall everything they see. That is why re-marketing with advertising solutions like Amazon Sponsored ads is critical for retaining audiences who discovered your goods while browsing.
How do you promote holiday sales?
The best and easy ways to promote holiday sales are: 
Run time-limited sales and offer freebies.

Create unique holiday season-themed landing pages. 

Keep all the content and designs ready before the holiday season. 
When should I start marketing for the holidays?
It's best to start your Amazon holiday season advertising 2-3 months in advance because many people start their shopping process far earlier than when they make a purchase.
Why Planning an Amazon Advertising Strategy is the Need of the Hour?
Experts predict that holiday sales could grow by as much as 15% compared to 2021. The pandemic has already made people aware of how much more convenient online shopping is. This Amazon holiday season will be very competitive due to Christmas buying events that begin early and last until late December.
Numerous shopping days provide customers with more chances to receive discounts on the products they want to buy and more time to find the company offering the best prices. Brands are competing to provide the best discounts and innovative marketing. Without planning proper amazon advertising strategies for the Amazon holiday season, you will miss out on better profits this year.
If you don't know how to plan Amazon advertising strategies, we can be your perfect partners and create an effective strategy for you. We have proven experience in Amazon marketing & PPC management services and a lot of happy clients. Reach out to us today and make your Amazon holiday season full of happy customers.