Amazon Sponsored Display Ads: How to Promote Your Product Effectively?
How to Easily Set Up Amazon Sponsored Display Ads?
Amazon sponsored display ads are a dynamic ad system to show your product to the visitors who might be interested in your product. Around 29% of third-party sellers use sponsored display ads of amazon in 2022. Many sellers in the United States don't use sponsored display ads to access product display ads audiences. Hence, they ask, "What is an amazon sponsored display ad?"
Amazon sponsored display ad is a brilliant way to direct Amazon visitors to your product page. You can use this tool to expand and generate more business if you are an amazon seller. All Product Display Ads campaigns are part of Sponsored Display without additional action. Our blog will guide you through utilizing sponsored display ads for the best of your business.
What is Amazon Sponsored Display Ad?
Amazon sponsored display ads are a new addition to amazon advertising services. It allows you to show targeted ads to relevant consumers who have viewed your product or similar product and searched terms pertinent to your business or purchased from you already. It helps grow businesses by reaching a suitable audience on and off the amazon page. Now, sellers are accredited with amazon sponsored display ads. It allows them to promote their products strongly.
Different ad systems work in different ways. However, Amazon sponsored display ads target works on visitors' demographic data, shopping habits, and Amazon PPC advertising(pay-per-click). These audiences have higher chances of buying amazon sponsored products. Sponsored display ads will increase your brand awareness and demand on the internet by targeting the best audience for you. Product Display Ads audience and product targeting features are accessible to US sellers. Hence, sponsored display ads will improve your page's visibility. You can also compete with your competitor's products.
How Sponsored Ads Work?
In the same way, as other sponsored ads of Amazon, sponsored display ads also work on the Amazon PPC system. These Amazon PPC advertising ads are unique because they can also emerge outside Amazon. Sponsored display ads also appear on and off Amazon and engage audiences purchasing amazon sponsored products. Generally, there are bottlenecks in digital marketplaces that limit the total campaign budget. And a minimum bid amount decides how much the algorithm will bid for each click. However, in Amazon PPC, businesses don't need to pay anything until users click on their sponsored product's ad, allowing for profitable and cost-efficient advertising.
Budget, targeting, and analytics are vital components that make sponsored ads a very successful ad tactic. These give businesses the necessary tools to analyze the campaign results. Amazon sponsored ads generate reports to evaluate their progress in real-time and make changes to optimize the performance of sponsored ads.
Why Should You Use Amazon Sponsored Display Ads?
According to Amazon, most of the audience purchases from a page other than which they first visited after exploring 14 product detail pages and 6-7 days. With so many options available nowadays, your product should be visible to a larger audience. And Amazon display ads can help you achieve this goal by placing your product off amazon and under your competitor's list.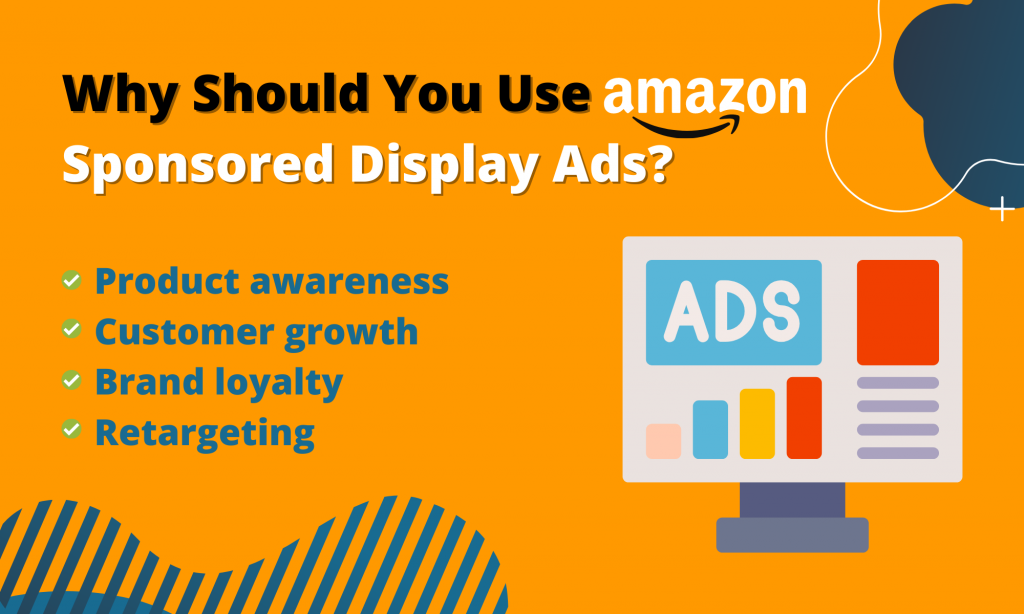 There are many reasons why 29% of third-party sellers use Amazon sponsored display ads to boost their performance. The potential benefits which sponsored display ads offer are:

1. Product Awareness
The primary purpose of every business is to create awareness for their product to reach new audiences and improve product discovery. Sponsored display ads will help you target the audience on Amazon based on demographic attributes like category, brand, price, and prime eligibility.

2. Customer Growth
Sponsored display ads grow the customer base by the versatile feature of targeting specific customers or engaging audiences that have viewed or purchased similar products.
3. Brand Loyalty
You can also use Amazon sponsored display ads to cross-sell other products to your good customers. With amazon display ads, you can also use your product page to showcase your different products. This will prompt your customers to consider buying your other products.

4. Retargeting
Amazon sponsored display ads can help you retarget your audience to engage those who have purchased your product or similar product in the past. With sponsored display ads, you can engage potential customers with your product, retarget the audience and create brand awareness. According to Amazon, businesses who use Sponsored Display ads find up to 82 percent of their purchases originate from new-to-brand customers.
How to Use Amazon Sponsored Display Ads?
Using Amazon display ads is simple and setting them up is very easy. You don't need to fulfill many requirements for running sponsored ads. You need to be a brand registered seller, and you will have your ads live in a few steps. These are the steps that you need to run sponsored display ads:
Step 1: Visit the amazon advertising web page.
Step 2: Select the products menu from the website's navigation bar.
Step 3: Click on the "sponsored display" option under the product sub-menu.
Step 4: Now, you will land on the page of Sponsored display ads. Click on "get started."
Step 5: Choose the country where you'd like to advertise.
Step 6: Enter your campaign name, daily budget, and duration after choosing the country. According to Amazon, the minimum daily advertising budget is $1, and the minimum cost per click is $.02.
Step 7: Next, decide on the amazon sponsored products to promote and the targeting strategy. You can select between "Audiences" and "Product Targeting."
Step 8: Lastly, you can customize where your ads will be displayed on Amazon. Amazon will also give you a preview of how your ad will look.
Step 9: Submit your campaign, and you have successfully launched your sponsored display ads.
Effective Strategies to Utilize Sponsored Display Ads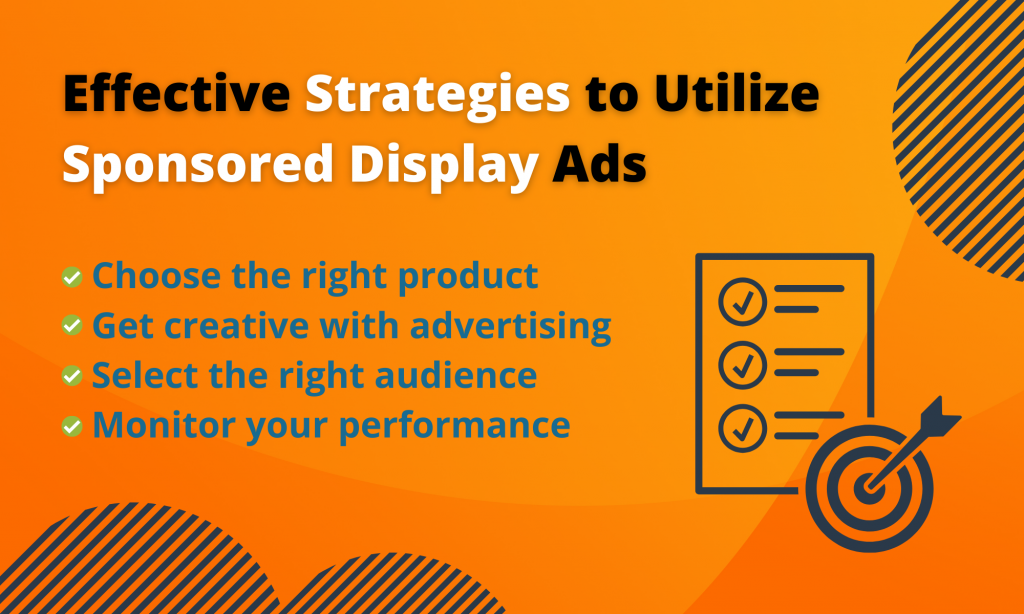 Now that you know how to set up Amazon display ads, you want to utilize them properly. So, to use amazon advertising effectively, you can try these tips:
. Choose the right product: It's obvious, but if you advertise your best product, you will gain many satisfied customers who would be more likely to return and shop again.
. Get creative with advertising: Again, a no-brainer; if your ad is innovative with its design and headlines, people are likely to click on your Amazon PPC advertising ad. Add a logo and headline that will be instantly memorable for your audience.
. Select the right audience: There's no point in spending your money to pitch to customers who won't buy your product. For example, if Sony markets the PS5 to an older age group, then most people will not buy it.
. Don't keep changing your campaign: Monitor performance for at least a week or two before changing your campaign. If it doesn't perform well, changing the campaign is OK.
Sell More in Less Time With a Successful Ads Strategy
Amazon sponsored display ad is a unique ad system as it allows you to show targeted ads to potential customers. Although it doesn't have much freedom in selecting design and headlines, Amazon sponsored display ads compensate for it by showing ads to customers with the highest chances of buying your product.
Amazon displays advertisements outside of Amazon, enabling businesses to reach a larger audience with a great chance of turning visitors into customers. After reading our detailed guide, you must adopt the Amazon sponsored display ads and uplift your business.