Amazon Storefront: The Easy Way To Enhance Your Brand Visibility
What is an Amazon Storefront?
Amazon Storefront is an example of the exponential growth of this vast e-commerce marketplace. Since its launch, Amazon has given the cutthroat competition with its features, strategies, and tools that benefit small businesses to boost their sales.
One of the growth strategies for businesses is to create an Amazon Store. To build an Amazon Store you don't need a single dollar. You can notice up to a 30% increase in sales per visitor from Amazon Storefront alone when executed with the proper method, knowledge, and research. 
Amazon Storefront: Your Brand Website On Amazon
It is a perfect place to shelve your products without distractions from competitors' ads or products. That ultimately provides reach to large customer segments by increasing brand awareness and results in an increased conversion rate.
Amazon Storefront is a dedicated destination for your brand that aids you in showcasing all your products. It provides the opportunity to stand out from 2.2 million sellers.
Earlier the facility of creating a store was available only to the vendors, but now, you can create an Amazon Store with the assistance of third-party service providers. Here you can customize your interface by adding the product images, videos, and descriptions. You can effortlessly create a captivating design for your store with the easy-to-use templates just by the drag-and-drop method. 
Convenience Of Using Amazon Store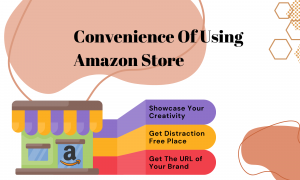 Showcase Your Creativity On This One-stop Destination
Flex your creativity and add a splash of charm through engaging and mesmerizing product images.
Creating an Amazon Store makes it super easy for your customer to find your products on a single page instead of searching each of them here and there. You can upload your entire portfolio to the store, and buyers can get insight into them.
Get The URL of Your Brand
You get an amazon.com/your_brand_name domain after creating the store. Using this URL on different channels allows you to drive footfall to your amazon website. It's a profound way to advertise your e-commerce store.
Get Distraction Free and Perfect Place For Sponsored Ads
The most significant advantage of Amazon Storefront is that it is a competitor-free space. This makes it the best destination for showcasing your best-seller products. Amazon brand store management ensures the full attention of buyers. This ultimately reduces the marketing cost.
Brand Analytics Help You Assess Growth
Get insight and metrics to your page on Amazon's Brand Analytics Dashboard. Via these KPIs, you can run successful campaigns, boost page views, and drive massive traffic. Monitor your page to find out where your traffic is coming from? Where are you lacking? And optimize your storefront page.
Customize with Multiple Pages And Categories
If your brand is dealing in a variety of products, then it's best to add categories and subcategories to your page and arrange your portfolio accordingly. This ensures the effortless journey of potential buyers on your brand page.
Creating An Amazon Storefront: Step-by-Step Guide
Grab the opportunity of creating your brand page to attract more customers and increase your brand awareness with creative infographics. Do not use the same photos that you have used for product listings. If you are not great at photography or graphic designing, we recommend hiring an Amazon store management services provider or a freelancer to create top-notch images.  Also, see the storefront guide by Amazon. The steps for creating a store are as follows:
Step 1: Head to Seller Central, click on "Stores," and then go to "Manager Stores." (You need to be a member of the Amazon Brand Registry to create an Amazon store)
Step 2: Click on "Create Store," then enter your brand's name and add the logo (You do not need to be an expert; Amazon provides built-in templates for accessible store building).
Step 3: It's time to create a "Home Page," which will be the first thing clients see when they enter your store. 
Amazon offers you a few alternative templates to pick from; you may tell your brand story, showcase top-selling items, or grid-display all of your products at once. You can also start creating an Amazon store from scratch with a blank page.
For the home page, you have to add a meta description that informs search engines about your page. It will provide readers with a sneak peek at your company and product. Make it interesting and informative.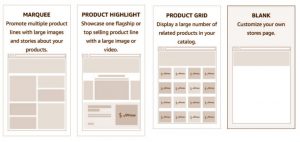 Marquee:

This option is available if you want to emphasize pictures of your items and brand.

Product highlight:

If your video/image content is exceptional, you can select to promote your products with a significant focus.

Product grid:

This is a fantastic option if you want to show customers many of your products simultaneously and upfront.
Step 4: Add product pages, photos, and thumbnails.
Home page is a default page, for adding subcategories you need to add more pages to help navigate customers to a specific category. For adding sub-pages, click on "Add Page" button on the top-left side.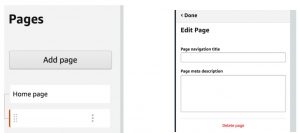 Enter the page title and the subcategory description, and select the template you want to use. This page will be shown in the tab next to the home page.
Step 5: Add header. The header is crucial since it enables you to build your brand by using your logo or another branded image, which lets your customers know they're at your store. Always read Amazon's creative guidelines to get the precise proportions before constructing the banner.

To add a banner image, go to your Store's header section and click. It can be found right at the top of your home page.
Step 6: You can now begin adding new sections to the home page and subcategories.
These sections can display text, video, listing previews, or product photos. Select your preferred tile type by clicking on one empty tile on your homepage to add a new section.
Select "Add new section," then "split section" to add a split tile section. You can choose from a variety of split-section layouts on Amazon. 
Step 7: Click the "Submit For Publish" button, so that Amazon can review it. It takes 24 hours for Amazon to revert back and notify whether your Amazon Store design is approved or not. 
After approval, buyers can see your Amazon brand store.
Amazon Storefront Optimization: Enhance Organic Sales On Amazon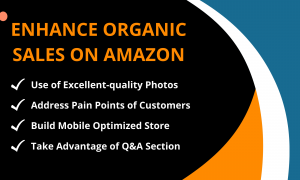 Use of Excellent-quality Zoomable Photos
Low-resolution images have no place in your Amazon Storefront because they are one of its crucial pillars. Make sure all your photographs adhere to Amazon's requirements for content and size.
Address The Pain Points of Your Customers
Customers who visit your Amazon Storefront may not be aware of what they are looking for. By creating your Store with their problems in mind, you can direct them to the ideal solution for their needs.
For instance: If you are dealing in skin care products, you can arrange your products based upon skin type, i.e., Oily Skin, Normal Skin, and Dry skin.
Build Mobile Optimized Store
2/3rd of the website views are from mobile devices. For this reason, it's a good idea to evaluate your Store on a few different mobile devices as well as a laptop to make sure that no images or copies are overlapping and that everything functions correctly.
It is a crucial part in Amazon Storefront optimization and ensures proper functionality on each device.
Take Advantage of the Q&A Section
The majority of brands under utilize the Q&A area that Amazon offers. Be different from them. The Q&A section is a great way to communicate with your customers and address the frequent issues which are typical for the majority of buyers.
Instances Of Stunning And Successful Amazon Storefronts
Wow
Wow used the Marquee template to organize their product in the most appealing way, using banner image, and at the same time showcasing each product.
It built subpages named Nutritional and Supplements, Skin, Hair, Bath, Body etc.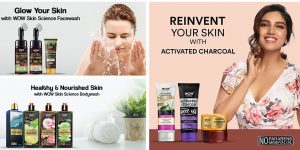 At the end Wow has put the best seller products to amplify their sales.

Bru
The brand has successfully organized its best deals with appealing images on top to gain more attention on these listings. Followed by Enhanced Brand Content. 

Bru has added the recipes of different coffees to make its site more eye-catchy.

The brand has put its best video advertisement in its Amazon Brand Store.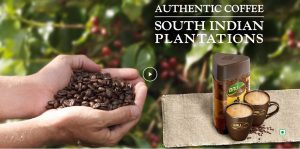 Get Assistance To Build An Amazon Store
Amazon brand store management is a typical task, but we have experts to provide solutions at every step. Amazon storefront optimization is an easy way to enhance your brand visibility and surge sales. Contact HR Tech and get top-notch Amazon brand store management services.