Amazon PPC Optimization for Improved ROI and Sales Performance
An Integrated Guide To Amazon PPC Optimization: Driving Sales
Imagine investing your money in Amazon PPC advertising to see it underperform your expectations. But don't worry! Amazon PPC optimization can increase your ROI and move your company's objectives closer to realization. You may improve the effectiveness of your Amazon PPC advertising and see a large increase in return. You can use straightforward approaches, ideas, Amazon advertising strategies and Amazon PPC services.
Insider Intelligence predicts that Amazon will make $746.22 billion in revenue in 2023. It implies that Amazon PPC optimization is necessary to ensure you get the most out of your ads. So let's examine more how to maximize the ROI from your Amazon PPC advertising.
What is Amazon PPC?
Imagine you're a seller on Amazon, and you've got an amazing product that you just know people are going to love. The problem is, there are millions of products on Amazon, and it can be tough to get noticed in all that noise. That's where Amazon PPC comes in. Essentially, it's a way to pay for advertising on Amazon so that your product shows up higher in search results and gets more attention from potential customers.
Here's how it works: you create an ad campaign and select the keywords you want to target. When someone searches for those keywords on Amazon, your ad will show up in the search results. If someone clicks on your ad, you pay a fee (hence the "pay-per-click" part).
The great thing about Amazon PPC is that you only pay when someone clicks on your ad. So you won't waste money on customers who aren't interested in your goods.
To ensure you're getting the most for your money, you also need to develop:
Effective ad copy
Choose the appropriate bids
Track the performance of your campaign
The best way to get the most out of your money is to invest it.
Why is Amazon PPC Optimization Important for Sellers?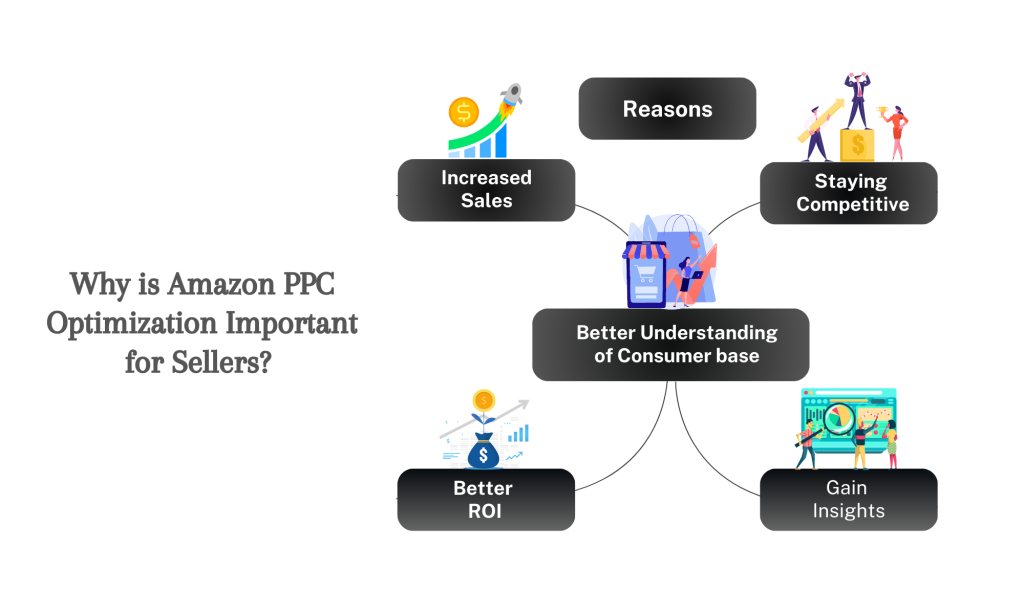 Using Amazon PPC optimization, you can ensure that your product listing appears at the front of a keyword search, making it apparent to prospective consumers. It is advantageous since it increases your likelihood of becoming noticed by clients and results in selling other goods.
With Amazon PPC (Pay Per Click) optimization, one may place their product listings first on the search results page for various popular keywords.
When a person performs a search on Amazon and selects your product listing, they are directed to your web page to buy the item. Your attempt for their interest has been successful if they don't engage in other outcomes.
Amazon gets paid by the advertiser every time customers click his ads. The level of competitiveness for each keyword varies with the price here.
Prices for advertisers vary depending on the level of competitiveness for a specific keyword when compared to the number of marketers bidding on the same keyword.
Here are a few reasons that say why amazon optimization is essential for sellers:
For a better understanding of the consumer base
How to Create an Amazon PPC Strategy
Here are the steps for creating an effective Amazon PPC strategy:
Step 1: Test different campaign types and keyword targeting options to determine the best approach for your brand.
Step 2: Conduct detailed keyword research. Using several available tools or you can go through our detailed manual Amazon keyword research. It will help you in finding appropriate relatable keywords and competitor products.
Step 3: Set daily budgets and bids slightly higher than Amazon's recommendations when starting.
Step 4: Allow your campaigns to run for at least two weeks before making adjustments.
Step 5: Use ad reports from automatic campaigns to find keywords for manual campaigns, and ensure each keyword gets at least ten clicks before making any changes.
Step 6: Review your ad reports weekly, and add, remove, and adjust keywords as needed to improve performance.
Step 7: Remember to continually refine and improve your Amazon PPC strategy. To stay competitive and achieve the best possible results for your business.
Proven Tips to Optimize Amazon PPC Campaigns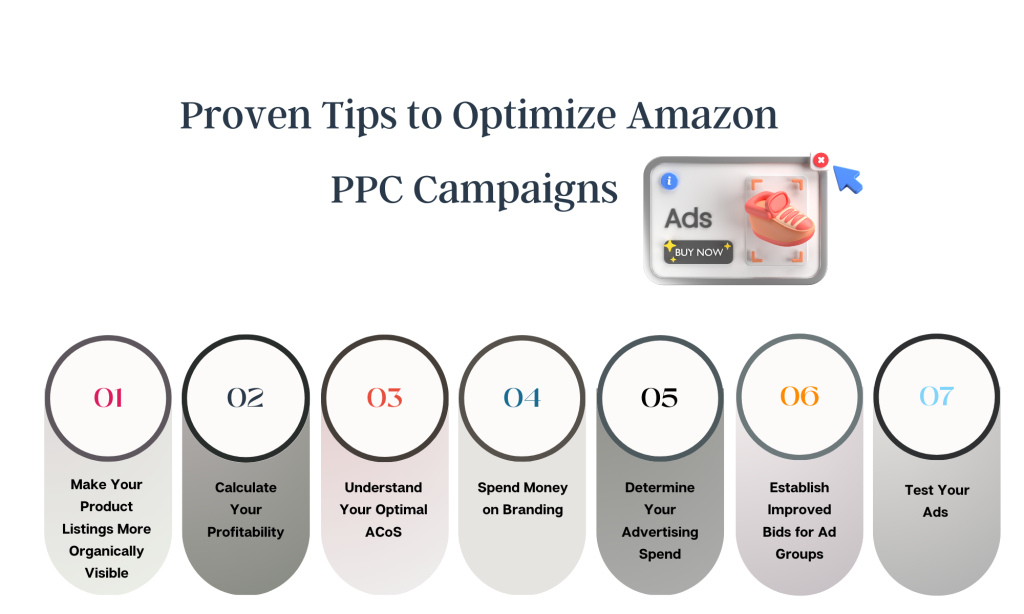 1. Make Your Product Listings More Organically Visible
The more consumers view your goods, the more frequently they appear on the search engine results page. Before you begin any advertisements, ensure your product listings are optimized to produce organic results:
Use high-quality photographs.
Provide descriptive product titles.
Write comprehensive product descriptions.
Make sure product titles contain the right keywords.
2. Calculate Your Profitability
Numerous individuals, particularly business people and operators of small enterprises, find it difficult to maintain and estimate their income margin and comprehend its nature. The profit ratio is essential for evaluating a company's progress and profitability.
Having a ballpark figure for the profits of your goods or service is insufficient. It would help if you calculated all of your overhead expenses, taxation, and the percentage of total profit you achieved for every item. This essential piece of data will assist you in comprehending the price you'll be paying on Amazon PPC advertising.
3. Understand Your Optimal ACoS
ACoS provides a feeling of the effectiveness of your Amazon advertising campaign. The ACoS measure is the one that shows if a project is successful or unsuccessful. In particular, your investment return can be determined using the ACoS measure when evaluating the effectiveness of your Amazon PPC ad campaign (ROI).
By identifying your optimum ACoS for Amazon PPC advertisements, you will have all the information you need to maintain your returns on advert expenditure in line with the money you make through on-site clicks on your advertisements.
4. Spend Money on Branding
If you want to market things on Amazon, you may utilize a seller account to join the millions of resellers. Yet, you must begin developing a brand to differentiate yourself from other businesses. Building a brand might be costly, yet it may prove worthwhile in terms of recognition, customer loyalty, and other factors.
Brands can grow their client base on Amazon with great success. But, consistency in any marketing campaign on Amazon is crucial to avoid coming out as a shady, hover company.
5. Determine Your Advertising Spend
Determining the perfect volume-to-market and impact ratio when creating an advertising budget is crucial, as is staying away from unnecessary expenditure on unproductive advertising. With the help of your advertising budget, sketch out your strategy.
Success with Amazon Advertising could take some time to achieve. It's vital to remember that the best way to ensure you maximize the value of your investment is to make sure you're making the right decisions. Figure out how much it would cost to promote your product to engage your desired demographic. You can accomplish it by employing SEM rush, Google AdWords, or more available tools.
6. Establish Improved Bids for Ad Groups
Set default bids for all keywords within the group to create enhanced bids for ad groups and manually adjust specific values as needed. It allows them to stay competitive in auctions even when not actively tracking individual bids.
7. Test Your Ads
Advertisers should test their ads to see what works best to avoid being tuned out by the audience. They can add a personal touch to create a sense of authenticity and build trust with potential buyers. Increased visibility and trust can lead to higher conversion rates. Ultimately, it's essential to be honest and establish trust with your audience to drive success in advertising campaigns.
Things to Consider in Amazon PPC Optimization
Below are a few tips that you should consider for your Amazon PPC optimization.
1. Things to Consider in Amazon PPC Optimization
Align your keyword match types with your goals to increase your chances of success. Understanding what you want to achieve with your campaign will help you choose the best match type for your keywords.
Optimizing keyword match types is essential to success when running manual targeting campaigns. Broad matches can increase visibility and exposure, making them a good choice for brand awareness campaigns. However, if the goal is to generate sales, it's better to target specific keywords with phrase match or exact match to avoid overspending and gain tight control over the keywords.
2. Keep an Eye on Your Spending
For your campaigns to be profitable, it's critical to keep an eye on your advertising expenses and refrain from overspending. Establish and stick to a budget, and pay attention to any campaigns or keywords that are eating into it. Audit each ad group frequently to spot underperforming ones and optimize them to stop them from hurting the campaign as a whole. Aim to spend at least 80% of your budget on advertising, saving 20% for growing successful campaigns. It can aid in maximizing your return on investment while lowering the chance of going over budget.
3. Set Objectives
It's crucial to match your campaign goals with your PPC strategy to run paid advertisements successfully. Decide your objectives, such as:
Boosting exposure
Attracting new clients
Re-targeting existing clients
Fostering customer loyalty
It will be beneficial if you adjust your campaign strategy following your goals. Consider speaking with an Amazon PPC consultant to ensure your strategy fits your objectives and spending limit.
Summing Up
It's challenging to execute an effective Amazon PPC ad campaign. There are several factors and variables that you must keep in mind if you want to achieve your marketing goals. Optimizing your ads and concentrating on your Amazon PPC approach will increase your likelihood of success.
You can accomplish your advertising objectives with the assistance of the advice and techniques. For more, you can connect with HR Tech LLC. We provide the soundest Amazon PPC management services. We have a strong team that includes the best PPC consultants to help you achieve your desired results.
FAQ's