Mobile App Launch 2023: A Step-by-Step Approach  
A Credible Manual For Mobile App Launch To Make Your App Outperform
Welcome to the future of mobile app development! The year is 2023, and the world of apps has exploded into a vast, diverse ecosystem, with millions of apps available for download on various platforms. The number of smartphone users has surged, and the demand for innovative, engaging, and user-friendly apps has increased. In this era of technology, mobile apps have become a necessity, from social networking to online shopping and entertainment to education. Mobile app launch is a perfect move that your business can make for growth and upliftment.
Are you ready to take your idea to the next level and announce a mobile app launch? Are you passionate about creating cutting-edge apps that can change the world? Then look no further! In this blog, we'll take you through the exciting and ever-evolving world of mobile app development, giving you the tools you need to succeed in this competitive market. We'll explore everything from ideation and brainstorming to development, marketing, and user acquisition. We'll discuss the mobile app development strategy and successful mobile app launch and provide insider tips and tricks to make your app stand out.
So buckle up, grab your phones, and get ready to dive into the world of mobile app development in 2023. It is your chance to create something incredible that can change lives, disrupt industries, and revolutionize the world. Let's get started!
Some Important Mobile App Estimates for 2023:
Around $935 billion in income is anticipated from mobile applications by 2023.
There are 1.96 million applications that can be downloaded from the Apple App Store.
The Google Play Store offers downloads for 2.87 million mobile applications.
50+ app opens a day are common among 20.5% of Millennials.
More than 11 times daily, 49% of users access an application.
Successful Mobile App Launch Strategy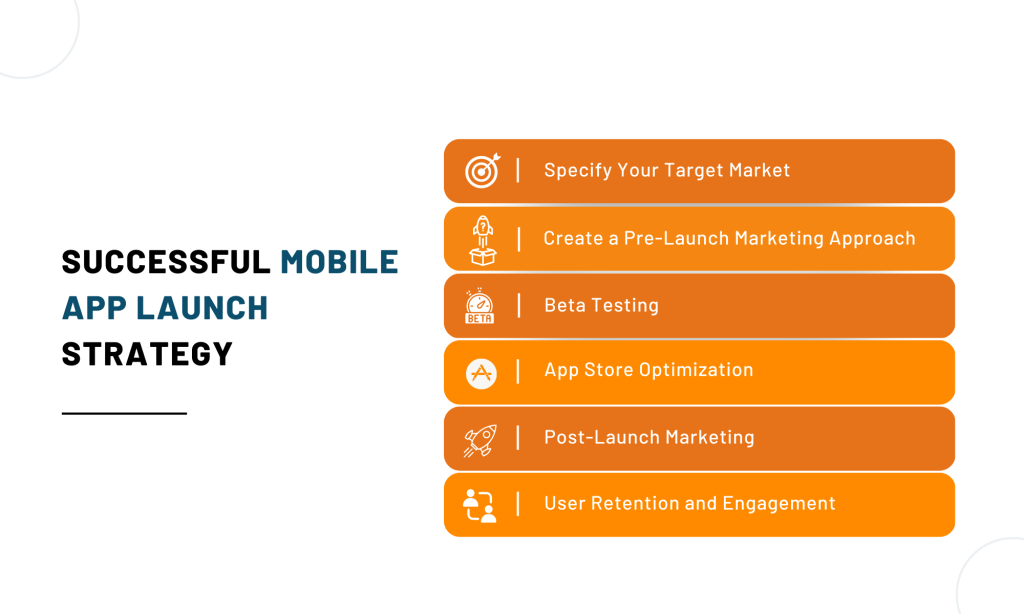 Launching a mobile app is about building a great product and crafting a successful mobile app launch strategy. Even the best app can fail to gain traction in a crowded marketplace without a well-planned mobile app launch plan. This section will discuss the critical elements of a successful mobile app launch strategy.
Specify Your Target Market: The effectiveness of your app depends on how well you understand your target market. Research the needs, issues, and behaviors of your potential users. It will enable you to design marketing messages that appeal to them and customize your app to meet their unique demands.
Create a Pre-Launch Marketing Approach: Generating hype and anticipation is crucial before your app launches. Consider developing a landing page, posting teasers on social media, and getting press. Get email addresses from interested users and notify them when your app is ready.
Beta Testing: To ensure your software is operating correctly, run beta testing and solicit feedback from a few users feedback from the selected users can be utilized to make required changes before the official launch.
App Store Optimization: Making your program's app store listing as noticeable and download-friendly as possible is known as ASO (App Store Optimization). Use relevant keywords, engaging descriptions, and eye-catching images to sell your programme.
Post-Launch Marketing: Continue to market your app with paid advertising, social media, and content marketing after its release. Encourage users to leave reviews and ratings so that your app will become more well-known and credible.
User Retention and Engagement: Keeping their interest and loyalty when downloading your app is crucial. Frequent feature updates, sensitivity to customer feedback, and incentives are all ways to keep people interested in your programme.
Successful launching of a mobile app takes careful planning, marketing, and user involvement. You can develop an app that stands out in a crowded market and enjoys long-term success by knowing your target demographic, creating buzz before the launch, optimizing your app store listing, and engaging with users after the launch.
Mobile app Launch Checklist
Conduct thorough testing
Optimize the app's performance
Ensure compatibility
Prepare promotional materials
Prepare support resource
Plan app updates
Monitor user feedback
Set up analytics
Step-by-Step Approach to Launch a Mobile App
While releasing your application, there are various considerations that you should make. Here is a detailed explanation of how to launch a mobile app. If you're wondering how to launch an app in addition to having an effective marketing strategy, continue reading.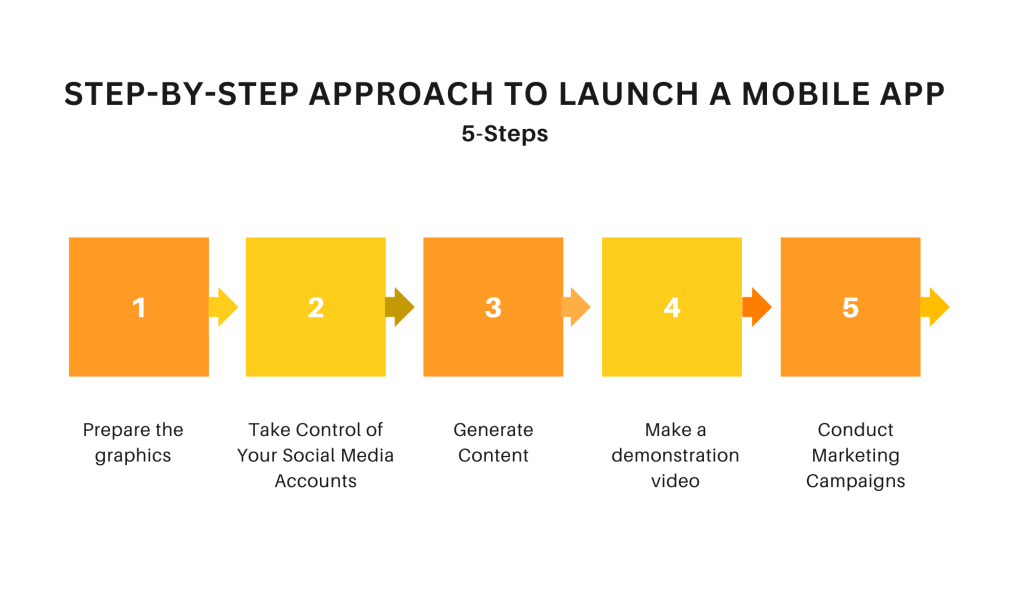 Step1: Prepare the graphics
You will require aesthetically appealing app screenshots to draw consumers when releasing a highly successful smartphone application on the application store or google play. So, possessing it already would enable deploying your app simpler. You might also think about putting together a press release for your software.
Step2: Take Control of Your Social Media Accounts
The use of social media is crucial when releasing an app. Even before your formal release, you may use a variety of venues to raise interest and generate a customer group via a media engagement campaign. Businesses can use additional marketing methods, such as launching targeted adverts, to flourish on social networking platforms.
Step3: Generate Content
A practical app advertising approach relies on the creation of quality content. You can write blog posts, landing pages, and guest blogs to target potential customers who are ready to download your software. After the launch date for your smartphone application has been determined, the company can begin conducting a market survey and assembling an advertising team to focus on your true users and prospective buyers.
Step4: Make a demonstration video
Due to the abundance of mobile apps accessible on the application store, it is essential to distinguish your app through effective communication throughout your promotional materials. It would help if you considered making a video. It would clarify your application's operation and functioning. Explain the app's features and how consumers might find them beneficial in everyday circumstances.
Step5: Conduct Marketing Campaigns
Create an advertising plan that centers on your customer base. You should advertise your application before going live. By doing this, you will come across people who are fascinated by your software before it is released.
Follow These Steps After a Successful Launch of Your Application:
1. Continuous Engagement
Your attention should shift to increasing engagement and drawing in new individuals just after the official start of your application. The very first step in drawing a user base to your application is to release it.
2. Tracking App Efficiency
The effectiveness of your application is unquestionably among the key factors in determining its popularity. Because of this, you must continually check it out and make necessary adjustments to guarantee that the app offers users a fun experience at all times.
3. Push Consistent Releases
In the very competitive industry of today, delivering constant upgrades will maintain your software alive. If you want your application to be popular, you should regularly introduce new capabilities and enhance the graphical interface in order to draw in more customers and boost app store searches.
4. Explore New Channels
Explore new channels to promote your apps, such as app review sites or app discovery platforms. These channels can help increase visibility and drive downloads.
5. Measure ROI
Measure your marketing efforts' return on investment (ROI) to ensure you're spending your budget effectively. Adjust your marketing strategy as needed to achieve maximum ROI.
6. Onboarding Process
It is a critical step after launching an app. It's the first user experience with your app, and it can drive or break their decision to continue using it. This section will discuss the critical elements of an effective onboarding process.
Keep it Simple: The onboarding process should be simple, intuitive, and easy to understand. Avoid overwhelming users with too much information or too many steps.
Highlight Key Features: Focus on highlighting the key features of your app and how they can benefit users. Consider using visuals, animations, and videos to demonstrate your app's work.
Personalize the Experience: Personalize the onboarding experience based on the user's preferences and behavior. It can help increase engagement and retention.
Provide Clear Instructions: Provide clear instructions and guidance to help users navigate through the onboarding process. Use precise and concise language to avoid confusion.
Launch Your Mobile App Wisely
A mobile app's success in the fiercely competitive app market depends on how carefully it is launched. A successful launch requires a strong marketing plan, meticulous app testing before release, and in-depth research and analysis of the target audience and competitors. To keep the app current and competitive, monitoring user input and making the required modifications is critical. App developers can improve their chances of producing a popular and profitable mobile app by adhering to these best practices.
The renowned mobile app development services provider HR Tech LLC offers its customers top services along with the completion of projects on schedule and under budget. We cooperate closely with our clients to comprehend their needs and create a thorough strategy that guarantees the commercial success of their mobile app. We have the know-how to design a cutting-edge mobile app that suits your business demands, whether you need one for iOS or Android. We offer design, development, testing, deployment, and support for mobile apps. Java, Swift, and Kotlin are just a few languages we are fluent in.
To explore your needs for developing mobile applications, get in touch with us right away. We'll work with you to make your idea a reality.
FAQ's
7 Options to promote your app
Website page.

Social media

Public relations

Optimizing for the App Store Online ads.

Endorsements by influencers or celebrities.

In-store and conventional advertising.
Launching a successful application takes a lot of effort, so it's not for the faint of heart. Even though most app concepts will fall short, some will succeed. Sure, you can join that select group. The keys are knowing what it requires to create an application startup and being ready for the adventure.
Your application should stand out.

Develop a strategy for action.

Before beginning the construction of an app, identify the problems.

Clarify the value proposition.

Create the finest possible service.

Provide some app promotion tactics.

Create a mobile application with a viral mechanism.

Plan for your engagements.