5 Amazon Advertising Strategies for Running a Powerful Campaign in 2023
How can these Amazon Advertising Strategies Generate Great Profits?
We don't need to explain how competitive Amazon advertising has become. The value of the global online advertising market was $319 billion in 2019. By 2026, Amazon advertising strategy experts speculate the advertising market will surpass the 1 trillion dollar mark and keep growing.
Without a good Amazon advertising strategy, you will be unable to lift your product to the top of the page. The good news is that new Amazon advertising services are emerging day and night, including sales-boosting Amazon ads. If you do it correctly, it will increase your profits and introduce your brand to a broader audience, thus speeding up your growth.
We will explain Amazon advertising strategies in detail while sharing valuable tips to improve brand awareness and save money on your Amazon advertising services.
Why are Amazon's Advertising Strategies Important?
Hiring a good Amazon advertising agency can create an advertising strategy for you outlining all the 3 aspects of your business. These 3 aspects include your products, who your potential customers are, and how you can reach them. By preparing these advertising strategies, you'll increase the chances of your brand becoming successful manifolds.
An excellent advertising strategy could also aid your market research on your competitors. Once your strategy is ready, Amazon marketing experts can help resolve customers' pain points. You can even measure your progress at every point of the entire campaign.
Difference Between Amazon Advertising Strategy & Advertising Plans
At one glance, it might seem these terms are similar, but they are 2 different but related terms. Advertising strategy is the bigger picture of a business to achieve its goals. While advertising plans are the smaller steps, they take towards achieving the goals.
For instance, increasing sales would be a touchpoint in an advertising strategy. So, to fulfill this goal, a good Amazon advertising agency will create an effective advertising plan to use Amazon PPC campaigns to increase sales by a specific percentage as a starting point.
Create a Template for Amazon Advertising Strategy in 4 Steps
Here are 4 steps to help you create a template for an advertising strategy for your business. This section is essential because this template will decide which strategy you should use. We will be coming to Amazon advertising strategies in a while.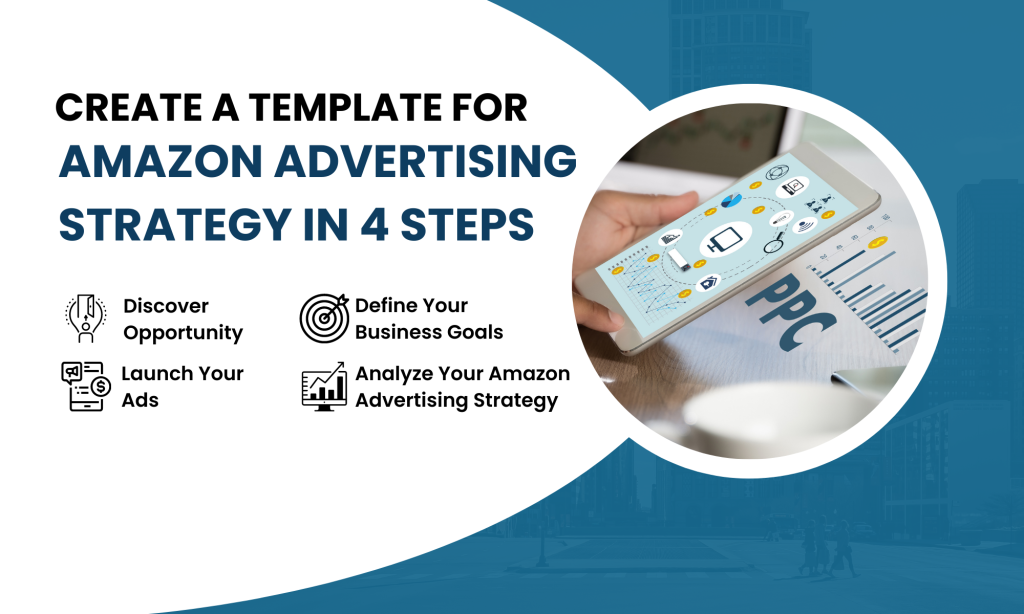 1. Discover Opportunity
When developing a strategy, your primary goal should be to discover your customer's needs and find opportunities to reach new customers. It's crucial to analyze the existing strategy before developing a new one. It will help ensure you are not wasting time and resources on something users may not want.
2. Define Your Business Goals
Having discovered an opportunity, you want to solve the problem and determine the tactics that align with your business goals. Our Amazon marketing experts recommend you consider the ad channel you'll use to reach the right audience. On Amazon, you can create three types of ads: Sponsored Product ads, Sponsored Brands ads, and Product Display ads.
3. Launch Your Ads
Once you have selected the ad type, you are ready to launch the ads. Remember we talked about the difference between advertising strategies and advertising plans? This is where advertising plans come in handy, as they will ensure the success of your amazon advertising strategy at every phase. Doing things perfectly at each touchpoint can increase the probability of running a successful advertising strategy.
4. Analyze Your Amazon Advertising Strategy
Track your strategy by checking important metrics like reach and sales. To determine whether your strategy is successful, consider the Amazon Seller Metrics to help you better assess your performance. Pay attention to what worked and what didn't, and adjust your long-term strategic goals and next steps accordingly. You should not forget your strategy once it is implemented.
5 Amazon Advertising Strategies You Can Use in 2023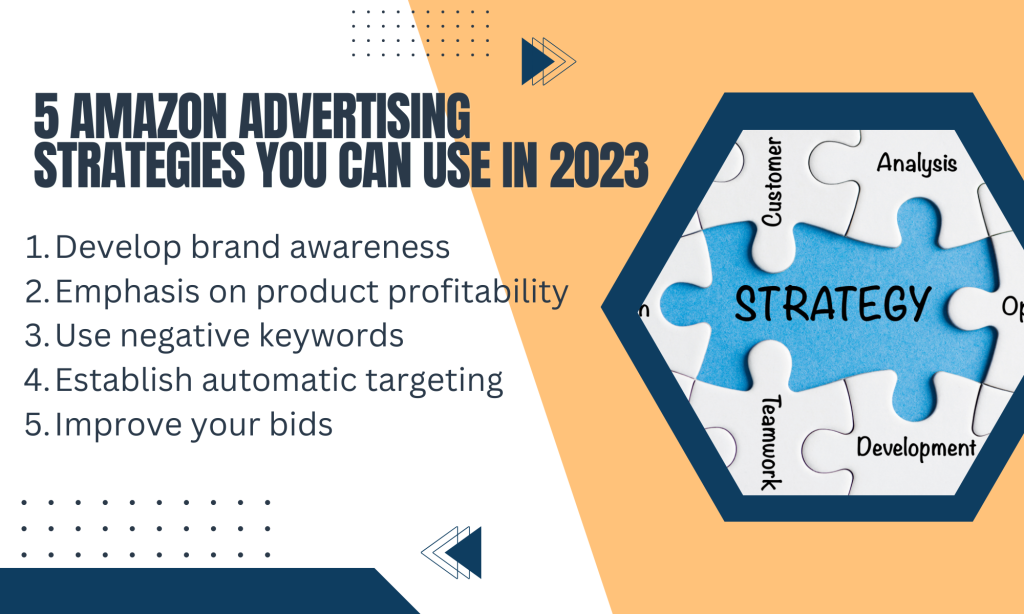 1. Develop Brand Awareness
Amazon has become the global leader in retail sales, and it's because of Amazon's Sponsored Brands Advertising. These ads create an impact because they appear in the header's first column of the search results page. These ads best serve top-of-the-funnel brand awareness and product reach. Amazon marketing experts have observed that this prominent ad placement has shown an 18% sales conversion rate.
2. Put an Emphasis on Product Profitability
A crucial step in strategizing your Amazon PPC campaigns involves understanding product margins. Every product has unique data that you can analyze to make a decision. For instance, an Amazon marketing agency can use this data to decide whether your profit margins are big enough to pour more money for ads into that particular product.
Figure out which products are generating higher profits and which are giving low profits before spending more on paid ads. By eliminating products that aren't performing well and putting your resources toward hugely profitable products, this analysis will assist you in changing your product lineup.
3. Use Negative Keywords and Phrases
Targeting broad keywords can make your product get lost in the vast array of many products. You will get clicks and sell a few products, but in the end, you will pay a massive amount of money to show up in front of customers looking for something else.
That's why setting up negative keywords and phrases is crucial, and the best way to use them is to target keywords with high conversion rates. Amazon advertising experts say you should aim to sell your product and not collect clicks.
4. Establish Automatic Targeting
Amazon seller central allows sellers to switch between manual and automatic targeting. In Amazon PPC campaigns, the more control you have over them, the better. But there are some conditions in which automatic targeting makes sense. Automatic targeting can discover more relevant search items that target users are already using. It will make fine-tuning your PPC ads and optimizing your product sales pages easier.
5. Improve Your Bids
Ideally, you should look at your keywords and analyze their effectiveness every few weeks. It will allow you to tweak your bidding allocation based on the conversion rate and reach. But, be careful to avoid taking impulsive decisions to adjust your strategy based on the recent data.
Keywords and phrases are subject to change. Their use and popularity may be influenced by everyday market fluctuations or their prominence in popular culture. Instead, use automatic targeting to learn the most recent terms that your customers have been using, then test the new phrases. If it performs well, you can tweak your ads to incorporate the new search terms and then drop your underperforming terms.
Conclusion
Advertising on Amazon is an excellent way to raise brand awareness and sales, but there is no magic wand to make it happen. Knowing the ad campaigns will enable you to choose the best ad channel based on the necessities of your advertising strategy. Understanding your business goals and orienting yourself with the features of various Amazon advertising services is beneficial. It will help you to strengthen your Amazon advertising strategy.
An effective advertising strategy is setting realistic goals and budgets. And doing them will boost your advertising strategy. HR Tech can help you get the maximum out of your advertising strategy by setting up customized strategies based on market research and campaign optimization. To create a successful Amazon advertising strategy, get in touch with us.