How To Boost Conversion Rate? Switch From Website To Mobile App!
Ever wondered why one should turn their website to a mobile application?
Besides the desktop sites working efficiently, smartphone users are increasing astoundingly. According to research by Statista, the Global smartphone users shot up from 3.66 billion in 2016 to 6.25 billion in 2020. And it is estimated to be about 7.69 billion in 2027. Mobile apps are a profound way to grab the opportunity of this vast customer segment.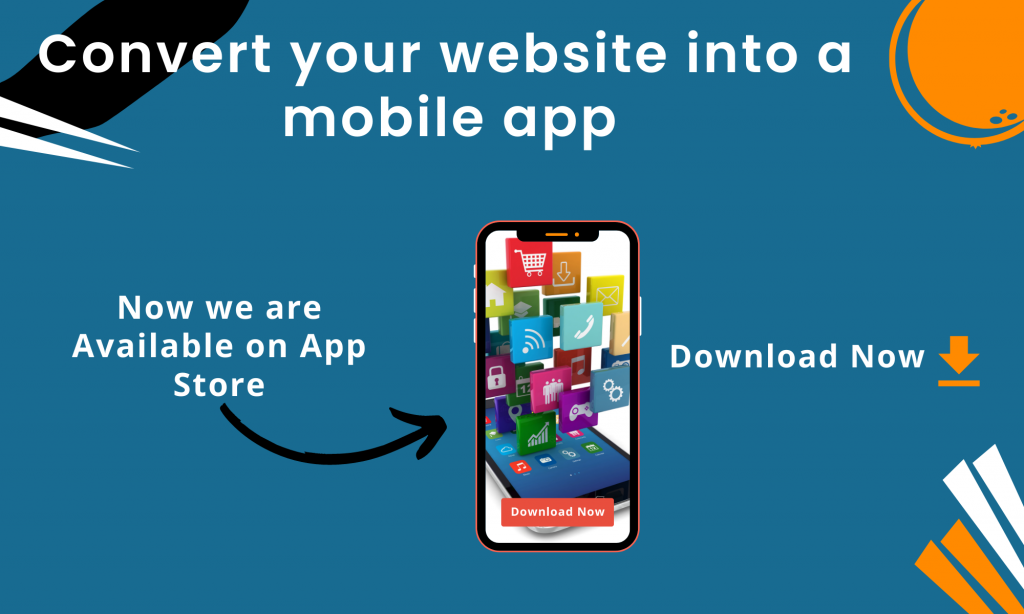 Reasons for converting a website into an app:

Link up with modern users- With a staggering growth in mobile users, desktop uses declined. Now a vast range of customers are looking to fulfill their needs via mobile apps. People are habitual with apps. The constant use of phones make app development a lucrative need of the hour.
Escalate mobile users' experience- A study was conducted by eMarketers, the result shows that mobile users spend 90% of their time on apps and 10% on site-surfing. The reason why apps are prominent is that it gives a lot better user experience than websites. Apps offer a direct route with one single tap. It saves users from the hassle of searching websites, waiting to load and getting distracted by other notifications.
Push Notifications- Users may forget about the website. But, app push notifications are the best way to remind them about your presence. You can make them aware of your new content/arrivals, offers, or announcements. Push notifications from websites are limited, and in iOS, none.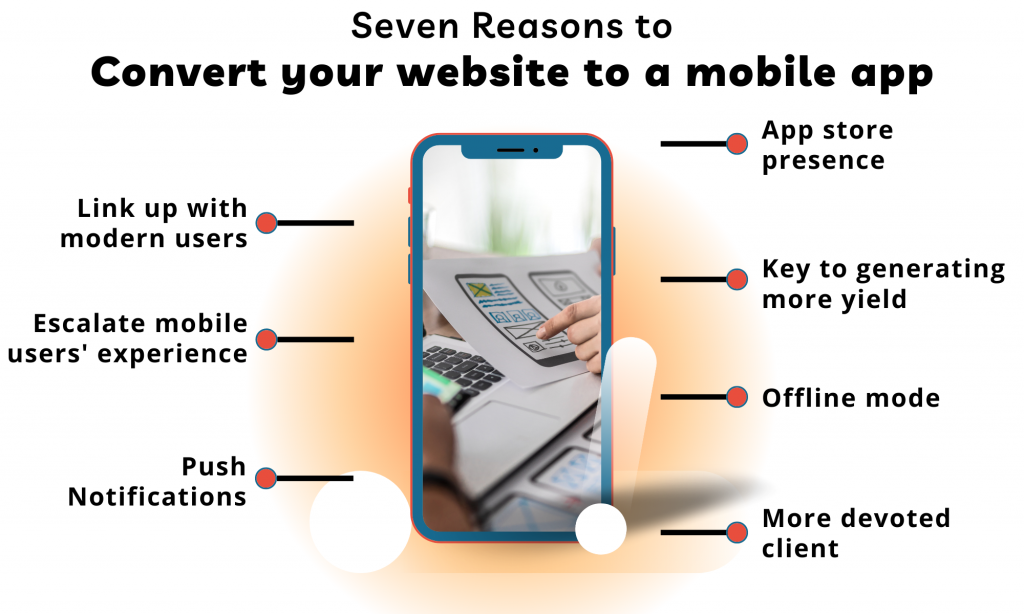 App store presence- It makes you look more professional and well-entrenched. It provides an additional channel for customer acquisition as well.
Key to generating more yield- A study shows that e-commerce apps have almost three times more conversion rate than websites. Apps are a fruitful opportunity to build a solid customer base with more convinced customers. Another way of earning through apps is through subscriptions, in-app purchases and paid advertisements.
Offline mode- Websites always require an internet connection, while mobile apps can be accessed offline too. So any customer having low or no internet connectivity could be happy.
More devoted client- Last but not least, converting your website into an app gives you better engagement. Also, convert your existing customers into loyal ones. It is an excellent way to be in service of your most loyal customers. 
Native app or Hybrid app- Which app is best suitable for you?

After creating an app, you must decide the type of app based on which style is more friendly for your customers. Basically, there are two types of apps: Native and Hybrid. Let's understand what they are? And take a deeper look at them.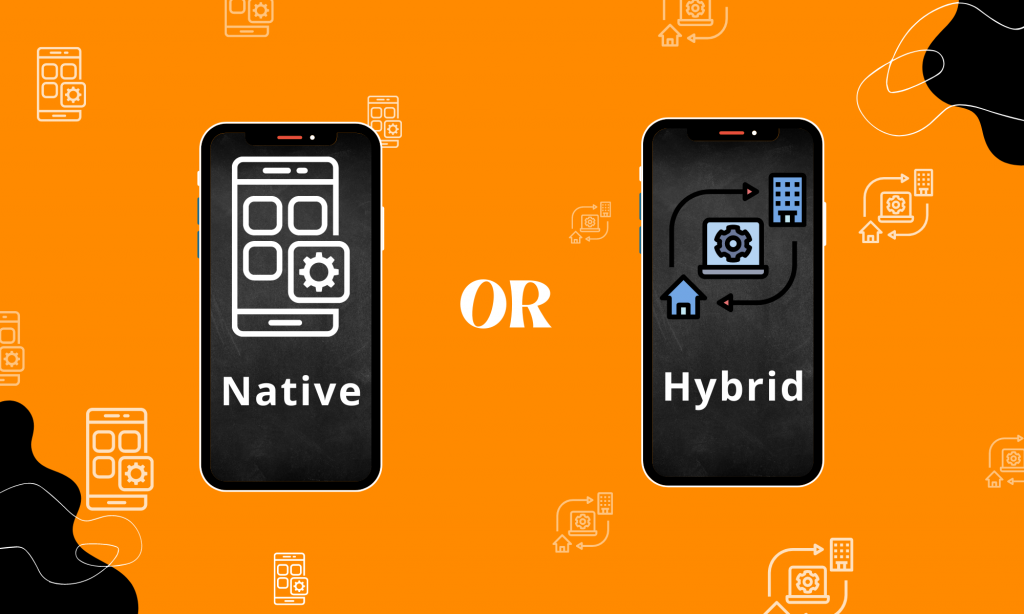 Native app development (Android and iOS)
Native apps are specifically built for a single platform. These apps are built from scratch and are based upon one programming language. For instance, Java and Kotlin support only Android app development. At the same time, Swift and Objective-C are used for iOS app development. Native apps are not operable on cross-platforms. The indicated apps have fast and smooth functionality and are available in offline mode.

Strengths of Native apps
Fast and smooth functionality.
Available in offline mode.
Start from scratch and hence can include even the tiniest of things.
Amend them whenever and however you want.
Obstacles of Native apps
High cost of development.
Not available on cross-platform.
Requires more time for developing apps.
More workload due to maintenance of two platforms (Android and iOS).
Hybrid app development
This kind of app is a cross between a Native app and a website. It allows you to convert your website into a fully functional mobile app. Hybrid apps are built using languages like HTML, CSS and JavaScript and then wrapped up in Native apps using Cordova.

Strengths of Hybrid apps
They are developed in less time.
About 50-90% less cost than Native apps.
Marketed in less time and operable on multi-platform.
Obstacles of Hybrid apps
Unable to use the full functionality of mobile devices as they are not specifically built for a single OS.
Needs internet connectivity for operating Hybrid apps.
They are dependent on third-party wrappers.
You cannot amend everything after building the app once.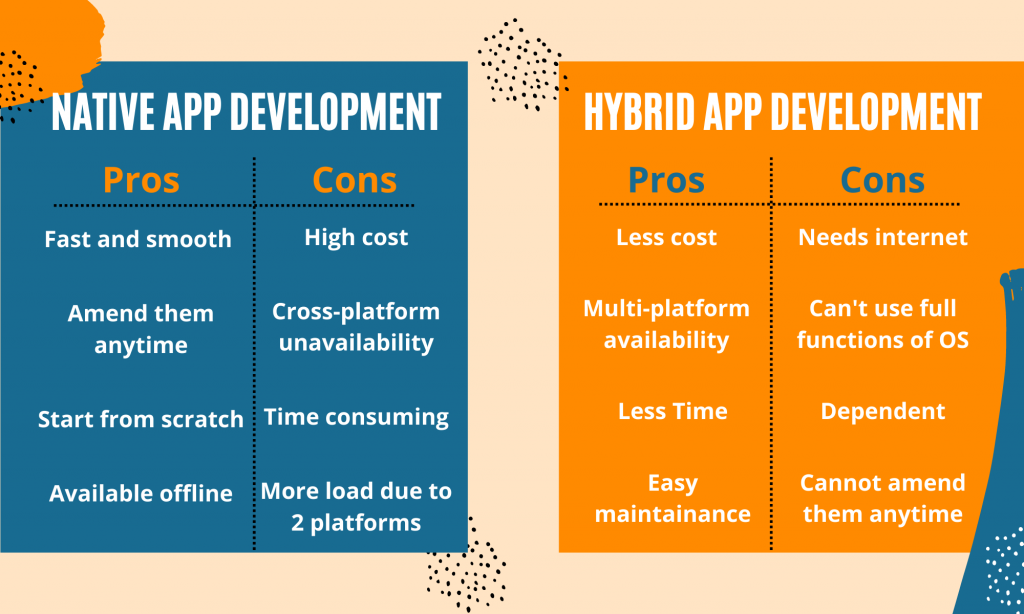 What more options do you have?

React Native App Development
React Native is a cost-effective alternative for app development. It uses native components as the building block of an app. It is available cross-platform. Flutter framework also develops Android and iOS apps simultaneously. Various brands have availed of the open-source benefits of React, consisting of Instagram, Netflix, Facebook, Walmart, Airbnb, Tesla, Uber Eats, and numerous others.Hire a React Native developer at HR Tech and get expert assistance for building your desired app at a pocket-friendly price.

Flutter App Development Framework
Flutter is an SDK (Software Development Kit) with numerous widgets for everything. It shares cross-platform compatibility with high-quality performance. Flutter has a remarkably excellent user experience. With us, you gain a high-performing app to enhance your business.

Conclusion
Consumer behavior is changing with the development of technology. Nowadays, they are shifting from web and desktop to mobile phones in which they carry a world. To escalate your business, all it needs is a committed app. It is essential to analyze and determine an ideal way of app building most suitable for your business, considering the crux points.

Ready to convert your website into a bewitching app? Get in touch with our experts at HR Tech to get your app done the way you dreamed.