How to Launch Private Label Products on Amazon using Amazon FBA?
Beginner's Guide to Launch Private Label Products on Amazon!
One of the most lucrative ways to sell things online is to launch your brand through private label products on Amazon FBA. For this reason, Amazon FBA sellers strongly prefer the Amazon private label business strategy. 59% of Amazon FBA sellers use the Amazon private label business model for their brand and product range, according to research.
Investing in Amazon private label brands takes effort and study, from conceptualization to practical application. Make sure you're up for the challenge and discover the necessary starting points. Read on for instructions on launching an Amazon private label business and helpful suggestions for assuring success.
What are Amazon Private Label Products?
Products marketed under a different business's brand name or label are produced by a private label manufacturer or corporation and then sold to that company for branding, marketing, and sales. You get to choose the product design, your brand logo, labeling, packaging, and all other creative features; the manufacturer has no rights to the label or brand.

Products sold under private labels may be unique items sold by that company, a generic item with their brand label attached, or a product with customized additions or changes. Selling private label goods on Amazon seller central enables your firm to thrive over the long run, although doing so can require time and effort.
Steps to Launch Private Label Products on Amazon



Many online retailers prefer to purchase well-known items already in high demand and brand them under their private labels. Prominent private label products on Amazon include groceries, electronics, and household goods. But there is a procedure you must follow before commencing, and that starts with sufficient investigation.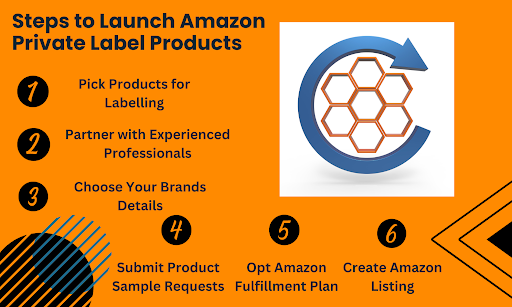 1. Choose Your Products for Labeling
You must research to find the best product to add to your catalog. Finding a product you can honestly claim can become a bestseller when deciding which goods would be appropriate to white label. List the products related to the activities, services, or product categories that interest you.
Start with a long list and progressively cut it down to ensure everything is covered. Popular private label products on Amazon include groceries, electronics, and household goods. It should take some time to choose your initial private-label products, therefore keep the following things in mind:
. Supplements and cosmetics are examples of compact and lightweight goods (saving your fulfillment and shipping costs)
. Products with few complications and ease of the sale (no paperwork, no customer service issues, and no batteries)

. When you are launching, stay away from seasonal items.

Your supplier will significantly impact how well your private label products on Amazon FBA perform. Consider the current or projected demand and any seasonality or sales swings. Additionally, consider whether you'll be able to generate steady demand.

2. Partner with a Seasoned Manufacturer or Supplier
When sourcing your items, you have two options. To obtain private label products on Amazon, you may either acquire one-offs of the item or speak with a manufacturer directly.
By requesting a sample, you may be confident that your products are high quality. Even though it's not free, doing this could save you much effort and prevent negative reviews if the product could be better. We advise working directly with a manufacturer, but you must examine options and haggle over costs first. While price will be important in choosing the best source, there are other considerations. Your supplier has a significant impact on how well your private label products on Amazon do. If you're sourcing from abroad, you should consider currency appreciation and labor and material expenses while considering your options.

Limit your search to suppliers who have produced goods comparable to those you intend to generate to ensure they are reputable and trustworthy. To better understand how and where your products will be made, build a connection over the phone and visit their manufacturing facilities. To avoid paying a low price for a defective product, strike a balance between price and product quality. To reduce the possibility of any defects or quality problems, find out about the minimum order quantities and the quality assurance (QA) process.
Your logo and package should incorporate distinctive and striking colors, fonts, and design features
3. Choose Packaging, Product Design, & Logo for Your Brand.
The absence of direct competition, which grants you automatic possession of the Buy Box on the ASIN, is a significant advantage of selling private label products on Amazon. Even if there may be some indirect rivalry, no one else is offering a product exactly like yours, complete with the same branding, packaging, value-added features, and competitive advantages.

A compelling value proposition and an exciting brand story can help you differentiate your brand from the competition in addition to the physical aspects of a product, such as the product itself and the packaging. These two more ethereal aspects of your brand can support the growth of social proof, consumer engagement, and brand awareness.

Your logo and packaging should incorporate distinctive and striking colors, fonts, and design features to attract potential customers. You should also maintain brand consistency across all additional products you add to your private label line. Ensure your choice appeals to your target market while developing the brand concept and physical appearance.
4. Submit Product Sample Requests for QA
To ensure the quality and other specifications are exactly what you are looking for before you put your product on the market, get samples from your supplier after developing your product.

Before placing your initial bulk order, solicit input from a variety of people, including potential customers, about the prototypes and packaging.

5. Choose Your Amazon Fulfillment Plan
You must figure out how to fulfill your orders before making your first sale. You have the following choices:
. Fulfilling your items.
. Locating the third party to package and deliver your merchandise.
. Being an Amazon FBA seller.
You need to know which goods have been successful with each fulfillment method before choosing whether to use Fulfillment by Amazon or a merchant-fulfilled operation (Fulfillment by Merchant ie FBM or Seller Fulfilled Prime ie SFP). Consider the following questions:

. Do your items need to be handled differently?
. Do they easily sustain damage from sharp temperature changes?
. Would you like the Amazon Prime emblem to appear on each item you sell?
. Do you have the means to manage returns and customer service, or would you, instead, Amazon take care of the logistics?
Whatever path you take, keep in mind your firm's scale, product categories, and annual business goals.

6. Create Your Amazon Listing
Once you have chosen and sourced your products, it is time to find relevant keywords for your product description and title. It would be best to gather high-quality photographs of your product(s) to make an Amazon listing.
Spend a little time selecting the ideal listing title. If you need help deciding where to begin, consider your competitors and pick what you want to copy and how you want to differentiate from them.

Benefits of Selling Amazon Private Label Products
The private label products on Amazon benefits you in several ways, including: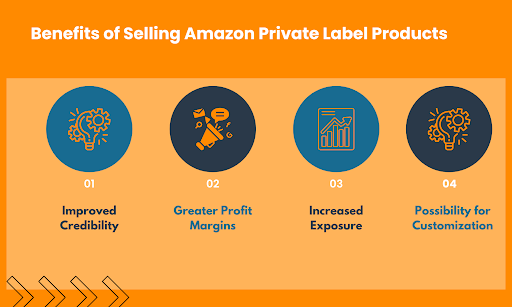 . Improved Credibility: You may profit from in-demand products and build your brand's reputation by selling goods under a private label.
. Greater Profit Margins: Since white-label products are typically less expensive, they allow you to increase your profit margins.
. Increased Exposure: Private label products on Amazon and will give more exposure to Amazon FBA sellers on the platform.
. Possibility for Customization: By tailoring your products to the needs and preferences of your clients, you can stand out.

Conclusion
If you've always dreamed of having your unique brand and products, now is the time to make it happen. Selling private-label products on Amazon FBA is an excellent business strategy, and anyone can do it. And once you establish your brand, you can create multiple products to sell to grow your business even further. HR Tech assists Amazon FBA Sellers with the most efficient Amazon seller services to boost your brand with Amazon private label.