The Ultimate Guide to Hire Mobile App Developer: Everything You Need to Know
Mobile applications are transforming the world of technology quicker than you can say "innovation," influencing how we live our daily lives. Mobile applications have transformed how we interact with the outside world, from making appointments to ordering meals or buying goods online with only a few clicks. However, developing safe mobile apps has become crucial in today's digital environment, where security worries are pervasive.
More than just lines of code, it is also necessary to hire a mobile app developer that is committed and talented to create secure mobile apps. The smooth experiences we enjoy on smartphones are the work of these tech-savvy geniuses. You've thus come to the perfect spot if you're starting the process of developing your mobile application.
This thorough guide provides the information you need on "how to hire a mobile app developer" to turn your app concept into a safe and prosperous reality.

What Exactly is Mobile App Development?
Creating mobile applications for use on mobile devices requires a systematic approach. The applications can either be pre-installed or downloaded by the user. They utilize network capabilities to access computing resources remotely. It's necessary to develop software that can get easily installed on a device, allow backend services to access data via APIs, and test the app on its intended platforms.
What are the Advantages of Creating a Mobile App for Your Company?
Developing a custom mobile application for your business is crucial to staying up-to-date with technology and reaping its benefits.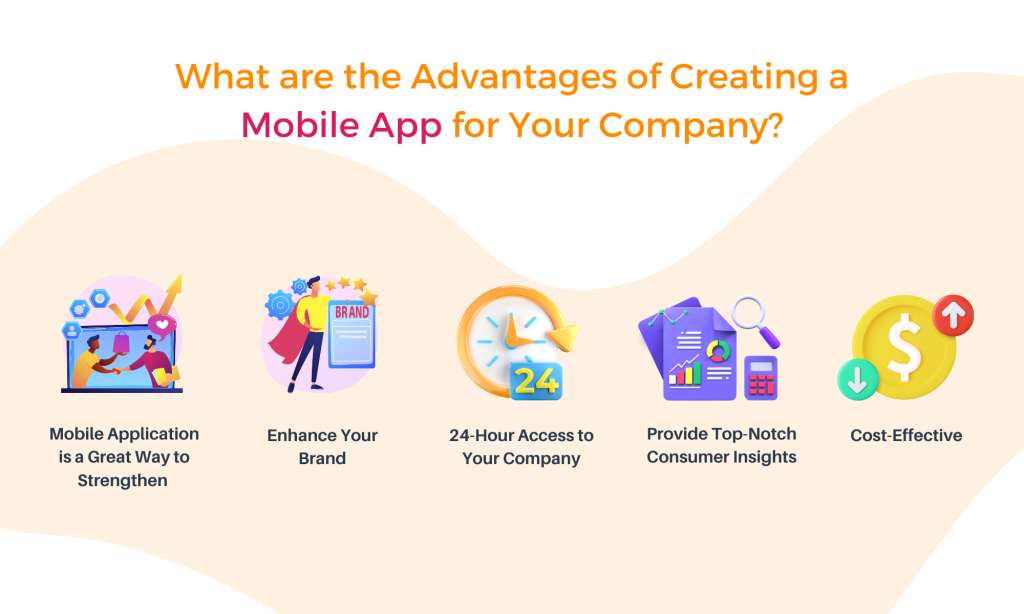 1. Mobile Application
Great Way to Strengthen Customer Relationships. Here are a Few Reasons How
Clients nowadays prefer to use mobile apps for purchasing due to the convenience and time-saving benefits. They expect easy and quick access to your company's services with just a tap of a button, without having to wait for websites to load.
A mobile application is an effective way to provide customers with the necessary information and services promptly.
Mobile applications are the most effective way to engage with customers. Many companies offer exclusive app promotions and discounts to increase customer interaction. These loyalty programs are a great way to attract and retain customers.
By implementing these strategies, you can enhance and strengthen your consumer relationships.
     2. Enhance Your Brand
Today, many small- to medium- and enormous enterprises are adopting the smartphone app pattern, realizing the value of a mobile app strategy, and creating mobile-friendly apps.
A mobile app will provide users with credibility, comfort, and confidence. The app's users get a smooth experience because of its quick loading times and simplicity.
     3. 24-Hour Access to Your Company
Mobile applications offer customers access to your products and services anytime, providing round-the-clock online support.
Customers can receive assistance with their inquiries at any moment of the day without speaking with a customer service representative. This is because app-targeted messages and information are much more convenient than websites.
Mobile app development that is simple and user-friendly can help establish your company's reputation as a reliable source, leading to repeat business from satisfied customers.
     4. Provide Top-Notch Consumer Insights
The use of mobile applications will increase the need for advertising engagement.
The application allows for messaging and helps manage contact information and engagement activities, such as competitions and campaigns. You can customize these features by adding logos, taglines, and colors.
     5. Cost-Effective
Using mobile applications can decrease the need for physical marketing materials and make marketing campaigns more affordable.
Apps can improve efficiency by increasing engagement, enhancing communication, and simplifying data. Businesses can monetize their apps by placing targeted ads specifically for in-app purchases.
Moreover, they were able to save money by avoiding the need to purchase extra infrastructure to create the app. They could have hired a mobile app development team from a different location.
The team will work together from different locations by utilizing a product development approach commonly employed by app development companies.
What Characteristics Characterize Mobile App Development?
After establishing the basic concept, layout, and color scheme, it's essential to factor in the customer's desires to ensure their satisfaction and continued patronage. The mobile app should possess the following key features:
1. Keeping Things Simple
Many users have limited time; therefore, users will become disinterested if your software is challenging to use.
If a client cannot swiftly and efficiently access your services, there is a probability that they may begin utilizing the app of a rival.
Clear the displays to create an improved user experience and encourage customers to keep using them.
Therefore, simplify the app's development and user interface to encourage more people to return to it frequently.
2. Quickness
The loading screen must load quickly. No one likes waiting; when the screen load indication shows, it is irritating and has no positive effects.
If the size of the app is reduced and the visuals and screen size are optimized, the development of mobile applications will go more rapidly.
To enhance app performance, flaws and defects should be repaired before making the app available to the general public.
You must solve the issue if the application takes more than five seconds to load.
3. Good Picture Quality
Maintain an equilibrium between the application's speed, usefulness, and quality while ensuring that the content on display is sufficiently comprehensive to provide a worthwhile experience for users.
The most excellent graphics are essential for a user interface since they draw consumers to your programme.
The quality of the sound pictures will also aid in generating income for a mobile application.
4. Adaptability
Android, iOS, and Windows are the three main categories of mobile operating systems. Your programme must be compatible with all these OS to function at its optimum.
In Contrast to iOS applications, android applications are simple to publish on Google Play Store. iOS applications must pass Apple's review process before being approved for publication in the Apple Play Store.
5. Security
Your app can be affected by the expanding problem of internet security.
Security is required since many applications hold credit and debit card credentials and sensitive private data.
What Difficulties May You Run Across While Hiring Mobile App Developers?
Before you may hire a mobile application developer below listed obstacles must be addressed:
Budgeting
Many firms who wish to build mobile apps are primarily concerned with the cost. It is entirely up to you how much it will cost to employ mobile app developers. You will want a talented and knowledgeable programmer if your project contains many unique characteristics. Thus, it would help if you first decided how much money would be spent on developing your application.
Time Differences
Employing mobile app developers from different time zones can trouble you. It implies that distant collaborators are not always reachable, which causes the project phase to delay. They rely on software for managing projects, such as Trello, and various platforms for conversation, like Slack and more.
Absence of Face-to-Face Interaction
You experience a communication gap when hiring mobile app experts from different locations. You cannot observe the work in process or give quick input whenever the programmers are busy working on the task.
What are the Steps Involved in Hiring a Mobile App Developer?
Are you concerned about how to hire a good mobile app developer? Let's look at the recruiting procedure for successful mobile application developers. We will assist you in choosing the ideal mobile app developers with the expertise, market understanding, and knowledge necessary to produce an effective app.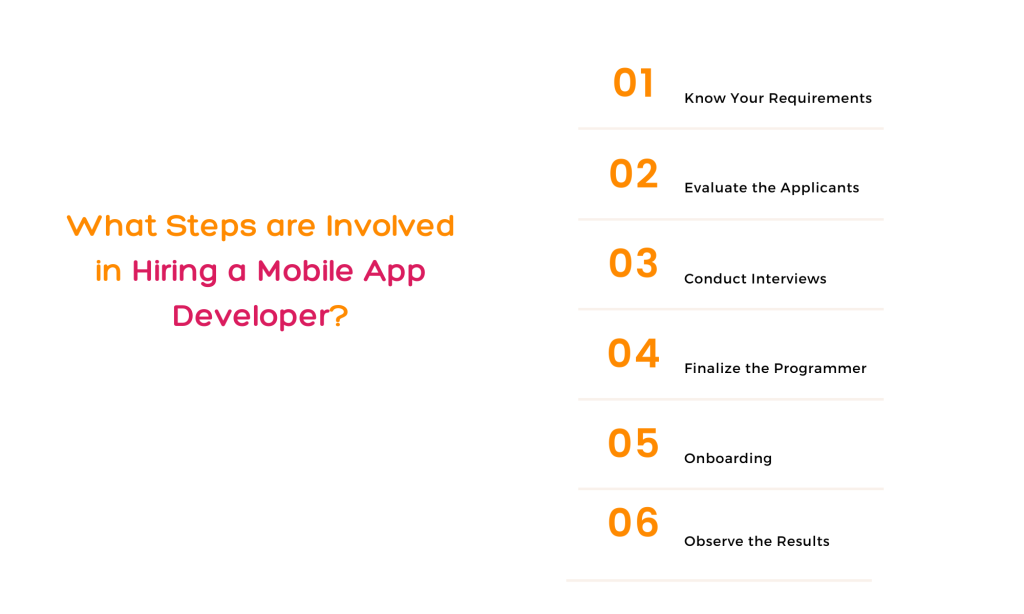 Know Your Requirements: Before recommending the ideal employment models, conduct an extensive study, and analyze your particular requirements related to mobile app development.
Evaluate the Applicants: Choose the best individuals from a skilled pool based on their requirements and intelligence.
Conduct Interviews: Perform assessments and interviews with qualified applicants before selecting the developers of mobile applications for the work.
Finalize the Programmer: The outcomes of the interview will assist you in choosing the most qualified mobile app developers to collaborate on the undertaking.
Onboarding: Along with onboarding the chosen mobile app developer, guide them through the company's conventions, rules, and work processes.
Observe the Results: Ensure you receive the best return on your money by closely watching and managing the mobile application developer employed on your undertaking.
Why Should You Employ Mobile App Developers From HR Tech LLC?
Due to our capacity to deliver top-notch solutions, we are among customers' top preferences.
Skilled and Knowledgeable: We never lack in providing quality and efficient work. Our mobile app developers have created numerous apps for different industries.
Excellent and Versatile Apps : Employ specialized mobile app developers with knowledge of every language of coding required to build the application.
Industry Leadership: Due to our extensive expertise, we can provide our customers with brilliant outcomes and growth while also providing numerous methods to satisfy them.
Versatile Design: Our app is straightforward because of our talented mobile app developers' flowing layout and user interface.
Decade of Experience: We provide skilled and knowledgeable mobile app developers to help your company succeed in this cutthroat industry.
How Much Does it Cost to Hire a Mobile App Developer?
The cost to hire a mobile app developer depends on several variables, including location, expertise, the complexity of the app, and other services needed. It can vary dramatically. Generally speaking, depending on the size and specifications of your project, you might anticipate costs that vary from reasonable to significant.
Your app's long-term profitability and security depend on your decision to choose a qualified and professional mobile app developer. Although it's normal to consider the cost of hiring a mobile app developer when selecting, keep in mind that quality and experience should come first. Making a short-term financial save by choosing a less expensive option might lead to substandard outcomes and jeopardize the security of your app.
Conclusion
After reading "The Ultimate Guide to Hire Mobile App Developers," you might have grasped the necessary actions to select your project's ideal mobile app developer. You may confidently set out to bring your app concept to life by adhering to the suggested tactics.
HR Tech LLC, providing the best mobile app development services, can become a partner that shares your vision, comprehends your objectives, and prioritizes the security and success of your app. Our professional team takes your project to new heights via careful thinking, diligent review, and efficient communication.
Make your bold plans and lofty aspirations a reality in mobile app development by selecting the best developer for your project.