Amazon Conversion Rate: Effective Strategies For Increasing Amazon Sales
Best Practices To Increase Amazon Conversion Rate In 2023
Amazon's conversion rate is a method of generating revenue from maintaining consumer engagement and encouraging them to purchase. It is crucial in a cutthroat digital environment.
We know how challenging it may be to entice customers to your product information page. Individuals must raise their conversion rate to be successful retailers on Amazon. Amazon marketing services aid retailers in producing effective revenues. Consumers who browse out of your items after viewing them can affect your organic keyword score and ultimate Top Sellers Ranking. The number of clients that bought your goods after browsing the product listing is represented by your Amazon conversion rate.
For the sample, a 6% conversion rate would mean that six out of each 100 visitors purchased something after viewing your listing.
What is Amazon Conversion Rate?
Amazon uses the conversion rate to calculate the proportion of page hits that result in a purchase. Amazon conversion rate is an essential step for several reasons:
. It gives you a comprehensive picture of the state of your listings.
. It elevates your product's score.
How to Find Your Conversion Rate on Amazon?
Let's demonstrate how to discover your conversion rate in Amazon seller central.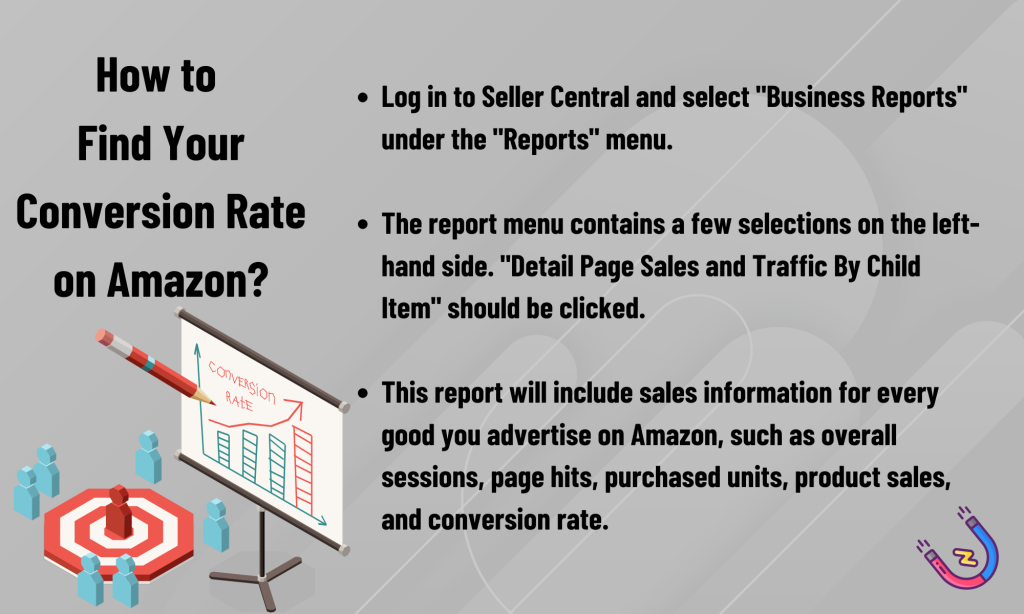 . Log in to Seller Central and select "Business Reports" under the "Reports" menu.
. The report menu contains a few selections on the left-hand side. "Detail Page Sales and Traffic By Child Item" should be clicked.
. This report will include sales information for every good you advertise on Amazon, such as overall sessions, page hits, purchased units, product sales, and conversion rate.
9.87% is the typical conversion percentage on Amazon. Naturally, like any statistic, these percentages differ significantly based on that specialization.
How to Calculate Amazon Conversion Rate?
Among the most critical indicators for sellers is their Amazon conversion rate because it affects their ability to rank for possible keywords on Amazon. Conversion Rate and Sales Speed are essential elements to your company's success in the eyes of Amazon's A9 Algorithm.
The system knows that the final products you market are pertinent to the keywords or google searches the consumers are searching for when your product listings start turning prospective consumers into paying customers.
The exposure of your goods is increased when your listing generates sales for possible keywords.
Amazon's conversion rate formula is
Conversion rate = (Total Conversion) / Total Clicks.
Additionally, you can view your conversion rates on Amazon by looking at the indicator, Unit Session Percentage. This option displays "the number of products purchased concerning the number of potential customers who viewed the product."
Tips to Increase Your Conversion Rate on Amazon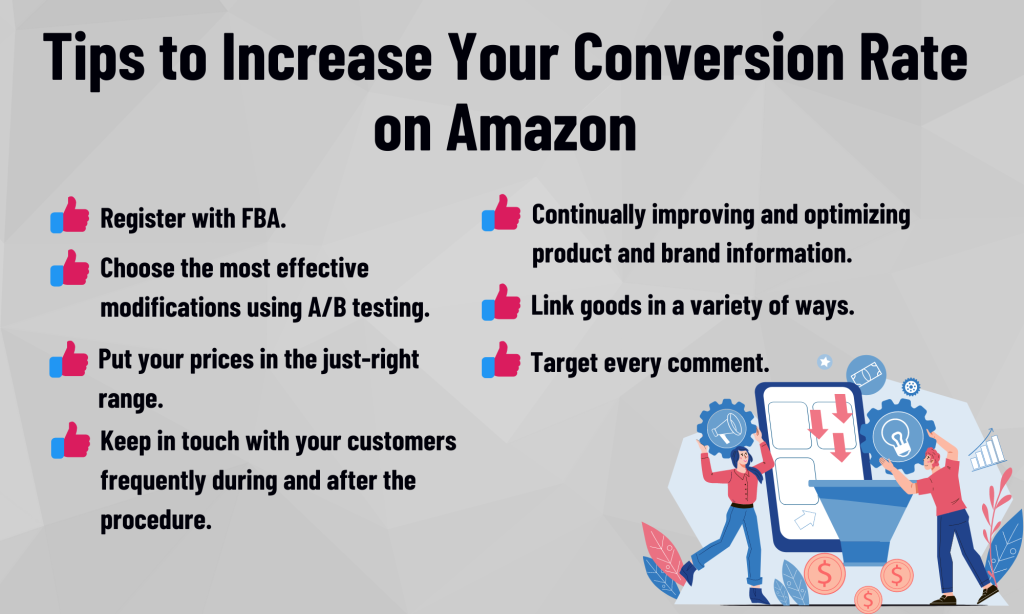 1. Register with FBA.
The most straightforward and efficient way to raise seller conversion rates is to participate in Fulfillment by Amazon (FBA). Your goods become Prime-eligible as a result, and putting the Prime label on your inventory increases their allure to customers. They are aware of receiving a high level of confidence and security, and this is frequently the deciding factor in purchases.
2. Continually improving and optimizing product and brand information.
Considering all the factors involved, effective Amazon listing optimization is much-weighted advice that could help accommodate many posts. Next are some guidelines to follow.
. Give your photographs, which are among the initial things a consumer sees, the best quality and clarity you can. In the broadest sense, it refers to high-resolution pictures taken at various angles on plain backgrounds.
. Create a compelling headline that attracts clients and incorporates essential terms. The usual order is producer, business, brand name, flavoring, variety, color, volume, or quantity, followed by the product's name.
. Undertake systematic keyword research to make sure you have the finest keywords. Utilize the most relevant parts in the title, followed by the second-best choices in the bulleted product descriptions. You can also utilize any remaining keywords on the back end.
3. Choose the most effective modifications using A/B testing.
A/B testing involves contrasting two almost identical items, except for one, only a single change. When you are satisfied with the outcomes of one adjustment, preserve it and continue to eliminate factors until your product description is as close to ideal as it can be. Maybe you should run an A/B test to see whether an image should be the primary one or which bulleted feature should go first on the listing.
4. Put your prices in the just-right range.
Use Amazon repricing technology to put guidelines in place, so you can enter the Goldilocks zone and optimize conversions and profitability frequently. Just keep in mind that if prices are too low, consumers may believe that the products are of lesser quality, and if they are too costly, they may become disinterested.
Remembering the scamp of a girl named Goldilocks who stole into a bear family's home, ate their oatmeal, sat in their armchairs, and rested in their mattresses, all the while joking about which of them would have been ideal. Apply the same strategy to the price of your goods.
5. Link goods in a variety of ways.
Whenever it comes to increasing seller conversion rates, up-selling, cross-selling, and packaging are among the most popular strategies. However, "often bought combined" is a function on Amazon that links items and gives customers the opportunity to add all of the goods to their cart in addition to showing them the final cost.
6. Keep in touch with your customers frequently during and after the procedure.
When a potential customer raises a query regarding your product, respond quickly and within 24 hours. Deliver follow-up emails after they've completed the transaction to ensure nothing gets missed. You may also send a coupon code for a subsequent purchase. If the customer uses that code, you can be reasonably confident they will agree with your philosophy.
7. Target every comment.
Go after every evaluation as if your company depended on it—because it does. Nowadays, your image is everything. Therefore the more consumers you can rely on to attest to the value of your offerings and standard of service, the more sales you'll be capable of generating in the future.
What is a Good Conversion Rate on Amazon?
The average conversion rate for a solo online store, like a Shopify store, is between 2 and 3 per cent. Accordingly, two to three out of every 100 clients make a purchase.
Because customers trust Amazon, they're far more likely to buy something there because they frequently go there with that goal in mind. According to our expertise in selling and conversations with other sellers, the typical conversion rate on Amazon is roughly 10%, which is substantially greater than an e-commerce site. Many variables, including price, reviews, shipping time, and listing quality, influence this figure. For instance, an inexpensive product geared toward impulse purchases will almost certainly have a higher conversion rate than a more expensive purchase geared toward "planned" purchases.
Need Professional Help Improving Your Amazon Conversion Rate?
To increase your income on platforms like Amazon and others, maintain a high conversion rate. If the conversion rate is low, selling will be cut, leading to a waste of money. Implementing a few more measures to turn your Amazon rank into sales is beneficial if your Amazon product listing is already receiving traffic. To create alerts and deliver notifications for your items or any other goods on Amazon, you might need professional help. HR Tech LLC provides the best marketing services for amazon and continuously monitors and processes information from Amazon. You may examine how modifications to the product information page affect your listings' conversion rate and revenues by using our services.
FAQ'S
Q1. How do I Get a High Conversion Rate?
To get a high conversion rate follow the steps below:
1. Set objectives for your website.
2. Gather and examine visitor information.
3. Analyze your competition.
4. Analyze the conversion funnel you currently have.
5. Outline and clarify your business model.
6. Improve the design of your important pages.
7. Employ best practices for product descriptions.
Q2. Why is My Conversion Rate so Low on Amazon?
One of these issues may cause a poor conversion rate: The layout of your website and landing page makes task completion challenging or ineffective. Your proposal is flawed (too costly or not practical enough for your audience).]
Q3. What Affects Conversion Rate?
Six elements that influence conversion rate:
1 A value proposition.
2 Pertinence.
3 Clarity
4 Stress.
5. Diversion.
6 Timeliness.
Q4. How do You Fix a Low Conversion Rate?
To fix your conversion rate follow the given steps:
1. Your website should have a pop-up.
2. Eliminate any fields on the form that are not required.
3. Add endorsements, ratings, and logos.
4. Eliminate all commotion.
5. Make the first step incredibly simple.
6. Include a third-party registration platform.
7. Make your CTA copy stronger.
8. Include web chat on your website.