Mobile App Development Cost: Breaking Down Estimates, Factors, and Average Expenses in the USA
The mobile app development market is growing, giving businesses and entrepreneurs numerous opportunities to connect and engage with their clients. However, creating a mobile app is not a quick or inexpensive process. The quality, usefulness, and success of the app and its price may be influenced by a wide range of elements and choices.
The cost of developing mobile apps in the USA, one of the world's most competitive and cutting-edge marketplaces, will be discussed in this blog article. We'll break down the costs, variables, and typical costs of developing a mobile app for various platforms, gadgets, and categories. This will assist you in successfully and efficiently managing your budget for mobile app development.
Whether you are a business owner looking to create a mobile app for your brand or service, or an aspiring app developer looking to launch your app idea, in this blog post, you will gain a better understanding of the cost of mobile app development and learn how to optimize it to meet your project goals and needs.
What is the Average Mobile App Development Cost?
The cost of developing a mobile app can vary greatly depending on several factors such as the app's complexity, required features, targeted platform(s) (iOS, Android, or both), design complexity, development approach (native, hybrid, or web), location of the development team, and degree of customization needed. A basic mobile app can cost a few thousand dollars, while a more complex and feature-rich app can cost hundreds or thousands. The actual cost will depend on the specific needs of each project. Here are some mobile app development cost estimate: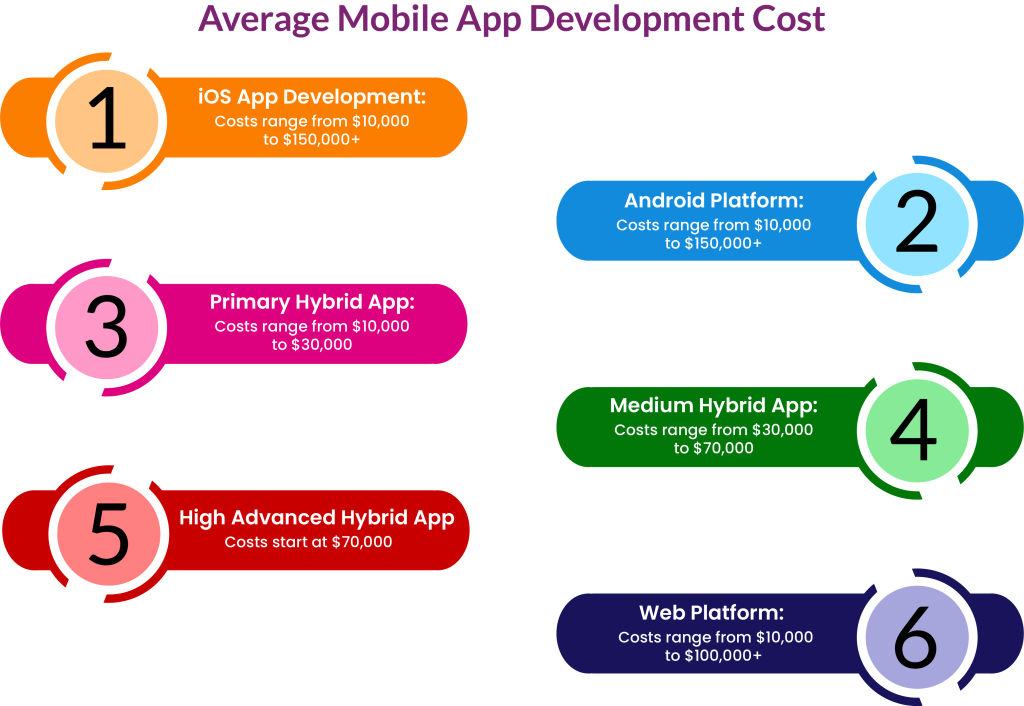 1. The Application's Level of Difficulty
The expense involved in designing simple apps with fundamental features, like a calculator or torch app, can range between $10,000 to $40,000 and beyond.
More sophisticated programmes, like social networking or online shopping, can run you anywhere from $30,000 to more than $500,000.
High-end applications, specifically banking or medical apps, may be priced up to $500,000 or millions for the most technologically advanced applications. These apps include complicated functionality and enterprise-level functionalities.
2. Depending on the Platform, the Price of Developing an App Might Change
iOS App Development: An iOS app's average development costs can range from $10,000 to $150,000 or more.
Android Platform: An Android app's development cost may range from $10,000 to $150,000 or more.
Primary Hybrid App: Costs for a fundamental hybrid app with essential features and an uncomplicated user experience range between $10,000 and $30,000.
Hybrid App of Medium Complexity: A hybrid software of medium complexity with more sophisticated features and customizations can cost anywhere between $30,000 and $70,000.
Hybrid App with High Complexity: A hybrid software with high levels of complexity, intricate UI/UX design, real-time capabilities, and backend connectivity might cost upwards of $70,000.
Web Platform: The price of developing an app can differ greatly, ranging from $10,000 to $100,000 or even more, depending on the app's level of complexity and features.
What are the Key Factors That Contribute to the Mobile App Development Cost Breakdown?
Businesses and app developers must thoroughly understand the cost breakdown for mobile app development to successfully manage their budgets and make decisions during the development process.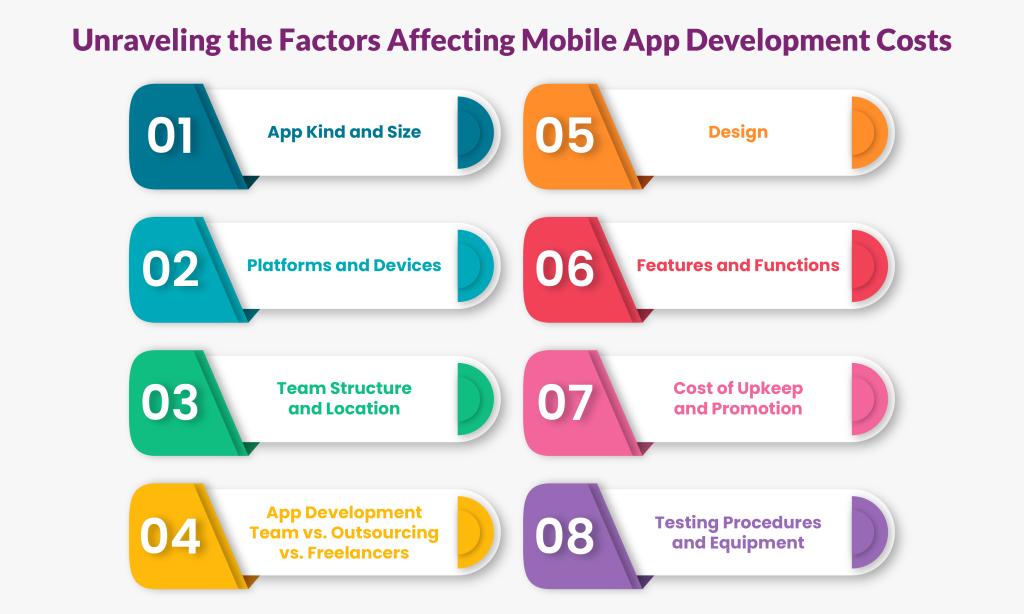 App Kind and Size: The complexity and usefulness of the app define its size and category. While large applications have more functionality and a customized UI, small apps have fewer features and a standard UI. The size and complexity of the app affect how much it costs to produce.
Platforms and Devices: The cost of developing an app depends partly on the platforms (iOS, Android, and Windows) and devices (such as smartphones, tablets, and wearables) chosen. A more time- and resource-intensive process than developing for a single platform or device is required when creating an app for several platforms and devices.
Team Structure and Location: The hourly wages and salary of the developers might vary depending on the team's location. Depending on the number and functions of the developers engaged in the project, the team structure may influence the cost.
App Development Team vs. Outsourcing vs. Freelancers: The cost of development may be impacted by the decision to hire an internal team, outsource to a development firm, or utilize freelancers. Each choice offers advantages and disadvantages regarding quality, dependability, and communication. Recruiting staff internally is more expensive than outsourcing, while freelancers are less expensive than outsourcing.
Design: The user interface, user experience, visuals, and animations of the app are all part of its design. A good design can improve the app's use and attractiveness but also raise the development cost. A professional design calls for more knowledge and equipment than a traditional design.
Features and Functions: The app's essential components that provide consumers value are its features and functionalities. An app will cost more the more features and functionality it offers. Payment methods, social network integration, geolocation, push notifications, and other features are some frequent ones that might impact the price.
Testing Procedures and Equipment: Testing costs may vary depending on the instruments and procedures used. Unit testing, integration testing, functional testing, usability testing, security testing, and other forms of testing are among them. Several testing technologies are available, including manual, automated, and cloud-based testing. Each technique and instrument has benefits and drawbacks, and prices might change based on their effectiveness and quality.
Cost of Upkeep and Promotion: The expense of creating an app does not cease with its release. The application must be continuously updated and maintained to remove problems, boost performance, and add new features. Promotion is necessary for the app to reach its target audience and generate revenue. The promotion cost may vary depending on the type and scale of the app.
Hidden App Development Costs
It's crucial to consider both the direct costs and any potential hidden costs that can emerge throughout the development process when evaluating the price of an app. The following are some typical hidden app development costs:
Iterations and Changes: As the project develops, you can find that more features, a different design, or improved functionality are necessary. These revisions may lengthen the development process and raise the price.
Backend Infrastructure: Setting up, maintaining, and scaling a solid backend infrastructure for your project, including servers, databases, APIs, and cloud services, may come at an added expense.
Integrations with Third Parties: There may be additional fees or licensing expenses if your app has to be integrated with third-party services or APIs. These could include mapping services, payment systems, and social network integrations, among other things.
App Store Fees: A price is typically associated with publishing your programme in app stores like the Apple App Store or Google Play Store. These costs may change depending on the platform, app category, and distribution agreements.
User Acquisition and Marketing: Building an app is just the beginning; you'll need to make further efforts to attract users and promote your app. These efforts include user acquisition campaigns, advertising, app store optimisation, and other marketing initiatives.
Conclusion
Planning carefully and considering expenditures is essential when creating a mobile app. The average Mobile app development cost in USA is $150,000 and might vary based on complexity, platform, features, upkeep, etc. Therefore, before constructing your app, it is crucial to thoroughly understand your app idea, target audience, market demand, monetization plan, and technical needs. To ensure the effectiveness and quality of your app development, you should also select the appropriate development technique (native vs cross-platform vs progressive web app), the appropriate development team (outsourcing vs in-house), and the appropriate project management style.
Look no further than HR Tech LLC if you need a dependable and knowledgeable partner to assist you with your mobile app development project. We are a top US IT outsourcing business specializing in creating websites and mobile applications. By working with us, you may get well-developed, timely, and reasonably priced solutions.