How Best Amazon PPC Advertising Agency Maximize Your Sales, Growth

Consider yourself an Amazon seller that wants to build their company and improve their revenue. Despite having excellent items, you have trouble getting them in front of your target market. You are confident in creating and optimizing successful PPC ads on Amazon since you know that time is the secret to success. You will succeed if you have expert best PPC consultants in USA on your side.
Don't just believe what we say. Here are some stats from Statista that demonstrate the potency of Amazon PPC advertising for merchants just like you:
Amazon's global advertising income increased by 21.4% from 2021 to 37.7 billion dollars in 2022. This demonstrates the increasing significance and potential of advertising on the biggest e-commerce platform in the world.
In 2022, sponsored product adverts on Amazon in the United States had a median cost-per-click (CPC) of $0.98, an 8.9% rise from 2021. Advertisers must optimize their bids and budgets to receive the best results due to rising competition and demand for Amazon's advertising space.
In 2023, Amazon had a 10.2% share of global digital ad expenditure, trailing only Facebook (23.7%) and Google (28.9%). This implies that Amazon is a significant participant in the online advertising business. Its big and engaged audience, rich data, and many ad formats might benefit advertisers.
Amazon PPC advertising can help you increase website traffic, product sales, and revenue. However, it can be challenging to do it alone. To handle everything, you need the finest Amazon advertising agency. In this article, we discussed eight instances of how an advertising agency for Amazon business might be helpful.
How an Amazon Advertising Agency can Help You Achieve Growth and Success?
Every dollar matters when it concerns Amazon advertising. Efficient campaign optimisation is essential if you want the finest results in such a cutthroat industry.
So, for optimizing Amazon advertisements, here are some practical ways through which an Amazon advertising agency, HR Tech LLC, can help your business. You'll notice a lower ACoS and maximize your return on advertising investment.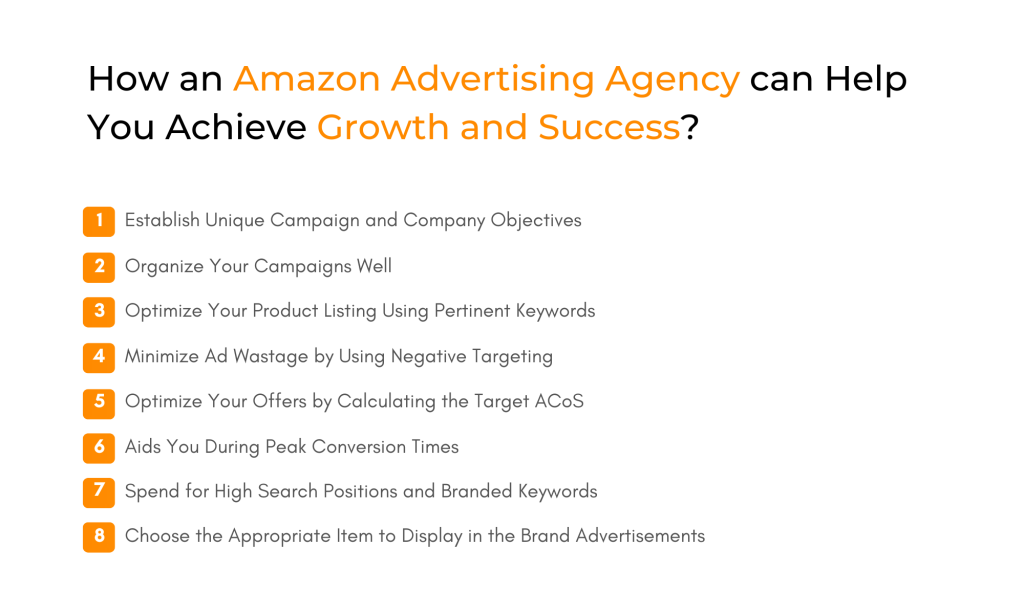 1. Establish Unique Campaign and Company Objectives
The main objectives of PPC advertising are to boost sales and improve ROI. However, it is crucial to reflect on your main business goals. For example, your objective might be:
Gaining market supremacy in a specific niche.
Expanding your company's product line by taking advantage of cross-marketing or bundling options.
Interacting with customers to increase brand recognition.
An Amazon advertising agency helps you to set objectives and assist you in concentrating on your tasks. Some of the essential tasks are:
Choosing commonly searched keywords can enhance brand visibility.
Employing product targeting based on rivals' listings to increase the market share.
Lastly, concentrate on retargeting clients and directing traffic to high-converting goods if increasing your revenue over time is your priority.
2. Organize Your Campaigns Well
Ensuring that your PPC ad campaign has a logical structure is essential. An Advertising Agency helps you set a clear campaign structure because it clears up uncertainty and boosts the effectiveness of the effort. For instance:
It helps you create distinct marketing strategies for your various items and portfolios. Take the examples of "sandals" and "Sneakers," two items you sell. Maintain these in different portfolios.
Secondly, ensure that your initiatives follow a uniform convention for naming and are as thorough as feasible.
It's best to use separate ad groups for different targeting methods to keep things organized. However, having only one ad group per campaign is essential to avoid confusion.
3. Optimize Your Product Listing Using Pertinent Keywords
When a product doesn't get enough impressions, it may be because the product listing lacks the keywords that correspond to the consumer's search criteria.
In such instances, an advertising agency helps you locate pertinent, effective keywords using the SellerApp Amazon Keyword Research tool and include them in your product listing. Also,
Include the brand name, significant keywords, and essential product attributes in the product title while keeping it succinct and legible.
The agency creates appealing product descriptions and bullet points and organically combines essential keywords.
You can optimize by adding pertinent keywords to the backend area that might not naturally belong in the visible portions of the product listing.
Make A+ or Enhanced Brand Content (EBC) to improve the product listing.
Agencies make sure that Amazon's search algorithm includes all pertinent terms.
4. Minimize Ad Wastage by Using Negative Targeting
An advertising agency thoroughly analyzes your automated and manual ad campaigns to identify keywords that may generate many impressions but very few clicks or bring in many clicks but no revenue. These search phrases drain your ad money. Therefore, include them as negative keywords in your ads.
Furthermore, you may discover precise search terms in ads that offer various targeting options such as phrase match, broad match, and exact match.
Examine the search term data for the previous 30-60 days on your Amazon advertising account's- report dashboard, analyze the performance of each targeting, and pick out the one with the highest conversion.
Leave one running and shut off the others for the most outstanding results.
By doing this, you may cut down on wasted advertising dollars and raise the general effectiveness of your Amazon PPC advertisements.
5. Optimize Your Offers by Calculating the Target ACoS
An agency helps you determine the intended advertisement ACoS by considering your corporate objective first. Examine whether the present ACoS is higher or lower than the intended ACoS at the campaign and keyword levels.
It helps you lower the prices on the keywords or discontinue running advertisements on them entirely if the ACoS exceeds the desired ACoS.
Let's say your current ACoS is 70%, but your target ACoS is 20%. In this case, consider reducing the prices for keywords that are not performing well. This will help lower your advertising costs and improve the overall effectiveness of your campaign.
If your ACoS is lower than your mark, your keywords are being over-optimized. You should consider increasing your bids on these keywords to increase your conversion rate and improve your RoAS. For instance, if your target ACoS is 30% but your current ACoS is 15%, raising your bids on these high-performing keywords can attract more visitors and generate more revenue.
6. Aids You During Peak Conversion Times
As an Amazon advertising agency, we recognise the value of increasing organic visibility and minimizing ad spending for our clients. When a product performs well in the highest five spots via a PPC campaign, one efficient tactic we do is to bid aggressively on alternate keywords.
When a search phrase, like "smartwatch," ranks well and yields positive results, we examine the keyword in the search data to find other high-converting terms. Then, to push these alternative keywords to the forefront of the organic search results, we actively bid on them.
We hope to improve organic sales while reducing ad expenditure by consistently employing this method for various high-converting keywords. This strategy uses the flywheel effect, which allows for increased exposure and sales without only depending on paid advertising to improve organic ranks.
Agency helps in integrating data analysis, keyword research, and tactical bidding to fill the product pages with suitable keywords. We assist our customers in establishing a solid organic presence and fostering sales development on the Amazon marketplace by actively maintaining campaigns and locating successful alternative keywords.
7. Spend for High Search Positions and Branded Keywords
Integrating upper search position with branded keywords is preferable for improving marketing performance based on your marketing objectives and spending limit.
For instance, you may increase brand recognition for your items by bidding on non-branded, popular keywords to get first-page rankings.
Spend money on branded keywords additionally if your goal is to increase conversions. These search terms often have reasonable conversion rates and cheap CPCs, which helps to raise the total RoAS of your campaign.
8. Choose the Appropriate Item to Display in the Brand Advertisements
When developing an effective Amazon PPC campaign, choosing the appropriate products for Sponsored Brand advertisements is essential.
Brand advertisements may drive visitors to under-the-radar or recently-launched items and boost your brand. Amazon advertising agencies can help you organize it in a specific manner to maximize the benefits of your brand campaign.
Agency may aid you choose the best product to optimize your PPC ads by following these suggestions:
Select Your Top-Selling Item for the Front Position: The item that sells the most well must be the initial item you highlight in your Sponsored Brand advertisement. The item or ASIN should have the most positive customer reviews and the highest income. You may immediately use this to attract clients' interest and build your brand's reputation.
Promote a Product with Little Exposure But an Elevated Conversion Rate: On the second slot, promote an item with considerable exposure but a poor conversion rate. It enables you to highlight a product you wish to increase sales for a while, enabling clients to view the variety of goods you offer.
In the Third Position, Launch a Fresh Product: Finally, showcase a recently announced item in the third place. It assists you in drawing more visitors to the new product listing, revenue, and feedback.
Conclusion
The solutions offered by HR Tech LLC, a leading Amazon PPC advertising agency, may considerably increase your sales and promote company growth. We are skilled in utilizing Amazon's advertising platform to reach your target market, boost exposure, and improve traffic to your product listings. They can assist you in achieving more excellent conversion rates and eventually increase your sales on the Amazon marketplace by utilizing intelligent keyword research, optimized ad campaigns, and ongoing monitoring and optimization. Our staff keeps up with the most recent trends and algorithms to ensure that your advertising plans align with the always-changing Amazon PPC advertising landscape.