Amazon Seller Central: A Complete Beginners Guide To Get Started 
What Is Amazon Seller Central?
For those who desire to sell items on Amazon, Amazon Seller Central functions as a command center. It's a location where sellers can quickly add and manage products, organize how to deliver them to customers, handle customer inquiries and returns, run advertisements, and manage their entire store.
For this, Amazon has created a user-friendly website that makes it simpler for sellers to run their companies. Seller Central is where you begin your Amazon business, regardless of whether you'll be drop-shipping, selling items under your brand, or selling in huge volumes. Read further to unlock the Amazon Seller Central Beginners guide.
Eligibility for Creating an Amazon Seller Account
Anyone who wishes to sell on Amazon can do so through Amazon Seller Central, and all you need are a few simple items:
Ensure your ID documents are for Amazon Seller Central registration.
A functional email address is essential for communication on the platform.
Possess a credit card for the verification process.
Maintain an active bank account to receive payments as an Amazon seller.
Who can Benefit From it?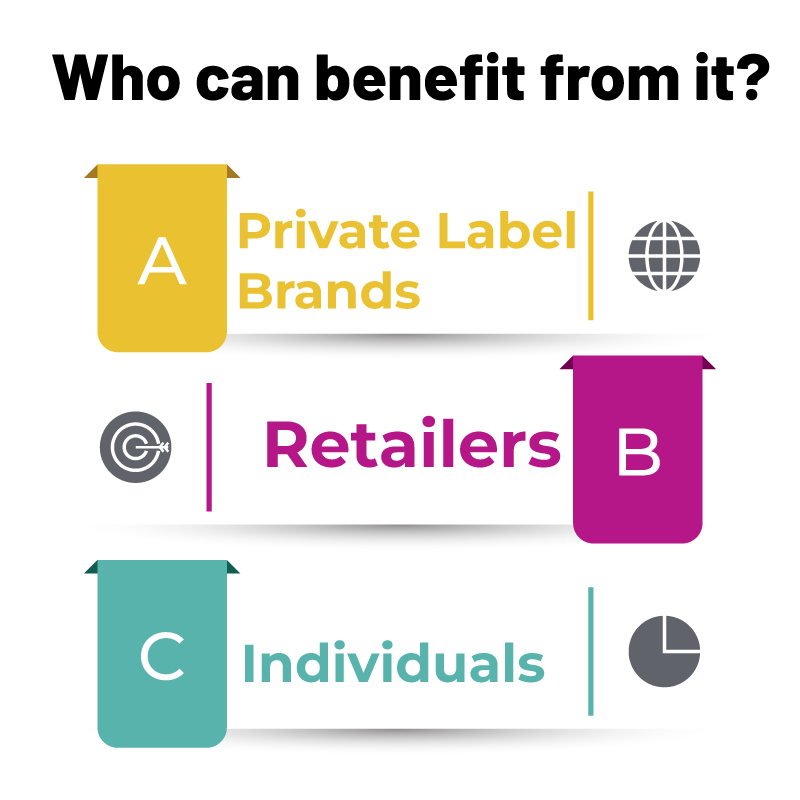 Private Label Brands: Amazon offers tools like Brand Registry and A+ Content to help you provide customers with a distinctive shopping experience if you have your brand or produce your products.
Retailers: Stores can reach more people by listing products on Amazon. You can start selling to people worldwide right from your office.
Individuals: You don't have to be a big company. You can join in even if you're just one person with a small budget. You can dropship, sell in bulk, or even sell items you don't need from the comfort of your home. All types of merchants are welcome on Amazon!
How Should You Set Up An Amazon Seller Central Account?
Setting up your seller account and starting to sell on Amazon requires just a few quick steps using Amazon Seller Central:
Create a seller account on Amazon: Open a seller account on Amazon.
Then Select the Type of Seller Account –
Individual Selling Plan: This is for new or modestly volumeted sellers. Each sold product incurs a $0.99 fee for you.
Professional Selling Plan: This all-inclusive package costs $39.99 monthly and provides access to more product categories and advanced features.
Finish the registration process: Please verify your identity and provide your company's and contact information.
Create a Seller Profile: Add a brief description, company name, and logo. Set up your return and shipping policies.
Verify Your Identity: Amazon may demand further proof of identity for security reasons.
Selecting a Marketplace for Your Goods
Add Product Listings: To add listings with product information, pricing, and photographs, use the "Add a Product" feature. Configure delivery rates and times to suit your preferences. Indicate your delivery options if you're the one fulfilling orders.
Select a method for order fulfillment: Choose between using your resources (FBM) or Amazon's (FBA) to complete orders. Prepare and ship your products to Amazon if you decide to use FBA.
List and Control Your Stock:
Watch your stock levels.
Set price and restocking standards.
Pay attention to Amazon surcharges.
Sell Now and List
Start selling while keeping an eye on incoming orders.
Make your listings more visible by include important keywords, excellent images, and in-depth descriptions.
Monitor your Performance
Keep an eye on metrics and respond quickly to fix issues.
Discover the tools and resources in Amazon Seller Central to successfully manage and grow your business.
You can start using Amazon Seller Central and open an online store on their platform by following these steps.
Mobile App for Amazon Seller Central
Thanks to the Amazon Seller Central Mobile App, managing your seller account and interacting with consumers on your phone is simple. You may access critical features in a mobile-friendly version by downloading the free smartphone app. What the app allows you to do is as follows:
Receive timely alerts regarding messages, orders, and your account status to stay informed.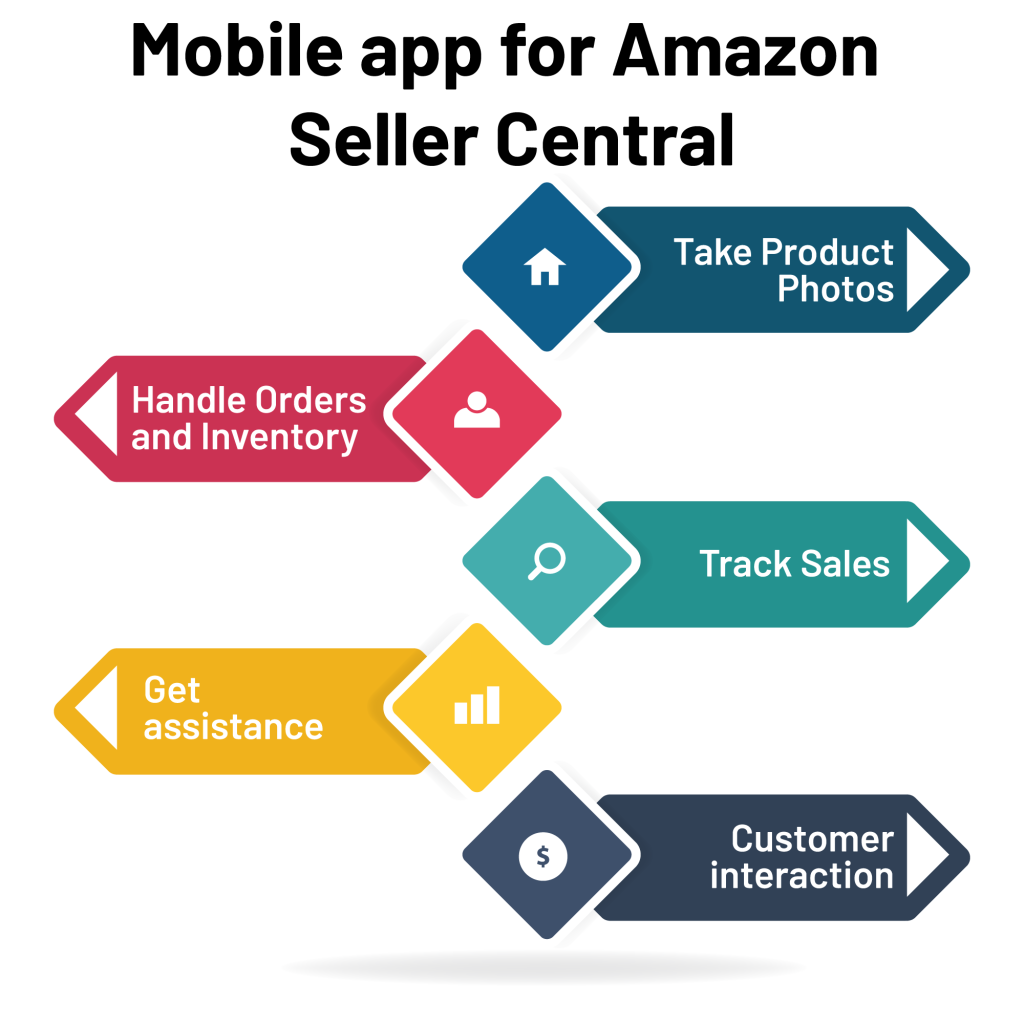 Take Product Photos: Take product images with your phone, edit them, and save them.
Handle Orders and Inventory: Take charge of orders, monitor inventory, and oversee shipments and marketing initiatives.
Track Sales: Keep track of your sales progress and undertake in-the-moment business analysis.
Customer interaction: Answer queries from customers and resolve any problems as soon as possible.
Get assistance. Contact Seller Support whenever you require help or have inquiries.
You may effectively manage your Amazon business from anywhere at any time with the help of the Amazon Seller app.
How Does Amazon Seller Central Help Sellers?
A variety of advantages are available to people and businesses selling on Amazon through Amazon Seller Central:
Simple Product Listing: To establish and manage product listings, Seller Central offers a user-friendly platform. Existing items' descriptions, costs, and images are subject to change.
Processing orders: Handle and execute customer orders promptly. You can manage shipping labels, see them, and print them. You can also track shipments.
Control of inventory: Keep track of stock levels and create automated replenishment plans for low-stock items.
Customer service: Interact with customers directly using Amazon's messaging platform to quickly handle returns and refunds and reply to inquiries.
Performance tracking: Monitor your account's condition and identify its weak points using sales insights and performance statistics.
Payment Management: Because Amazon processes payments, you will regularly receive money in the chosen bank account.
To safeguard your brand and intellectual property, enroll in programs like Amazon Brand Registry.
Access educational resources and get in touch with Amazon Seller Support if you're having issues with your account. Seller Support and Resources.
To help you manage your eCommerce business successfully and take advantage of the enormous potential of Amazon's marketplace, Amazon Seller Central offers a comprehensive combination of tools and services.
How HRTECH Benefits Amazon Sellers?
An excellent company specializing in creating and managing Amazon seller accounts is HRTECH Services. We take care of all the nitty-gritty details of selling on Amazon and make sure your account operates without a hitch. We also prevent any bans. Our team provides complete assistance and knowledgeable direction to simplify your Amazon experience.
Conclusion
Your entry into the world market is through Amazon Seller Central. The secret to your success, whether you're a seasoned seller or new to eCommerce, is mastering Seller Central. Remember that success on Amazon requires time and work, so be persistent and patient. You may use Amazon's fantastic global selling options, including listing on Amazon, if you put in the effort and maintain a well-managed Amazon Seller Central account.