How to Prepare for Amazon Prime Day in 2023 as an Amazon Seller?
Are you a merchant on Amazon preparing for the much-awaited Amazon Prime Day in 2023? This shopping spree offers a fantastic chance to increase sales and expand your company.
Last year's event shattered records, generating a staggering $11 billion in sales worldwide. With over 250 million products sold and millions of Prime members actively seeking discounts, this presents an unparalleled opportunity for Amazon sellers. You must use practical strategies, optimized listings, targeted marketing campaigns, and Amazon consultant to capitalize on this massive shopping spree.
We'll provide you with the necessary information and resources in this in-depth guide to effectively navigate Prime Day, maximize your sales, and astound your rivals.
Amazon Prime Day: What is it?
Only Amazon Prime members can participate in the much-awaited Amazon Prime Day offer every year. It was first introduced in 2015 to celebrate Amazon's anniversary and has become a massive online shopping extravaganza. Prime Day offers incredible deals and discounts across various products, including electronics, home appliances, fashion, beauty, and more. The event typically lasts 48 hours, during which Amazon Prime members can take advantage of exclusive discounts, lightning deals, and limited-time offers.
Prime Day has gained immense popularity and has become one of the biggest shopping events globally, rivaling other major sales events like Black Friday and Cyber Monday.
How can Amazon sellers get ready for Prime Day in 2023?
To help Amazon sellers prepare for Prime Day in 2023, here are some essential steps to follow: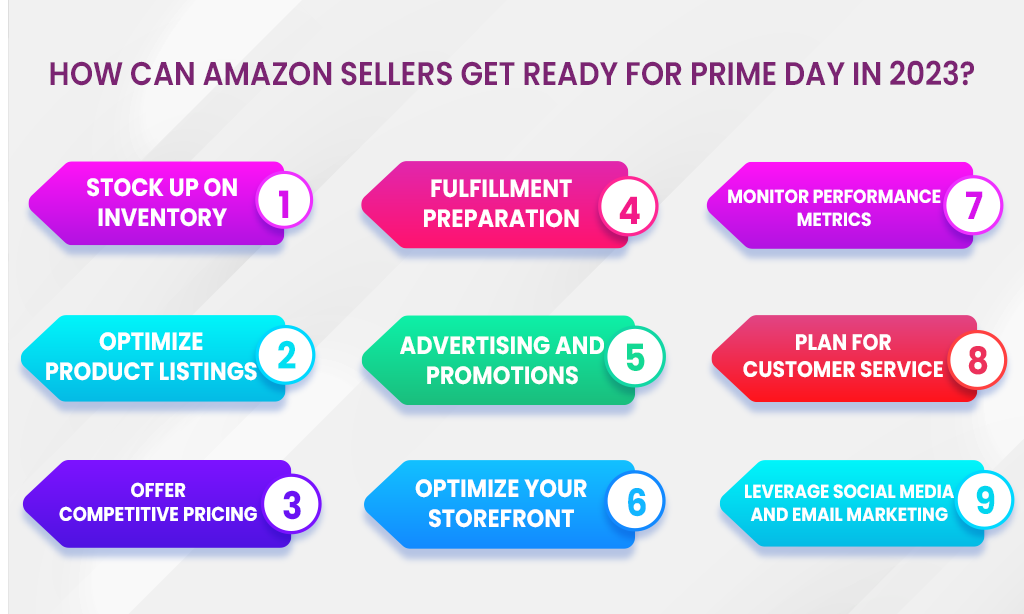 Stock Up on Inventory: Analyze previous Prime Day sales data and trends to estimate the demand for your products. Ensure you have sufficient inventory to meet the anticipated surge in orders.
Optimize Product Listings: Enhance your product listings by optimizing titles, descriptions, and keywords to improve visibility and attract potential buyers. Highlight any unique selling points and ensure your product images are high-quality and compelling.
Offer Competitive Pricing: Consider offering special discounts and promotions during Prime Day to entice customers. Monitor your competitors' pricing strategies and adjust your prices accordingly to stay competitive.
Fulfillment Preparation: If you use Amazon's fulfillment service (Fulfillment by Amazon or FBA), ensure your inventory is properly labeled, packaged, and ready to be shipped. Plan ahead for any potential delays in order fulfillment and optimize your inventory placement to minimize costs.
Advertising and Promotions: Utilize Amazon's advertising tools, such as Sponsored Products and Lightning Deals, to boost your product visibility and reach a wider audience. Create targeted ad campaigns and schedule promotions specifically for Prime Day.
Optimize Your Storefront: Polish your Amazon storefront by ensuring it reflects your brand identity and showcases your best-selling products. Consider creating a Prime Day-specific landing page or banner to attract customers.
Monitor Performance Metrics: Keep a close eye on your performance metrics, such as conversion rates, click-through rates, and sales data, both before and during Prime Day. This will help you identify any areas for improvement and make real-time adjustments to optimize your sales.
Plan for Customer Service: Expect a higher volume of customer inquiries and be prepared to provide excellent customer service during Prime Day. Respond promptly to customer messages and resolve any issues or concerns promptly to maintain customer satisfaction.
Leverage Social Media and Email Marketing: Promote your Prime Day deals and discounts on your social media channels and through targeted email marketing campaigns. Build anticipation and generate buzz around your offerings.
Amazon sellers may increase their chances of success and take advantage of the tremendous sales prospects during Prime Day 2023 by taking these actions and planning beforehand.
Things to do on Amazon Prime Day 2023
Have you prepared any Amazon Prime Day strategy? On Prime Day 2023, there are several things you can do as a customer to make the most of the event:
Create a Wishlist: Before Prime Day, create a wishlist of items you're interested in purchasing. This will help you stay organized and easily track any price drops or Amazon prime day deals on those specific products.
Monitor Early Deals: Keep an eye out for early Prime Day deals that may start a few days before the official event. Amazon often releases early offers, so stay vigilant to snag great deals ahead of time.
Set Alerts: Use Amazon's "Watch this Deal" feature to receive notifications when specific products you're interested in go on sale. This ensures you don't miss out on time-limited deals.
Take Advantage of Lightning Deals: Lightning Deals are limited-time, limited-quantity offers that are available for a short duration. Check the Lightning Deals section frequently and act quickly to secure discounted products.
Explore Prime Day Exclusive Launches: Prime Day often features exclusive product launches or special editions of popular items. Discover new releases and unique products that are available exclusively during the event.
Utilize Amazon Coupons: Look for Amazon Coupons on eligible products. Clip the coupons to apply additional discounts during checkout.
Compare Prices: Don't forget to compare prices across different sellers and platforms. While Amazon offers competitive deals, it's always good practice to check if there are better offers elsewhere.
Utilize Alexa for Voice Shopping: If you own an Alexa-enabled device, take advantage of voice shopping commands to conveniently browse and purchase Prime Day deals hands-free.
Keep an Eye on Limited-Time Deals: Amazon often features time-limited deals that are available for a few hours or even minutes. Stay alert and check for these time-sensitive offers to snag exceptional discounts.
Enjoy Prime Day Entertainment: Alongside the shopping extravaganza, Amazon often provides entertainment options such as live music performances, celebrity appearances, and exclusive content streaming. Take a break from shopping and enjoy the entertainment offerings.
Remember, Prime Day is exclusive to Amazon Prime members, so ensure you have an active Prime membership to access the deals and benefits. By following these tips, you can make the most of Prime Day 2023 and enjoy significant savings on a wide range of products.
After Amazon Prime Day in 2023, what should you do?
There are several key actions you should take after the Amazon Prime Day in 2023, such as follows: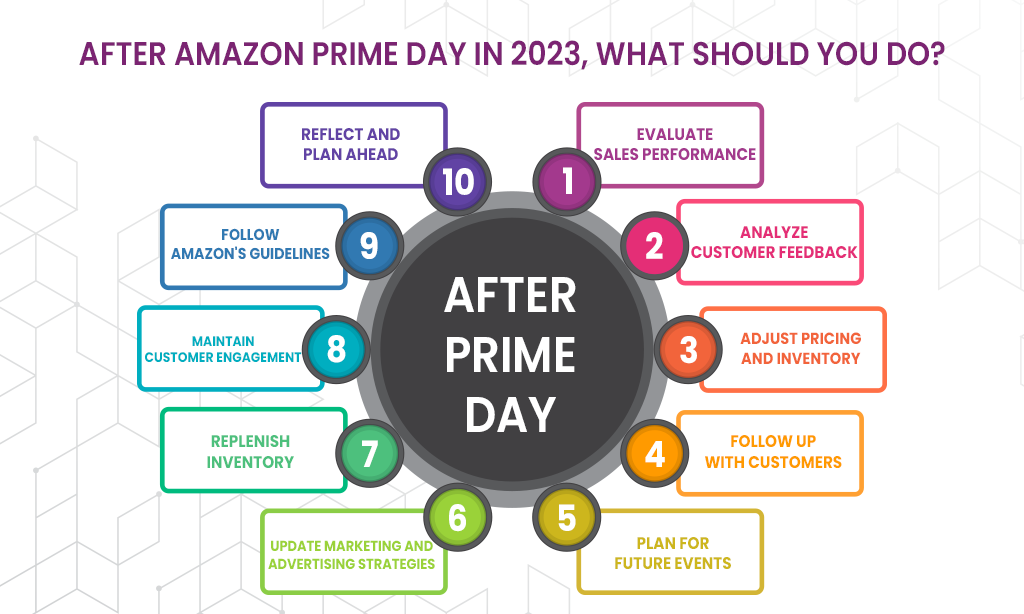 Evaluate Sales Performance: Review your sales data and performance metrics from Prime Day. Assess the success of your promotions, advertising campaigns, and overall sales. Identify your top-selling products, customer preferences, and any areas for improvement.
Analyze Customer Feedback: Pay attention to customer feedback and reviews received during and after Prime Day. Address any concerns or issues raised by customers promptly and use their feedback to enhance your product offerings and customer experience.
Adjust Pricing and Inventory: Take into account any changes in market demand and adjust your pricing and inventory levels accordingly. Analyze the impact of Prime Day on your product pricing and make adjustments to remain competitive.
Follow Up with Customers: Reach out to customers who made purchases on Prime Day and express gratitude for their support. Consider offering post-Prime Day exclusive deals or discounts to encourage repeat business and build customer loyalty.
Plan for Future Events: Prime Day is just one of the many sales events throughout the year. Use the insights gained from Prime Day to plan for upcoming events like Black Friday, Cyber Monday, and other promotional periods. Develop strategies to capitalize on these events and optimize your sales.
Update Marketing and Advertising Strategies: Incorporate the lessons learned from Prime Day into your marketing and advertising strategies moving forward. Identify the most effective channels, messaging, and tactics that resonated with your audience during Prime Day and refine your future campaigns accordingly.
Replenish Inventory: If Prime Day resulted in a significant increase in sales, ensure you restock your inventory promptly to meet ongoing demand. Monitor your stock levels closely and replenish popular items to avoid running out of stock.
Maintain Customer Engagement: Keep the momentum going after Prime Day by staying engaged with your customers. Continue communicating with them through newsletters, social media, and personalized offers to sustain their interest and loyalty.
Follow Amazon's Guidelines: Familiarize yourself with any post-Prime Day requirements or guidelines set by Amazon. Ensure that you comply with any necessary reporting, accounting, or fulfillment obligations to maintain a healthy seller account.
Reflect and Plan Ahead: Take the time to reflect on your overall Prime Day experience, identifying strengths and areas for improvement. Use this reflection to inform your future strategies and set goals for the next Prime Day and other sales events.
By taking these actions, you can capitalize on the momentum generated by Prime Day, address customer needs, and position your business for continued growth and success.
Wrapping Up
In conclusion, rigorous preparation and strategic execution are necessary for an Amazon seller to be ready for Amazon Prime Day in 2023. You may increase your chances of success on this eagerly awaited sales day by stocking up on inventory, improving product listings, providing competitive pricing, and utilizing advertising and promotions. To increase visibility and draw in clients, optimize your storefront, monitor performance data, deliver top-notch customer service, and use social media and email marketing is essential.
After Prime Day, you can build on the excitement and keep expanding your business by reviewing sales statistics, modifying prices and inventory, and planning upcoming events.
And don't forget; Amazon Prime Day is an opportunity to reach a vast customer base and increase your sales, so seize the moment with HR tech, an E-commerce consultant, and take your Amazon business to new heights. We are here to ignite your Amazon Prime Day by offering our services to make you bloom in the room.